Bahrain Jobs – Free Recruitment opening for leading Oil & Gas Shutdown projects. The final client interview is held on 06th, 07th & 09th January 2022 at the Vadodara office. Interested candidates who have 3+ years of experience in oil & gas companies or Indian experience can apply for the jobs.

BAHRAIN JOBS FREE RECRUITMENT FOR OIL & GAS COMPANY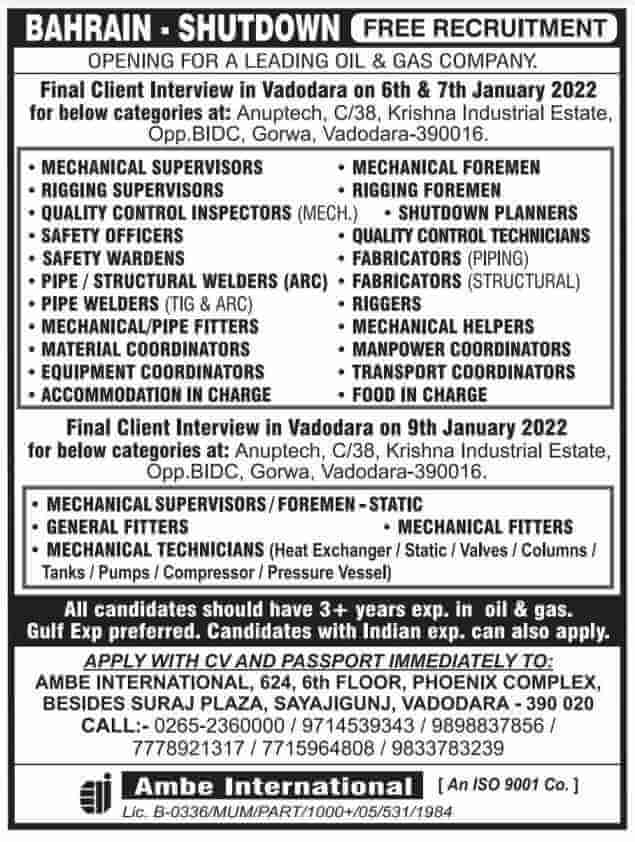 Job Role:
Mechanical Supervisors
Mechanical Foremen
Rigging Supervisors
Rigging Foremen
Quality Control Inspectors (Mech.)
Shutdown Planners
Safety Officers
Quality Control Technicians
Safety Wardens
Fabricators (Piping)
Pipe / Structural Welders (Arc)
Fabricators (Structural)
Pipe Welders (Tig & Arc)
Riggers
Mechanical/Pipe Fitters
Mechanical Helpers
Material Coordinators
Manpower Coordinators
Equipment Coordinators
Transport Coordinators
Accommodation In Charge
Food In Charge
Mechanical Supervisors / Foremen – Static
General Fitters
Mechanical Fitters
Mechanical Technicians (Heat Exchanger / Static / Valves / Columns / Tanks / Pumps / Compressor / Pressure Vessel)
Job Location: Bahrain
Experience: All candidates should have 3+ years exp. in oil & gas. Gulf Exp preferred. Candidates with Indian exp. can also apply.
Interview Venue: Vadodara
Consultancy Details
Consultancy Name: Ambe International
Contact: 0265-2360000 / 9714539343 / 9898837856 / 7778921317 / 7715964808 / 9833783239
Website: www.ambeinter.com
How To Apply?
Apply With Cv And Passport Immediately To Ambe International, 624, 6th Floor, Phoenix Complex, Besides Suraj Plaza, Sayajigunj, Vadodara – 390 020
Anuptech, C/38, Krishna Industrial Estate, Opp.BIDC, Gorwa, Vadodara-390016
MORE RELATED JOBS IN BAHRAIN
For more interesting careers related gulf jobs you must join our TELEGRAM CHANNEL