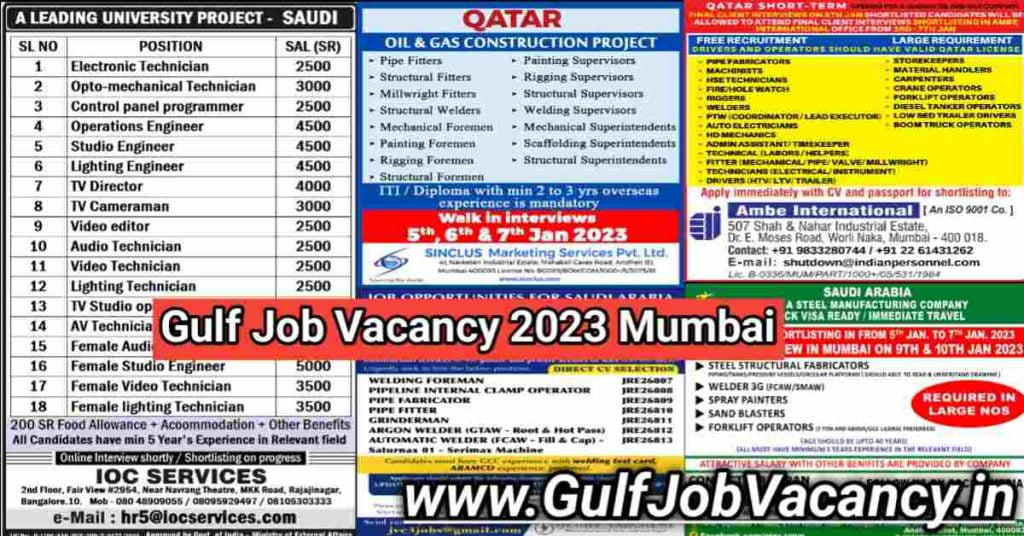 Gulf Job 2023 – Mumbai latest interview requirements for Qatar, Saudi Arabia and UAE. Interested job seekers can apply their interview in Oil & gas construction projects, Short-term projects, Steel manufacturing companies, Waste water projects, University projects and a leading group of companies. Kindly check below all the job positios and apply for the interview imediately.

Oil & Gas Construction Project Jobs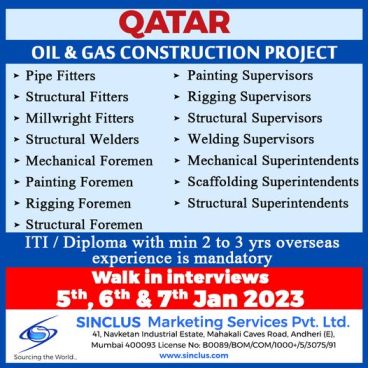 Job Role:
Pipe Fitters
Structural Fitters
Millwright Fitters
Structural Welders
Mechanical Foremen
Painting Foremen
Rigging Foremen
Structural Foremen
Painting Supervisors
Rigging Supervisors
Structural Supervisors
Welding Supervisors
Mechanical Superintendents
Scaffolding Superintendents
Structural Superintendents
Job Location: Qatar
Experience: Min 2 to 3 yrs overseas experience is mandatory.
Qualifications: ITI/Diploma
Interview Date & Venue: Walk-in interviews 5th 6th & 7th Jan 2023.
Consultancy Name: Sinclus Marketing Service Pvt. Ltd.
Reputed Company Jobs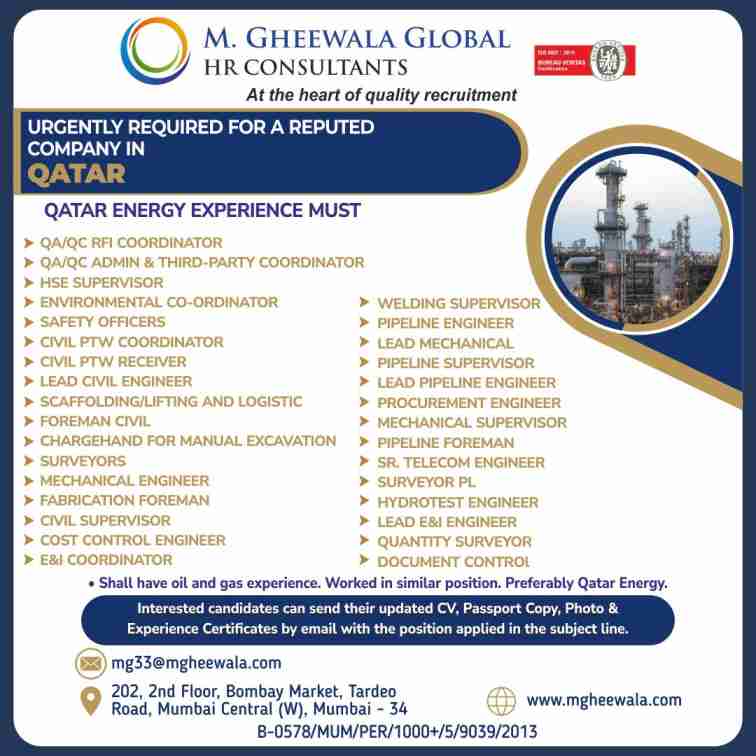 Job Role:
QA/QC RFI Coordinator
Qa/Qc Admin & Third-party Coordinator
HSE Supervisor
Environmental Co-ordinator
Welding Supervisor
Safety Officers
Pipeline Engineer
Civil PTW Coordinator
Lead Mechanical
Civil PTW Receiver
Pipeline Supervisor
Lead Civil Engineer
Lead Pipeline Engineer
Scaffolding/lifting And Logistics
Procurement Engineer
Foreman Civil
Mechanical Supervisor
Chargehand For Manual Excavation
Pipeline Foreman Surveyors
Sr. Telecom Engineer
Mechanical Engineer
Surveyor Pl Fabrication Foreman
Hydrotest Engineer
Civil Supervisor
Lead E&i Engineer
Cost Control Engineer
Quantity Surveyor
E&i Coordinator
Document Control
Job Location: Qatar
Experience: Shall have oil and gas experience. Worked in a similar position. Preferably Qatar Energy.
Consultancy Name: M Gheewala Global HR Consultants
Email: mg33@mgheewala.com
Free Recruitment For Short-Term Projects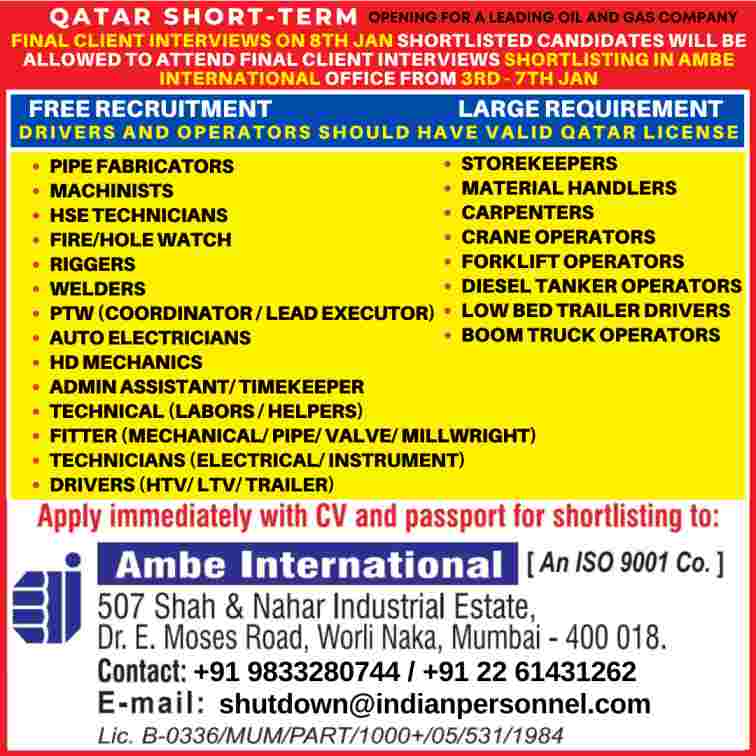 Job Role:
Pipe Fabricators
Machinists
Hse Technicians
Fire/hole Watch
Riggers
Welders
PTW (Coordinator/ Lead Executor)
Auto Electricians
HD Mechanics
Admin Assistant/timekeeper
Technical (Labors/ Helpers)
Fitter (Mechanical/ Pipe/ Valve/ Millwright)
Technicians (Electrical/ Instrument)
Drivers (HTV/ LTV/Trailer)
Storekeepers
Material Handlers
Carpenters
Crane Operators
Forklift Operators
Diesel Tanker Operators
Low Bed Trailer Drivers
Boom Truck Operators
Job Location: Qatar
Interview Date & Venue: Final client interviews on 8th Jan shortlisted candidates will be allowed to attend final client interviews shortlisting in Ambe international office from 3rd – 7th Jan 2023
Consultancy Name: Ambe International
Contact: +9198332807441 +9122 61431262
Email: shutdown@indianpersonnel.com
Industrial Company Jobs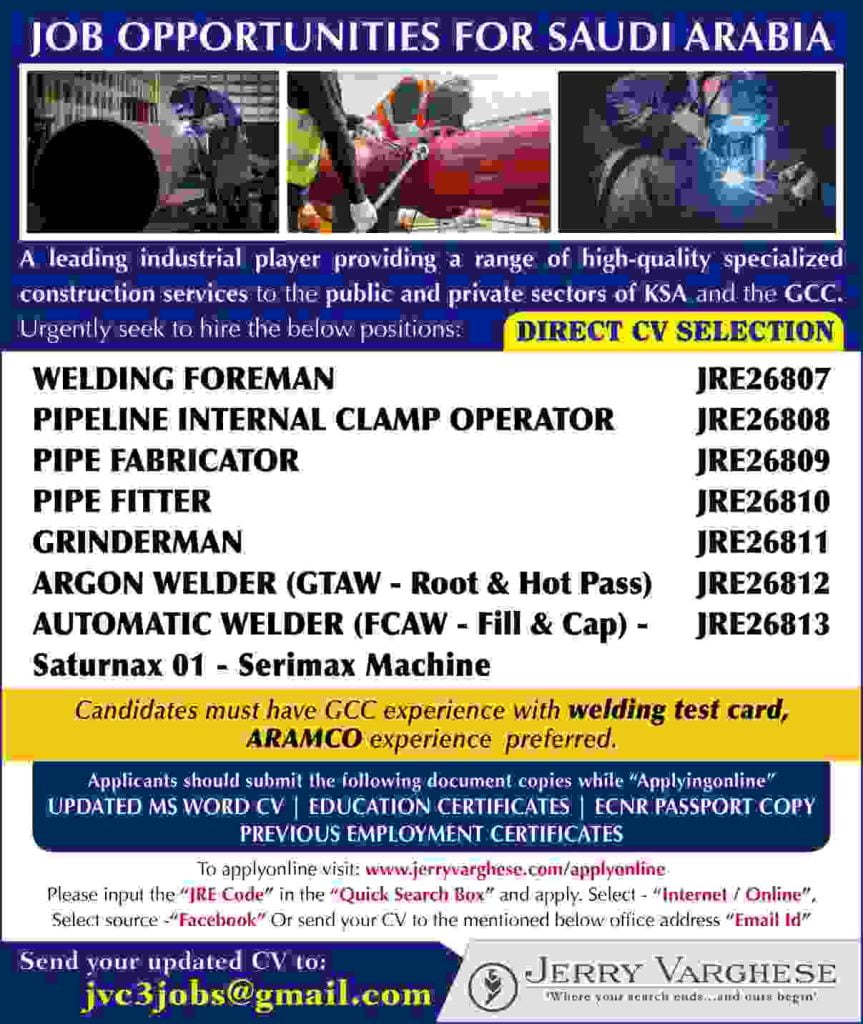 A leading industrial player providing a range of high-quality specialized construction services to the public and private sectors of KSA and the GCC. Urgently seek to hire the below positions:
Job Role:
Welding Foreman
Pipeline Internal Clamp Operator
Pipe Fabricator
Pipe Fitter
Grinderman
Argon Welder (GTAW – Root & Hot Pass)
Automatic Welder (Fcaw – Fill & Cap) – Saturnax 01 – Serimax Machine
Job Location: Saudi Arabia
Experience: Candidates must have GCC experience with the welding test cards, ARAMCO experience is preferred.
Consultancy Name: Jerry Varghese Global
Email: jvc3jobs@gmail.com
Steel Manufacturing Company Jobs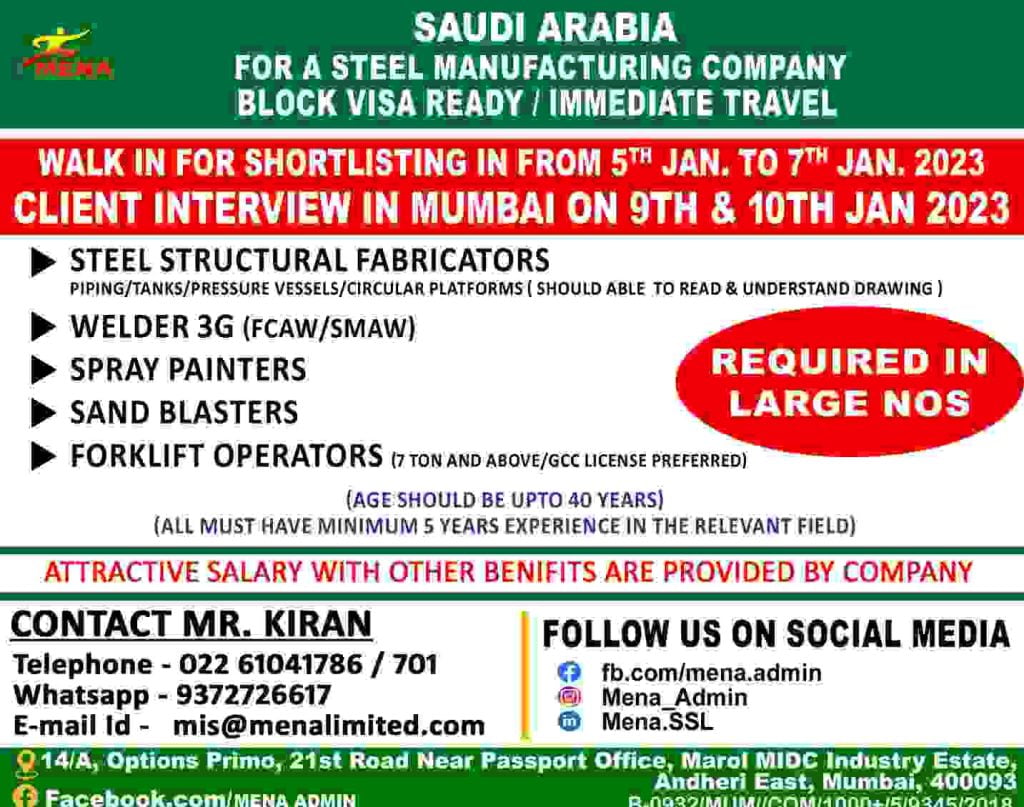 Job Role:
Steel Structural Fabricators – Piping/tanks/pressure Vessels/circular Platforms ( Should Able To Read & Understand Drawing
Welder 3G (FCAW/SMAW)
Spray Painters
Sand Blasters
Forklift Operators (7 Ton And Above/GCC License Preferred)
Job Location: Saudi Arabia
Experience: All must have a minimum of 5 years of experience in the relevant field.
Age Limit: Age should be upto 40 years
Interview Date & Venue:
Interview Date & Venue: Walk in for shortlisting from 5th Jan. To 7th Jan 2023. Client interview in Mumbai on 9th & 10th Jan 2023.
Consultancy Name: Mena Support Services
Contact: 022 61041786 / 701 Whatsapp – 9372726617
Email: mis@menalimited.com
Water & Waste Water Project Jobs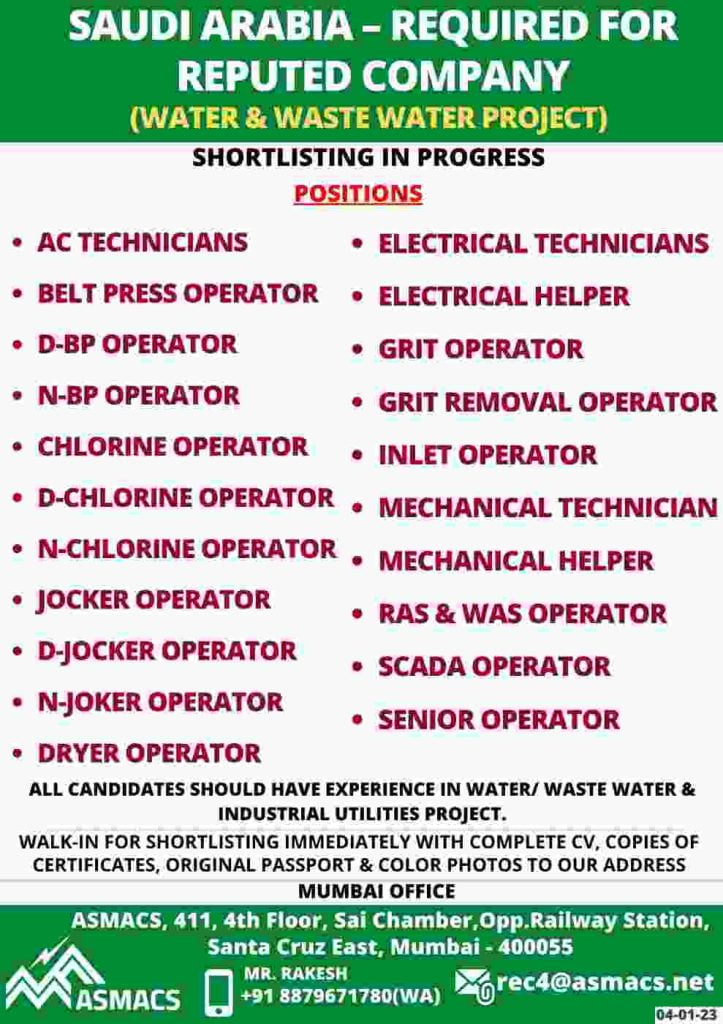 Job Role:
Ac Technicians
Electrical Technicians
Belt Press Operator
Electrical Helper
D-BPP Operator
Grit Operator
N-BP Operator
Grit Removal Operator
Chlorine Operator
Inlet Operator
D-chlorine Operator
Mechanical Technician
N-chlorine Operator
Mechanical Helper
Jocker Operator
Ras & Was Operator
D-jocker Operator
Scada Operator
N-joker Operator
Senior Operator
Dryer Operator
Job Location: Saudi Arabia
Experience: All candidates should have experience in water/wastewater & industrial utilities projects.
Consultancy Name: ASMACS
Contact: +91 8879671780(WA)
Email: rec4@asmacs.net
University Maintenance Project Jobs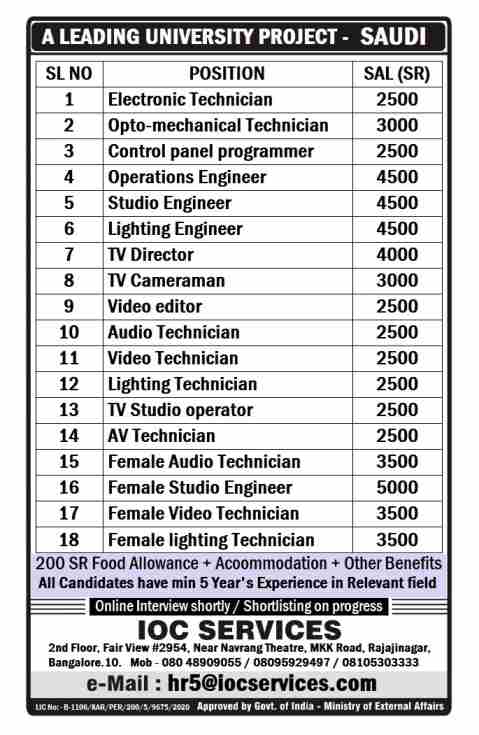 Job Role:
Electronic Technician
Opto-mechanical Technician
Control panel programmer
Operations Engineer
Studio Engineer
Lighting Engineer
TV Director
TV Cameraman
Video Editor
Audio Technician
Video Technician
Lighting Technician
TV Studio operator
AV Technician
Female Audio Technician
Female Studio Engineer
Female Video Technician
Female Lighting Technician
Job Location: Saudi Arabia
Experience: All Candidates have min 5 Year's Experience in a Relevant field.
Benefits: Food Allowance + Accommodation + Other Benefits
Salary: SAR 2500-5000/-
Consultancy Name: IOC Services
Contact: 080 48909055 / 08095929497 / 08105303333
Email: hr5@iocservices.com
Leading Company Jobs Requirement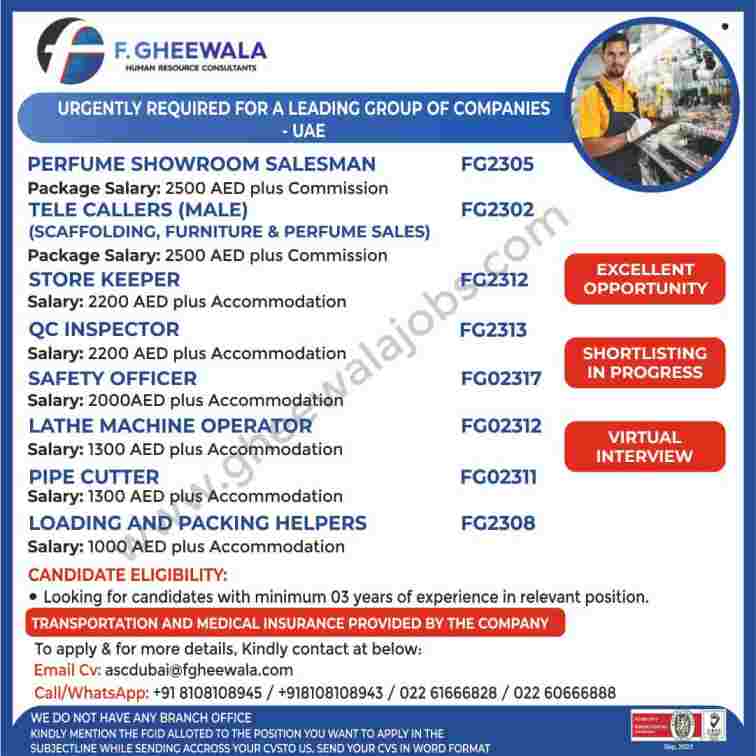 Job Role:
Perfume Showroom Salesman
Tele Callers (Male) (Scaffolding, Furniture & Perfume Sales)
Store Keeper
Qc Inspector
Safety Officer
Lathe Machine Operator
Pipe Cutter
Loading And Packing Helpers
Job Location: UAE
Experience: Looking for candidates with minimum 03 years of experience in relevant position.
Benefits: Transportation & Medical are provided by the com
Consultancy Name: F Gheewala
Contact: +918108108943 / 022 61666828 / 022 60666888
Email: ascdubai@fgheewala.com
How To Apply?
Candidates with related experience contact the branch office or send an emailed CV with a valid contact number, experience certificates, and passport copy & photo. Also, do not forget to mention the job subject line and your skype, zoom id in your cv for an easy online interview.
संबंधित अनुभव वाले उम्मीदवार शाखा कार्यालय से संपर्क करें या वैध संपर्क नंबर, अनुभव प्रमाण पत्र, और पासपोर्ट कॉपी और फोटो के साथ ईमेल सीवी भेजें। साथ ही, एक आसान ऑनला-इन साक्षात्कार के लिए अपने सीवी में जॉब सब्जेक्ट लाइन और अपने स्काइप, ज़ूम आईडी का उल्लेख करना न भूलें।
Gulf Job Vacancy Newspaper PDF
For more exciting careers related to Gulf jobs, you must join our TELEGRAM CHANNEL