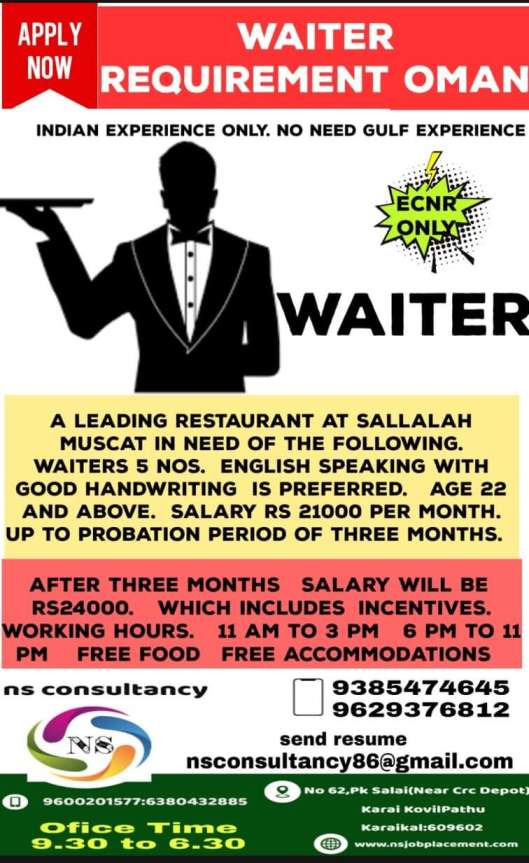 Gulf Job for Indians-Requirement for waiter at leading restaurant in Oman. Job seekers who want to apply for this job. kindly request to you read all the information carefully. and apply for this job after all the requirement is meet with your job profile.
JOB ROLE –
A LEADING RESTAURANT AT SALLALAH MUSCAT IN NEED OF THE FOLLOWING. WAITERS 5 NOS. ENGLISH SPEAKING WITH GOOD HANDWRITING IS PREFERRED. AGE 22 AND ABOVE. SALARY RS 21000 PER MONTH.
Experience – CANDIDATES MUST HAVE INDIAN EXPERIENCE ONLY. NO NEED GULF EXPERIENCE
Job location – Oman
Interview mode – Not mention
Features and benefits –
Should be physically and mentally sound to perform the duty.
Know language – hindi and english both.
Should be read/understand/speak basic english.
Extra Benifits – FREE FOOD FREE ACCOMMODATIONS
Salary – INR 21000 PER MONTH AFTER THREE MONTHS SALARY WILL BE RS24000. WHICH INCLUDES INCENTIVES.
Consultancy name – N S CONSULTANCY
Consultancy official E-mail id – nsconsultancy86@gmail.com
Contact us for recruitment process or send CV to given email id (ADDRESS) – No 62, Pk Salai (Near Crc Depot) KaraIil kovilpatho, Karaikal 609602
Call : 9385474645, 9629376812
E-mail : Send CV's immediately for shortlisting on – nsconsultancy86@gmail.com
Share this jobs with your family and friends.