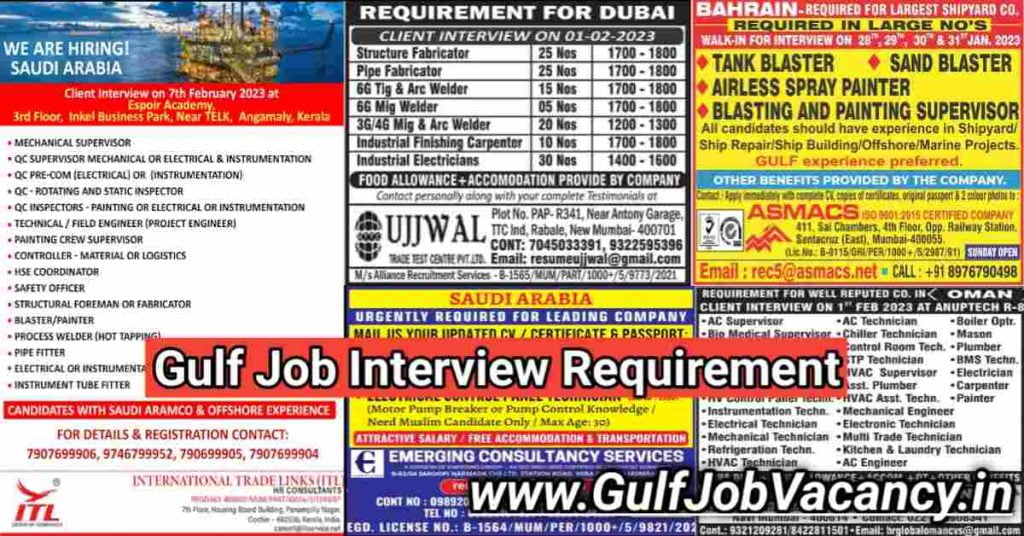 Gulf Job Interview – Walkin interview requirement for Bahrain, Qatar, Saudi Arabia, Oman, Dubai, Kuwait and UAE. Interested job seekers can apply their jobs in Shipyard companies, Metal manufacturing companies, Aramco & Offshore projects, Hospitality & maintenance projects, advertising companies, Offshore projects, Semi government projects, Contracting infrastructure projects, Fine dine restaurant, and Shipyard/dockyard companies. Kindly check below all the job positions and apply for the interview immediately. Shortlisting is in progress.

Largest Shipyard Company Jobs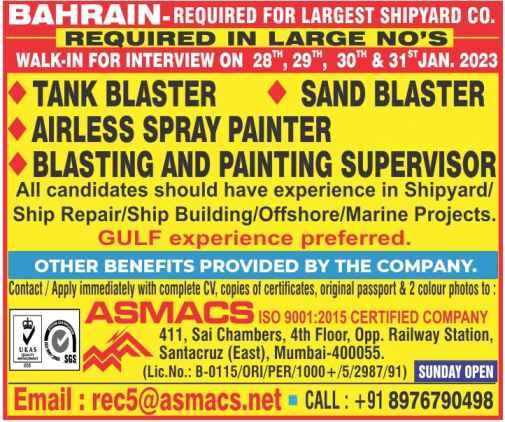 Job Role:
Tank Blaster
Sand Blaster
Airless Spray Painter
Blasting And Painting Supervisor
Job Location: Bahrain
Experience: All candidates should have experience in Shipyard/ Ship Repair/Ship Building/Offshore/Marine Projects GULF experience preferred.
Hiring Organization: ASMACS
Contact: +91 8976790498
Email: rec5@asmacs.net
Metal Manufacturing Company Jobs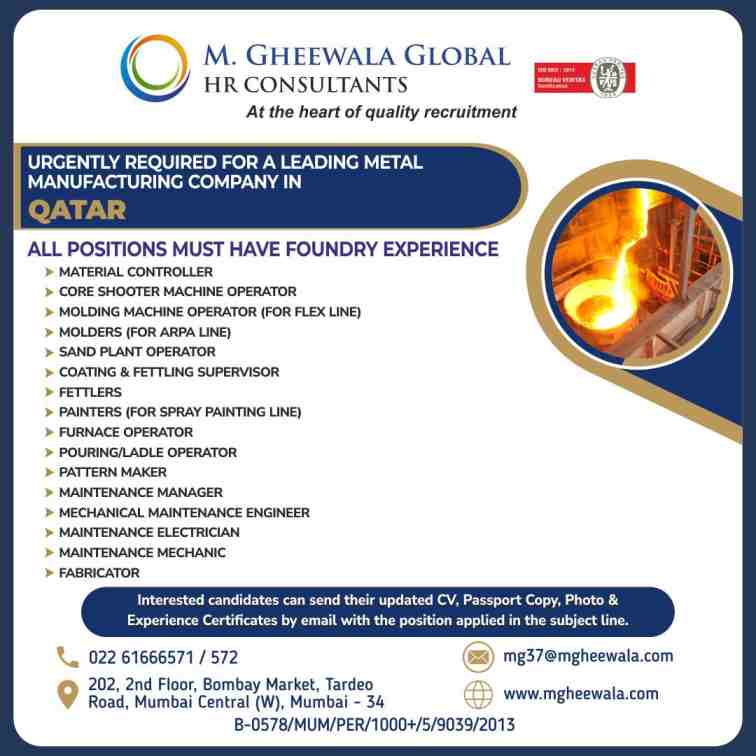 Job Role:
Material Controller
Core Shooter Machine Operator
Molding Machine Operator (For Flex Line) )
Molders (For Arpa Lin
Sand Plant Operator
Coating & Fettling Supervisor
Fettlers
Painters (For Spray Painting Line)
Furnace Operator
Pouring/ladle Operator
Pattern Maker
Maintenance Manager
Mechanical Maintenance Engineer
Maintenance Electrician
Maintenance Mechanic
Fabricator
Job Location: Qatar
Experience: All positions must have foundry experience
Hiring Organization: M Gheewala Global HR Consultants
Contact: 022 61666571 / 572
Email: mg37@mgheewala.com
ARAMCO & Offshore Project Jobs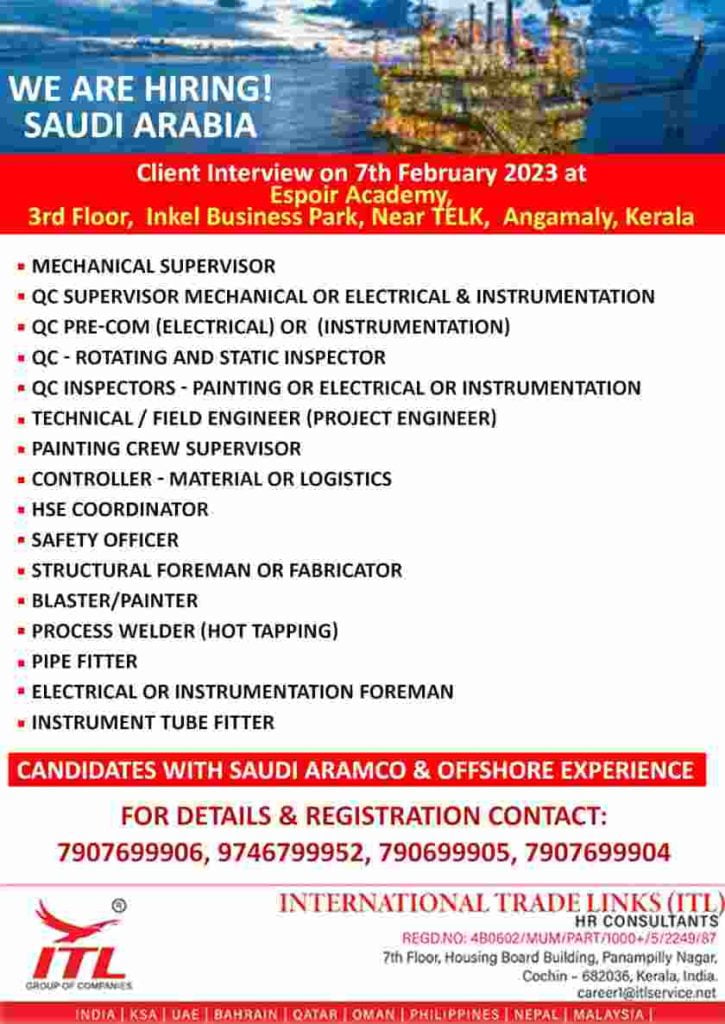 Job Role:
Mechanical Supervisor
Qc Supervisor
Mechanical Or Electrical & Instrumentation
Qc Pre-com (Electrical) Or (Instrumentation)
Qc – Rotating And Static Inspector
Qc Inspectors – Painting Or Electrical Or Instrumentation
Technical / Field Engineer (Project Engineer)
Painting Crew Supervisor
Controller – Material Or Logistics
Hse Coordinator
Safety Officer
Structural Foreman Or Fabricator
Blaster/painter
Process Welder (Hot Tapping)
Pipe Fitter
Electrical Or Instrumentation Foreman
Instrument Tube Fitter
Job Location: Saudi Arabia
Experience: Candidates with Saudi Aramco & offshore experience
Hiring Organization: International Tarde Links
Contact: 7907699906, 9746799952, 790699905, 7907699904
Email: career1@itlservice.net
Hospitality And Maintenance Project Jobs
Job Role:
Plumber
Ro Plant Operator
Senior Bio Medical Technician
Sterilizer Technician
Ac Engineer
Asst Plumber
Bms Technician
Electrician
Generator Technician
Control Panel Technician
Asst HVAC Technician
HVAC Technician
Kitchen & Laundry Technician
Refrigeration Technician
Job Location: Oman
Experience: Need 5+ years of Experience in Hotel, Hospital, Mall, Palace And Building Maintenance.
Qualifications: With 2 Years ITI NCVT/ 3 Years Diploma Required
Benefits: Food Allowance + Accommodation + Transportation
Hiring Organization: Voltech
Contact: +91 8939837010 /+91 8939837006 (WhatsApp Available)
Email: Surya.tm@voltechgroup.com/jeevitha.k@voltechgroup.com
अगर आप गल्फ देशों में काम करना चाहते है तो अप्लाई करें
Advertising Company Jobs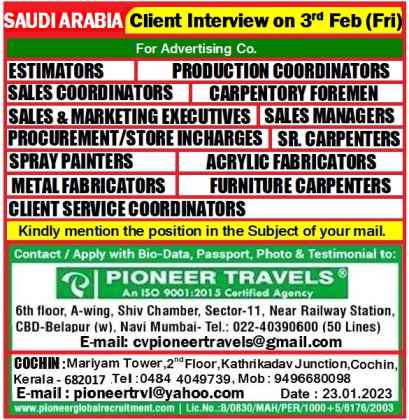 Job Role:
Estimators
Production Coordinators
Sales Coordinators
Carpentry Foremen
Sales & Marketing Executives
Sales Managers
Procurement/store Incnarges
Sr. Carpenters
Spray Painters
Acrylic Fabricators
Metal Fabricators
Furniture Carpenters
Client Service Coordinators
Job Location: Saudi Arabia
Hiring Organization: Pioneer Travels
Contact: 022-40390600
Email: cvpioneertravels@gmail.com
Operator/Technicians Jobs
Job Role:
AC Supervisor
AC Technician
Boiler Optr.
Bio-Medical Supervisor
Chiller Technician
Mason
Bio Medical Technician
Control Room Tech.
Plumber
RO Plant Operator
STP Technician
BMS Techn.
Sterilizer Technician
HVAC Supervisor
Electrician
Generator Technician
Asst. Plumber
Carpenter
HV Control Panel Techn.
HVAC asst. Techn.
Painter
Instrumentation Techn.
Mechanical Engineer
Electrical Technician
Electronic Technician
Mechanical Technician
Multi-Trade Technician
Refrigeration Techn.
Kitchen & Laundry Technician
HVAC Technician
AC Engineer
Job Location: Oman
Benefits: 8 Hrs Duty + Food Allowance + Accom. + Over Time + Other Benefits
Hiring Organization: HR Global Consultancy
Contact: 9321209281/8422811501
Email: hrglobalomancvs@gmail.com
Semi-Government Offshore/Onshore Project Jobs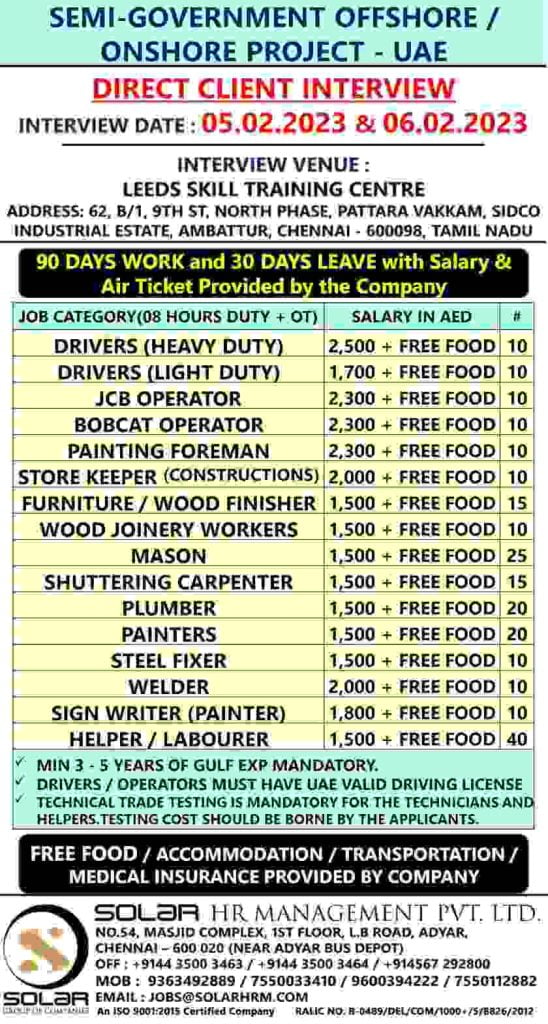 Job Role:
Drivers (Heavy Duty)
Drivers (Light Duty)
Jcb Operator
Bobcat Operator
Painting Foreman
Store Keeper (Constructions)
Furniture / Wood Finisher
Wood Joinery Workers
Mason
Shuttering Carpenter
Plumber
Painters
Steel Fixer
Welder
Sign Writer (Painter)
Helper / Labourer
Job Location: UAE
Experience: Min 3 – 5 Years Of Gulf Exp Mandatory. Drivers / Operators Must Have Uae Valid Driving Licenses. Technical Trade Testing Is Mandatory For Technicians And Helpers. Testing Cost Should Be Borne By The Applicants.
Duty Hours: 08 Hours Duty + Over Time
Hiring Organization: Solar HR Management Pvt. Ltd.
Contact: 9363492889 / 7550033410 / 9600394222 / 7550112882
Email: Jobs@solarhrm.com
Shipyard/Dockyard Company For ASRY Project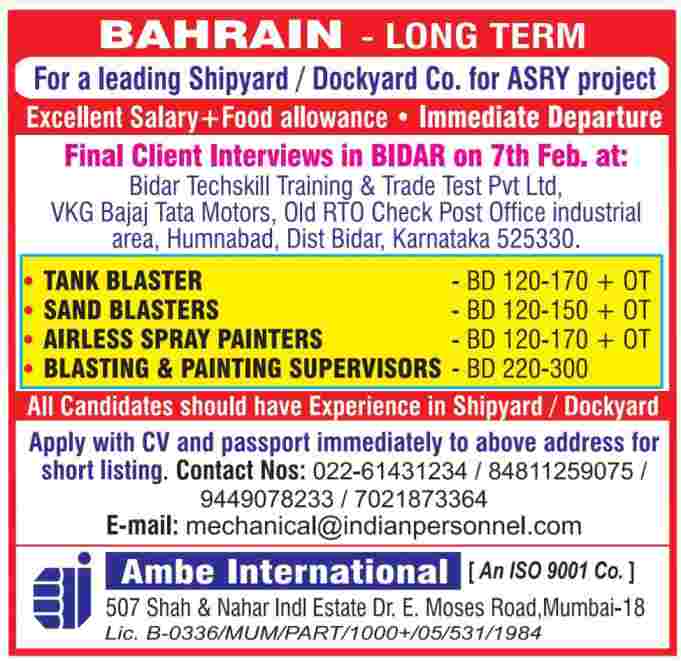 Job Role:
Tank Blaster
Sand Blasters
Airless Spray Painters
Blasting & Painting Supervisors
Job Location: Bahrain
Experience: All Candidates should have Experience in Shipyard / Dockyard
Hiring Organization: Ambe International
Contact: 022-61431234 / 84811259075 / 9449078233 / 7021873364
Email: mechanical@indianpersonnel.com
Contracting Infrastructure Project Jobs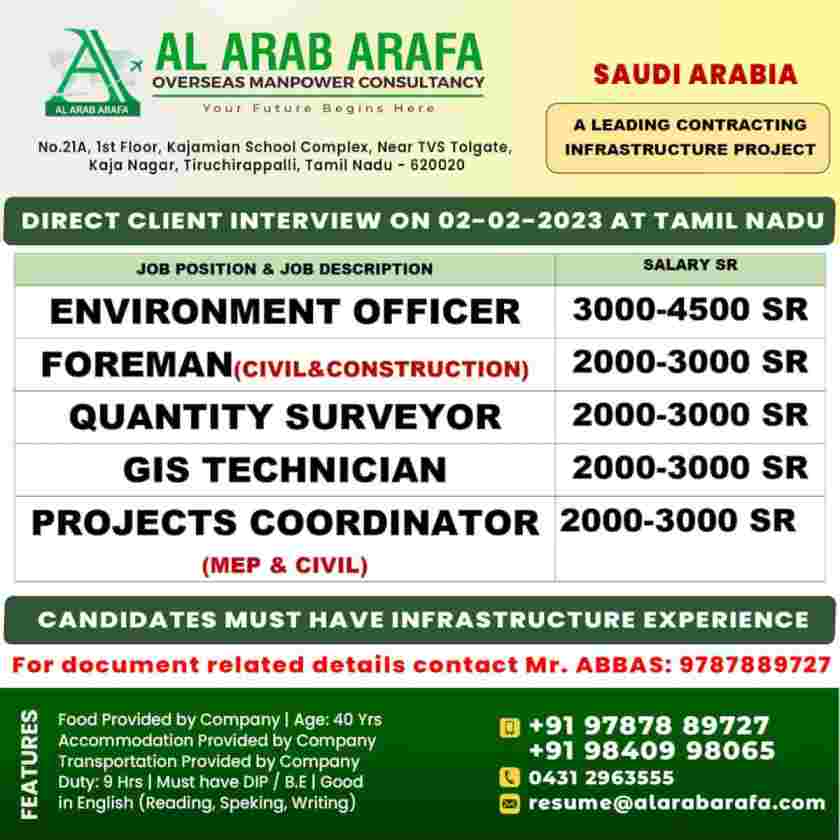 Job Role:
Environment Officer
Forema (civil&construction)
Quantity Surveyor
Gis Technician
Projects Coordinator (Mep & Civil)
Job Location: Saudi Arabia
Experience: Candidates must have infrastructure experience
Hiring Organization: Al Arab Arafa
Contact: +91 97878 89727 /+91 98409 98065 / 0431 2963555
Email: resurne@alarabarafa.com
Requirement For Maintenance Jobs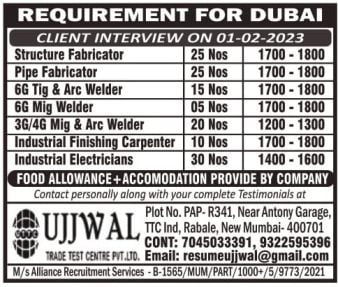 Job Role:
Structure Fabricator
Pipe Fabricator
6G Tig & Arc Welder
6G Mig Welder
3G/4G Mig & Arc Welder
Industrial Finishing Carpenter
Industrial Electricians
Job Location: Dubai
Benefits: Food Allowance + Accomodation Provided By Company
Hiring Organization: Ujjwal Trade Test Centre Pvt Ltd.
Contact: 7045033391, 9322595396
Email: resumeujjwal@gmail.com
Fine Dine Restaurant Jobs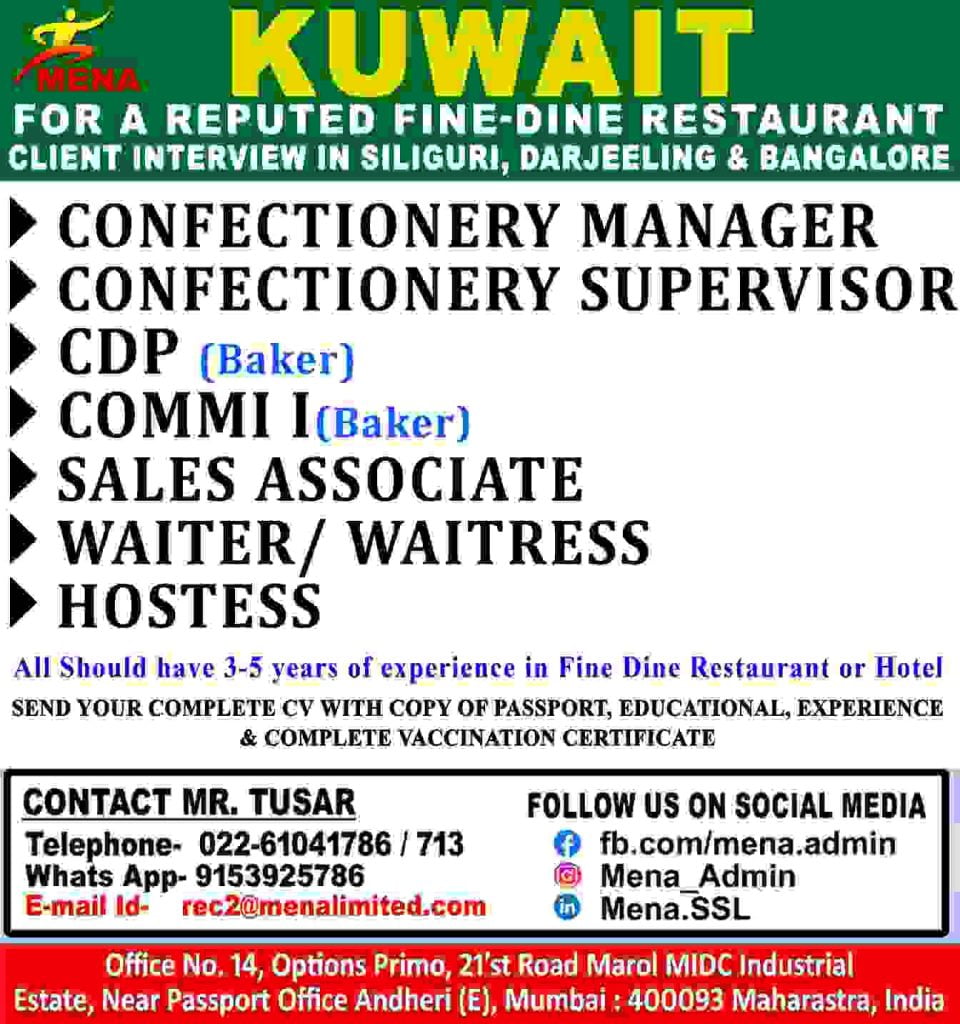 Job Role:
Confectionery Manager
Confectionery Supervisor Cdp (Baker)
Commi I(Baker)
Sales Associate
Waiter/ Waitress
Hostess
Job Location: Kuwait
Experience: All Should have 3-5 years of experience in Fine Dining Restaurants or Hotel
Hiring Organization: Mena Suport Services
Contact: 022-61041786 / 713 /9153925786
Email: rec2@menalimited.com
Restaurant Jobs Requirement
Job Role:
Tandoori Chefs (Experience On Tandoor / Grills)
Chef De Partie
Commis / Cooks (For Indian Cuisine)
Kuboos Bread Maker
Job Location: Saudi Arabia
Hiring Organization: Nasser Overseas Consultants
Email: overseajobs22@gmail.com
Gulf Requirement For Leading Company
Job Role:
Water Pump And Motor Maintenance Mechanic (Experience In R-O System / Max Age: 30)
Electrical Control Panel Technician (Motor Pump Breaker Or Pump Control Knowledge / Need Muslim Candidate Only / Max Age: 3o)
Job Location: Saudi Arabia
Benefits: Attractive Salary / Free Accommodation & Transportation
Hiring Organization: Emerging Consultancy Services
Contact: 09892089278 / 09892119313 / 09892097893
Email: rec@emerginggroupin
How To Apply?
Candidates with related experience contact the branch office or send an emailed CV with a valid contact number, experience certificates, and passport copy & photo. Also, do not forget to mention the job subject line and your skype, zoom id in your cv for an easy online interview.
संबंधित अनुभव वाले उम्मीदवार शाखा कार्यालय से संपर्क करें या वैध संपर्क नंबर, अनुभव प्रमाण पत्र, और पासपोर्ट कॉपी और फोटो के साथ ईमेल सीवी भेजें। साथ ही, एक आसान ऑनला-इन साक्षात्कार के लिए अपने सीवी में जॉब सब्जेक्ट लाइन और अपने स्काइप, ज़ूम आईडी का उल्लेख करना न भूलें।
Gulf Job Interview
For more exciting careers related to Gulf jobs, you must join our TELEGRAM CHANNEL