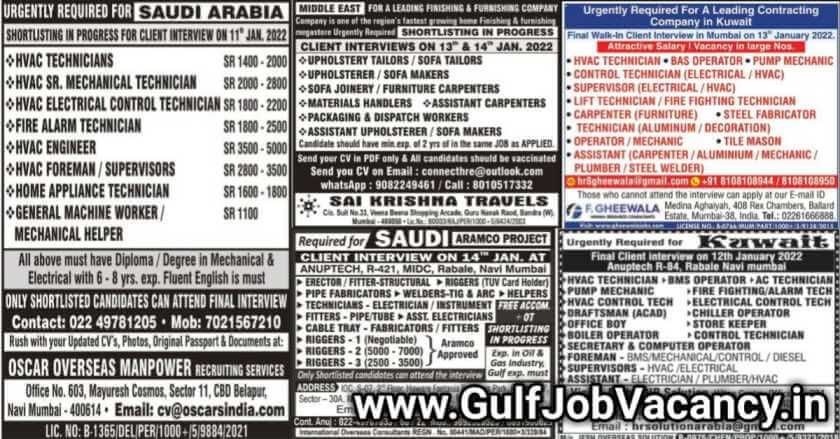 Gulf Job Mumbai Papers – Abroad paper jobs requirements for Saudi Arabia, Qatar, Kuwait, Oman and UAE are required for their Finishing & furnishing company, Dining restaurant, Contracting company and Catering company. Shortlisting is in progress candidates with related experience and qualifications kindly check all the details and apply. Only shortlisted candidates can attend the interview.

1. REQUIRED FOR SAUDI ARABIA ARAMCO PROJECT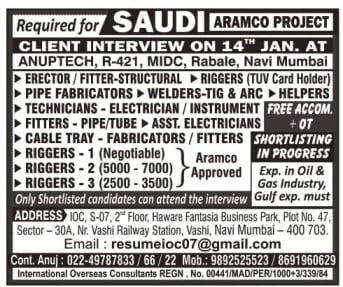 Job Role:
Erector / Fitter-Structural
Riggers (Tuv Card Holder)
Pipe Fabricators
Welders-Tig & Arc
Helpers
Technicians – Electrician / Instrument
Fitters – Pipe/Tube
Asst. Electricians
Cable Tray – Fabricators / Fitters
Riggers – 1
Riggers – 2
Riggers – 3
Job Location: Saudi Arabia
Experience: Exp. in Oil & Gas Industry, Gulf exp. must
Consultancy Name: International Overseas Consultants
Office Address: IOC, S-07, 02nd Floor, Haware Fantasia Business Park. Plot No. 47. Sector -30A, Nr. Vashi Railway Station, Vashi, Navi Mumbai – 400 703.
Contact: 022-49787833 / 66 / 22 Mob.: 9892525523 / 8691960629
Email: resumeioc07@gmail.com
2. URGENTLY REQUIRED FOR SAUDI ARABIA
Job Role:
HVAC Technicians
HVAC Sr. Mechanical Technician
HVAC Electrical Control Technician
Fire Alarm Technician
HVAC Engineer
HVAC Foreman / Supervisors
Home Appliance Technician
General Machine Worker / Mechanical Helper
Job Location: Saudi Arabia
Experience: 6 – 8 yrs. exp. Fluent English is a must
Qualifications: All above must have Diploma / Degree in Mechanical & Electrical
Consultancy Name: Oscar Overseas Manpower Recruiting Services
Office Address: Office No. 603, Mayuresh Cosmos, Sector 11, CBD Belapur, Navi Mumbai – 400614
Contact: 022 49781205, 7021567210
Email: cv@oscarsindia.com
3. A LADING FINISHING & FURNISHING COMPANY FOR MIDDLES EAST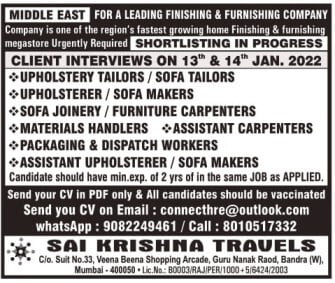 Job Role:
Upholstery Tailors / Sofa Tailors
Upholsterer / Sofa Makers
Sofa Joinery / Furniture Carpenters
Materials Handlers
Assistant Carpenters
Packaging & Dispatch Workers
Assistant Upholsterer / Sofa Makers
Job Location: Middle East
Experience: Candidate should have min. exp. of 2 yrs of in the same JOB as APPLIED.
Consultancy Name: Sai Krishna Travels
Office Address: C/O. Suit No.33. Veena Beena Shopping Arcade, Guru Nanak Road, Bandra Mumbai 400050
Contact: 9082249461, 8010517332
Email: connecthre@outlook.com
4. REQUIRED FOR DINING RSTAURANT IN QATAR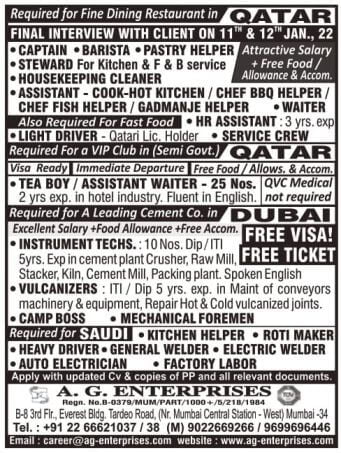 Job Role:
Captain
Barista
Pastry Helper
Steward For Kitchen & F & B Service
Housekeeping Cleaner
Assistant – Cook-Hot Kitchen / Chef Bbq Helper / Chef Fish Helper / Gadmanje Helper
Waiter
HR Assistant
Light Driver
Service Crew
Tea Boy / Assistant Waiter
Job Location: Qatar
Consultancy Name: A.G. Enterprises
Office Address: B-8 3rd Flr, Everest Bldg. Tardeo Road, (Nr. Mumbai Central Station – West) Mumbai -34
Contact: +91 22 66621037 / 38 (M) 9022669266 / 9699696446
Email: career@ag-enterprises.com
5. DOHA – QATAR SHORT TERM JOB REQUIREMENTS
Job Role:
Piping Supervisors / Foreman
Rigging Supervisors / Chargehand
Safety Officers (NEBOSH 1,2,3)
PTW Holders
Fire Watch
Pipe Fabricators
Pipe Fitters
Structural Fabricators
Riggers
Store Keepers
Instrument Technicians
Welding Foreman – SS Welders (6G)
Inconel Welders (6G-GTAW)
Instrument Fitters • Electricians
Job Location: Qatar
Experience: All above candidates must have a minimum of 2 years GC( experience. Previous shutdown experience in the GCC is a must.
Age Limit: Age maximum 45 years only.
Consultancy Name: Beta Consultancy Hr Services Pvt. Ltd.
Office Address: 6/19, Mittal Industrial Estate, Andheri – Kurla Road, Near Marol Naka, Andheri (East), Mumbai – 400059.
Contact: 022-66442 610/600
Email: Jobs@betahr.com
6. UAE – TAMAS GROUP REQUIREMENTS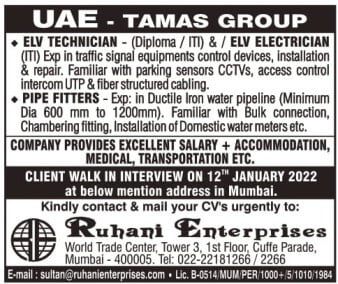 Job Role:
ELV Technician – (Diploma / ITI) & / ELV ELECTRICIAN (ITI) Exp in traffic signal equipments control devices, installation & repair. Familiar with parking sensors CCTVs, access control intercom UTP & fiber structured cabling.
PIPE FITTERS – Exp: in Ductile Iron water pipeline (Minimum Dia 600 mm to 1200mm). Familiar with Bulk connection, Chambering fitting, Installation of Domestic water meters etc.
Job Location: UAE
Consultancy Name: Ruhani Enterprise
Office Address: World Trade Center, Tower 3, 1st Floor, Guile Parade, Mumbai – 400005.
Contact: 022-22181266 / 2266
Email: sultan@ruhanienterprises.com
7. URGENTLY REQUIRED FOR INFRASTRUCTURE UTILITY GROUP IN UAE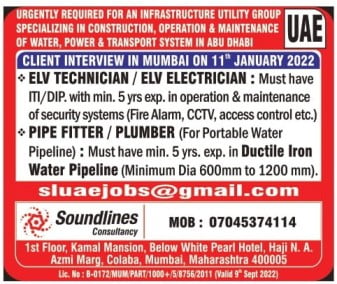 Job Role:
ELV TECHNICIAN / ELV ELECTRICIAN : Must have ITI/DIP. with min. 5 yrs exp. in operation & maintenance of security systems (Fire Alarm, CCTV, access control etc.)
PIPE FITTER / PLUMBER (For Portable Water Pipeline) : Must have min. 5 yrs. exp. in Ductile Iron Water Pipeline (Minimum Dia 600mm to 1200 mm).
Job Location: UAE
Consultancy Name: Soundlines Consultancy
Office Address: 1st Floor, Kamal Mansion, Below White Pearl Hotel, Haji N. A. Azmi Marg, Colaba, Mumbai, Maharashtra 400005
Contact: 07045374114
Email: sluaejobs@gmail.com
8. URGENTLY REQUIRED FOR KUWAIT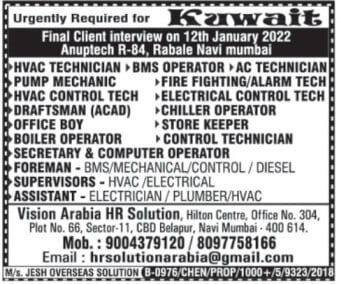 Job Role:
HVAC Technician
BMS Operator
AC Technician
Pump Mechanic
Fire Fighting/Alarm Tech
Hvac Control Tech
Electrical Control Tech
Draftsman (Acad)
Chiller Operator
Office Boy
Store Keeper
Boiler Operator
Control Technician
Secretary & Computer Operator
Foreman – Bms/Mechanical/Control/ Diesel
Supervisors – HVAC /Electrical
Assistant – Electrician / Plumber/HVAC
Job Location: Kuwait
Consultancy Name: Vision Arabia HR Solution
Office Address: Hilton Centre, Office No. 304, Plot No. 66, Sector 11, CBD Belapur, Navi Mumbai 400614
Contact: 9004379120 / 8097758166
Email: hrsolutionarabia@gmail.com
9. URGENTLY REQUIRED FOR A LEADING CATERING COMPANY IN KUWAIT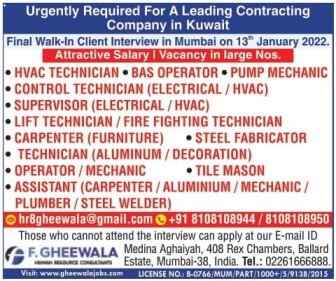 Job Role:
HVAC Technician
BAS Operator
Pump Mechanic
Control Technician (Electrical / HVAC)
Supervisor (Electrical / HVAC)
Lift Technician / Fire Fighting Technician
Carpenter (Furniture)
Steel Fabricator
Technician (Aluminum / Decoration)
Operator / Mechanic
Tile Mason
Assistant (Carpenter / Aluminium / Mechanic / Plumber / Steel Welder)
Job Location: Kuwait
Consultancy Name: F Gheewala
Office Address: Medina Aghaiyah, 408 Rex Chambers, Ballard Estate, Mumbai-38, India.
Contact: 02261666888, +91 8108108944 / 8108108950
Email: hr8gheewala@gmail.com
10. A REPUTED CATERING COMPANY REQUIRED FOR OMAN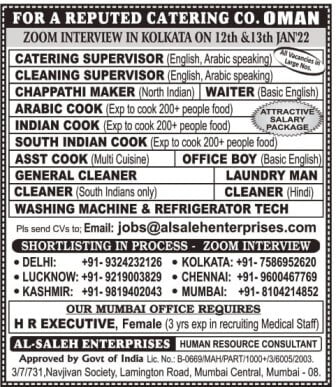 Job Role:
Catering Supervisor
Cleaning Supervisor
Chappathi Maker (North Indian)
Waiter (Basic English)
Arabic Cook
Indian Cook
South Indian Cook
Asst Cook (Multi Cuisine)
Office Boy (Basic English)
General Cleaner
Laundry Man
Cleaner (South Indians Only)
Cleaner (Hindi)
Washing Machine & Refrigerator Tech
Job Location: Oman
Consultancy Name: AL-Saleh Enterprises
Office Address: Navjivan Society, Lamington Road, Mumbai Central, Mumbai – 08.
Email: jobs@alsalehenterprises.com
How To Apply?
Candidates With Related Experience Contact Branch Office Or Send Email CV With Valid Contact Number, Experience Certificates, And Passport Copy & Photo. Also, Do Not Forget To Mention The Job Subject Line And Your Skype, Zoom Id In Your Cv For An Easy Online Interview.
संबंधित अनुभव वाले उम्मीदवार शाखा कार्यालय से संपर्क करें या वैध संपर्क नंबर, अनुभव प्रमाण पत्र, और पासपोर्ट कॉपी और फोटो के साथ ईमेल सीवी भेजें। साथ ही, एक आसान ऑनलाइन साक्षात्कार के लिए अपने सीवी में जॉब सब्जेक्ट लाइन और अपने स्काइप, ज़ूम आईडी का उल्लेख करना न भूलें।
MORE RELATED GULF JOB MUMBAI PAPERS
For more interesting careers related gulf jobs you must join our TELEGRAM CHANNEL