Gulf Job Paper – Mumbai latest interviews requirements for Saudi Arabia, Dubai, Singapore, Malta, Malaysia, Kuwait, Oman and Qatar. Required for their maintenance projects, engineering construction maintenance projects, Government shipyard projects and Oil & gas company. Interested candidates kindly check all the below details and apply for the jobs.

1. REQUIRED FOR MAINTENANCE PROJECT IN KSA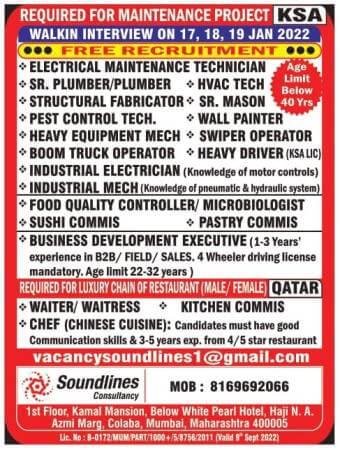 Job Role:
Electrical Maintenance Technician
Sr. Plumber/Plumber
Hvac Tech
Structural Fabricator
Sr. Mason
Pest Control Tech.
Wall Painter
Heavy Equipment Mech
Swiper Operator
Boom Truck Operator
Heavy Driver (Ksa Lic)
Industrial Electrician (Knowledge Of Motor Controls)
Industrial Mech
Food Quality Controller/ Microbiologist
Sushi Commis
Pastry Commis
Business Development Executive
Waiter/ Waitress
Kitchen Commis
Chef (Chinese Cuisine)
Age Limit: Below 40 Years
Consultancy Name: Soundlines Consultancy
Office Address: 1st Floor, Kamal Mansion, Below White Pearl Hotel, Haji N. A. Azmi Marg, Colaba, Mumbai, Maharashtra 400005
Contact: 8169692066
Email: vacancysoundlines1@gmail.com
2. URGENTLY REQUIRED MANPOWER FOR DIVERSIFIED GROUP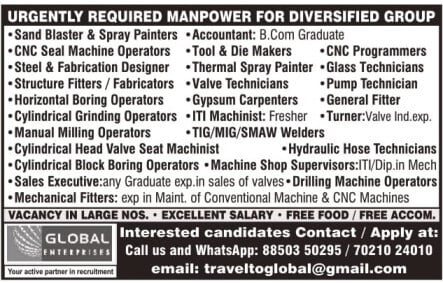 Job Role:
Sand Blaster & Spray Painters
CNC Seal Machine Operators
Steel & Fabrication Designer
Structure Fitters / Fabricators
Horizontal Boring Operators
Cylindrical Grinding Operators
Manual Milling Operators
Accountant: B.Com Graduate
Tool & Die Makers
CNC Programmers
Thermal Spray Painter
Glass Technicians
Valve Technicians
Pump Technician
Gypsum Carpenters
General Fitter
ITI Machinist: Fresher
Turner Valve Ind.exp.
TIG/MIG/SMAW Welders
Cylindrical Head Valve Seat Machinist
Hydraulic Hose Technicians
Cylindrical Block Boring Operators
Machine Shop Supervisors:ITI/Dip in Mech
Sales Executive:any Graduate exp.in sales of valves
Drilling Machine Operators
Mechanical Fitters
Benefits: Excellent Salary, Free Food / Free Accom.
Consultancy Name: Global Enterprises
Contact: 88503 50295 / 70210 24010
Email: traveltoglobal@gmail.com
3. URGENTLY REQUIRED FOR DUBAI LEADING ENGINEERING COMPANY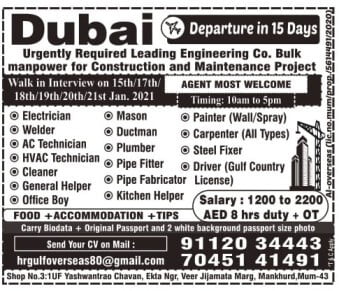 Job Role:
Electrician
Mason
Welder
Ductman
AC Technician
Plumber
HVAC Technician
Pipe Fitter
Driver
Cleaner
Pipe Fabricator License
General Helper
Office Boy
Kitchen Helper
Painter (Wall/Spray)
Carpenter (All Types)
Steel Fixer
Benefits: Food, Accommodation & Tips
Salary: AED 1200-2200/-
Duty Hours: 08 Hrs + Over Time
Consultancy Name: Al Overseas
Office Address: Shop No.3: 1UF Yashwantrao Chavan, Ekta Nagar, Veer Jijamata Marg, Mankhurd Mumbai – 43
Contact: 91120 34443, 70451 41491
Email: hrgulfoverseas80@gmail.com
4. URGENTLY REQUIRED FOR DUBAI CONSTRUCTION & MAINTENANCE PROJECT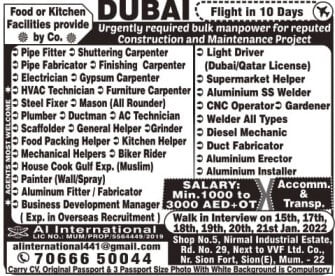 Job Role:
Pipe Fitter
Shuttering Carpenter
Light Driver (Dubai/Qatar License)
Pipe Fabricator
Finishing Carpenter
Electrician
Gypsum Carpenter
Supermarket Helper
HVAC Technician
Furniture Carpenter
Aluminium SS Welder
Steel Fixer
Mason (All Rounder)
Plumber
Ductman
AC Technician
Scaffolder
General Helper
Grinder
Food Packing Helper
Kitchen Helper
Mechanical Helpers
Biker Rider
House Cook
Painter (Wall/Spray)
Aluminum Fitter / Fabricator
Business Development Manager
Benefits: Accommodation & Transportation
Salary: AED 1000-3000/- + Over Time
Consultancy Name: Al International
Office Address: Shop No.5. Nirmal Industrial Estate, Rd. No. 29. Next to VVF Ltd. Co Nr. Sion Fort, Sion(E). Mum. – 22
Contact: 70666 50044
Email: alinternatIonal441@gmall.com
5. SHIP BUILDING SHIP REPAIR SHIP CONSTRUCTION PROJECT REQUIREMENTS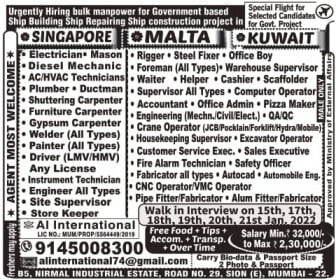 Job Role:
Electrician
Mason
Diesel Mechanic
AC/HVAC Technicians
Plumber
Ductman
Shuttering Carpenter
Furniture Carpenter
Gypsum Carpenter
Welder (All Types)
Painter (All Types)
Driver (LMV/HMV) Any License
Instrument Technician
Engineer All Types
Site Supervisor
Store Keeper
Rigger
Steel Fixer
Office Boy
Foreman (All Types)
Warehouse Supervisor
Waiter
Helper
Cashier
Scaffolder
Supervisor All Types
Computer Operator
Accountant
Office Admin
Pizza Maker
Engineering (Mechn./Civil/Elect.)
Crane Operator
Housekeeping Supervisor
Excavator Operator
Customer Service Exec.
Sales Executive
Fire Alarm Technician
Safety Officer
Fabricator all types
Autocad
Automobile Eng.
CNC Operator
NMC Operator
Alum FitterlFabricator
Benefits: Free Food + Tips + Accom. + Transp. + Over Time
Salary: INR 32000-230000/-
Consultancy Name: Al International
Office Address: Nirmal Industrial Estate, Rd. No. 29. Sion(E), Mum. – 22
Contact: 9145008300
Email: alinternational74@gmail.com
6. A LARGE MANPOWER FOR GOVERNMENT SHIPYARD PROJECT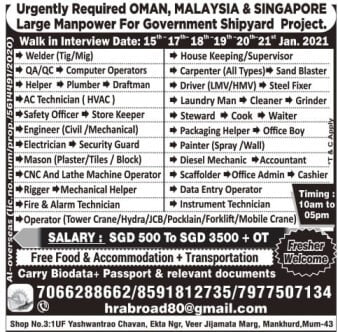 Job Role:
Welder (Tig/Mig)
QA/QC
Computer Operators
Helper
Plumber
Draftman
AC Technician ( HVAC )
Safety Officer
Store Keeper
Engineer (Civil /Mechanical)
ElectricianSecurity Guard
Mason (Plaster/Tiles / Block)
CNC And Lathe Machine Operator
Mechanical Helper
Fire & Alarm Technician
House Keeping/Supervisor
Carpenter (All Types)
Sand Blaster
Driver (LMV HMV)
Steel Fixer
Laundry Man
CleanerGrinder
Packaging HelperOffice Boy
Painter (Spray /Wall)
Diesel Mechanic
Accountant
Scaffolder
Office Admin
Cashier
Data Entry Operator
Instrument Technician
Operator (Tower Crane/Hydra/JCB/Pocklain/Forklift/Mobile Crane)
Benefits: Free Food & Accommodation + Transportation (Freshers are also welcome)
Salary: SGD 500-3500 + Over Time
Consultancy Name: Al Overseas
Office Address: Shop No.3: 1UF Yashwantrao Chavan, Ekta Nagar, Veer Jijamata Marg, Mankhurd Mumbai – 43
Contact: 7066288662/8591812735/7977507134
Email: hrabroad80@gmail.com
7. URGENT REQUIREMENTS FOR OMAN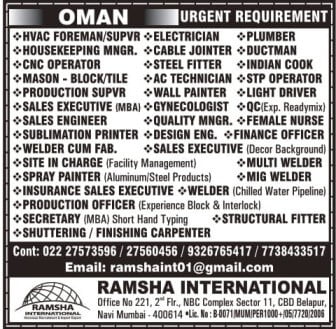 Job Role:
HVAC Foreman/Supvr
Electrician
Plumber
Housekeeping Mngr.
Cable Jointer
Ductman
CNC Operator
Steel Fitter
Indian Cook
Mason – Block/Tile
Ac Technician
STP Operator
Production Supvr
Wall Painter
Light Driver
Sales Executive (Mba)
Gynecologist .
Sales Engineer
Quality Mngr.
Female Nurse
Sublimation Printer
Design Eng.
Finance Officer
Welder Cum Fab.
Sales Executive (Decor Background)
Site In Charge (Facility Management)
Multi Welder
Spray Painter (Aluminum/steel Products)
Mig Welder
Insurance Sales Executive
Welder (Chilled Water Pipeline)
Production Officer (Experience Block & Interlock)
Secretary (Mba)
Structural Fitter
Shuttering / Finishing Carpenter
Consultancy Name: Ramsha International
Office Address: Office No 221, 2nd Flr., NBC Complex Sector 11, CBD Belapur, Navi Mumbai – 400614
Contact: 022 27573596 / 27560456 / 9326765417 / 7738433517
Email: ramshaint01@gmail.com
8. REQUIREMENT FOR LARGE OIL & GAS COMPANY IN QATAR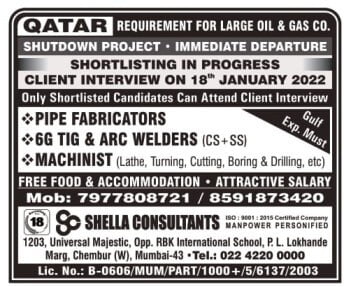 Job Role:
Pipe Fabricators
6G Tig & Arc Welders (CS+SS)
Machinist (Lathe, Turning, Cutting, Boring & Drilling, Etc)
Benefits: Free Food & Accommodation • Attractive Salary
Experience: Gulf experience is a must.
Consultancy Name: SHELLA CONSULTANTS
Office Address: 1203, Universal Majestic, Opp. RBK International School, R L. Lokhande Marg. Chembur (W), Mumbai-43
Contact: 7977808721 / 8591873420
How To Apply?
Candidates With Related Experience Contact Branch Office Or Send Email CV With Valid Contact Number, Experience Certificates, And Passport Copy & Photo. Also, Do Not Forget To Mention The Job Subject Line And Your Skype, Zoom Id In Your Cv For An Easy Online Interview.
संबंधित अनुभव वाले उम्मीदवार शाखा कार्यालय से संपर्क करें या वैध संपर्क नंबर, अनुभव प्रमाण पत्र, और पासपोर्ट कॉपी और फोटो के साथ ईमेल सीवी भेजें। साथ ही, एक आसान ऑनलाइन साक्षात्कार के लिए अपने सीवी में जॉब सब्जेक्ट लाइन और अपने स्काइप, ज़ूम आईडी का उल्लेख करना न भूलें।
MORE RELATED GULF JOB PAPER
For more interesting careers related gulf jobs you must join our TELEGRAM CHANNEL