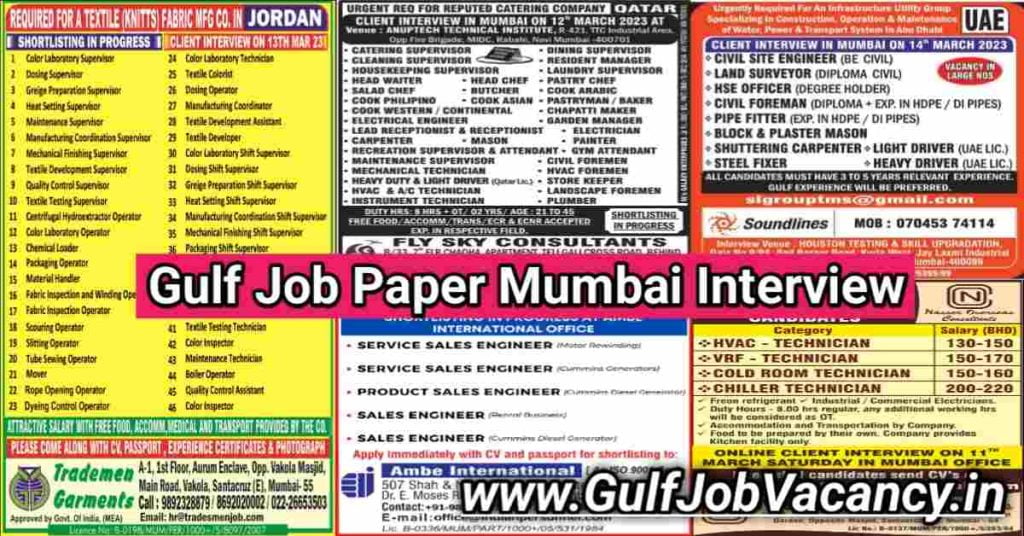 Gulf Job Paper Mumbai – Free recruitment for UAE, Qatar, Bahrain, Oman and Saudi Arabia. Interested job seekers can apply for their jobs in Infrastucture utility groups, Catering companies, Fabric MFG companies, long-term projects, MNC companies, MEP projects, Facility maintenance company, and a leading group of companies. Kindly check below all the job positions and apply for the interview immediately. Shortlisting is in progress.

Infrastructure Utility Group Required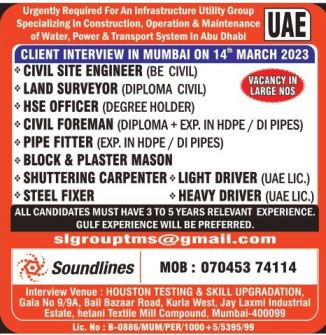 Job Role:
Civil Site Engineer (Be Civil)
Land Surveyor (Diploma Civil)
Hse Officer (Degree Holder)
Civil Foreman (Diploma + Exp. In Hdpe / Di Pipes)
Pipe Fitter (Exp. In Hdpe / Di Pipes)
Block & Plaster Mason
Shuttering Carpenter
Light Driver (Uae Lic.)
Steel Fixer
Heavy Driver (Uae Lic.)
Job Location: UAE
Experience: All candidates must have 3 to 5 years of relevant experience. Gulf experience will be preferred.
Consultancy Name: Soundlines
Office Address: HOUSTON TESTING & SKILL UPGRADATION, Gala No 9/9A, Bail Bazaar Road, Kuria West, Jay Laxmi Industrial Estate, hetani Textile Mill Compound, Mumbai-400099
Contact: 070453 74114
Email: slgrouptms@gmail.com
Catering Company Vacancies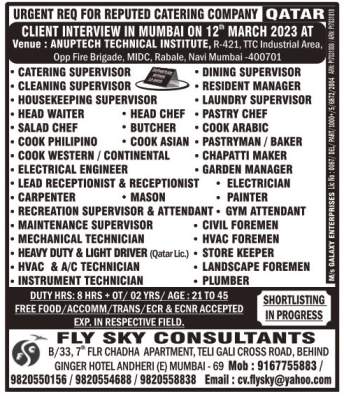 Job Role:
Catering Supervisor
Dining Supervisor
Cleaning Supervisor
Resident Manager
Housekeeping Supervisor
Laundry Supervisor
Head Waiter
Head Chef
Pastry Chef
Salad Chef
Butcher
Cook Arabic
Cook Philipino
Cook Asian
Pastryman / Baker
Cook Western / Continental
Chapatti Maker
Electrical Engineer
Garden Manager
Lead Receptionist & Receptionist
Electrician
Carpenter
Mason
Painter
Recreation Supervisor & Attendant
Gym Attendant
Maintenance Supervisor
Civil Foremen
Mechanical Technician
Hvac Foremen
Heavy Duty & Light Driver (Qatar Uc.)
Store Keeper
Hvac & A/c Technician
Landscape Foremen
Instrument Technician
Plumber
Job Location: Qatar
Consultancy Name: Fly Sky Consultant
Office Address: B/33, 7th Flr Chadha Apartment, Teli Gali Cross Road, Behind Ginger Hotel Andheri (E) Mumbai – 69
Contact: 9167755883 / 9820550156 / 9820554688 / 9820558838
Email: cv.flysky@yahoo.com
Industrial / Commercial Technicians Required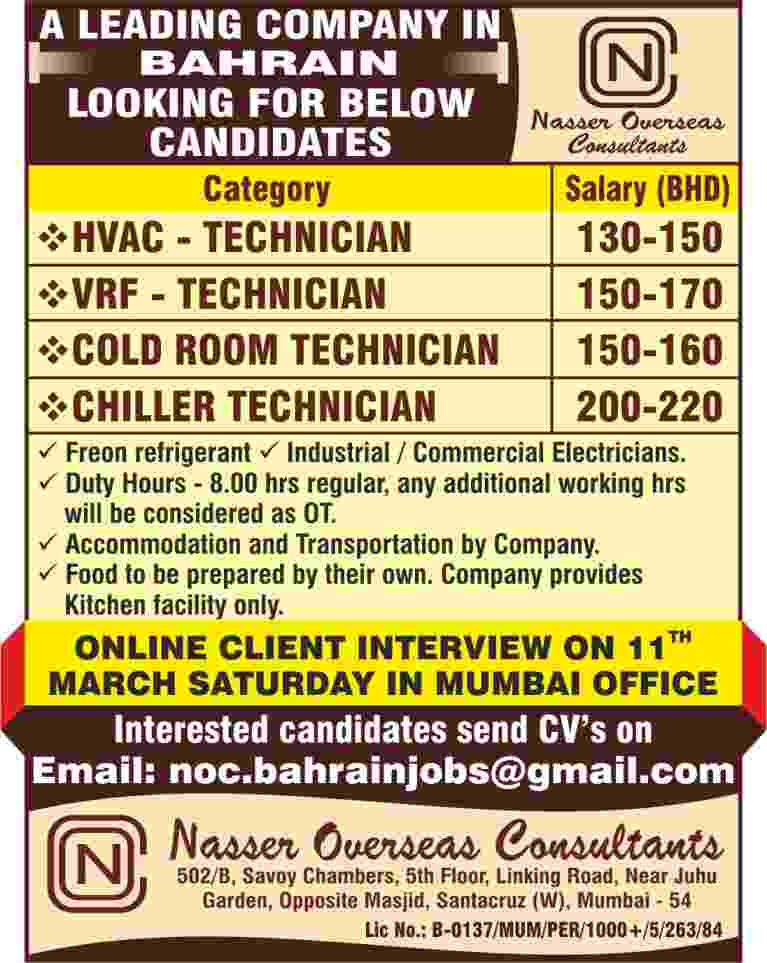 Job Role:
HVAC – Techncian
VRF – Technician
Cold Room Technician
Chiller Technician
Job Location: Bahrain
Benefits: Accommodation & Transportation are provided by the company.
Duty Hours: 08 Hours Regular, Any additionalworking Hrs will be considerd as OT
Consultancy Name: Nasser Overseas Consultants
Office Address: 502/B, Savoy Chambers, 5th Floor, Linking Road, Near Juhu Garden, Opposite Masjid, Santacruz (W), Mumbai -54
Email: noc.bahrainjobs@gmail.com
Fabric MFG Company Vacancies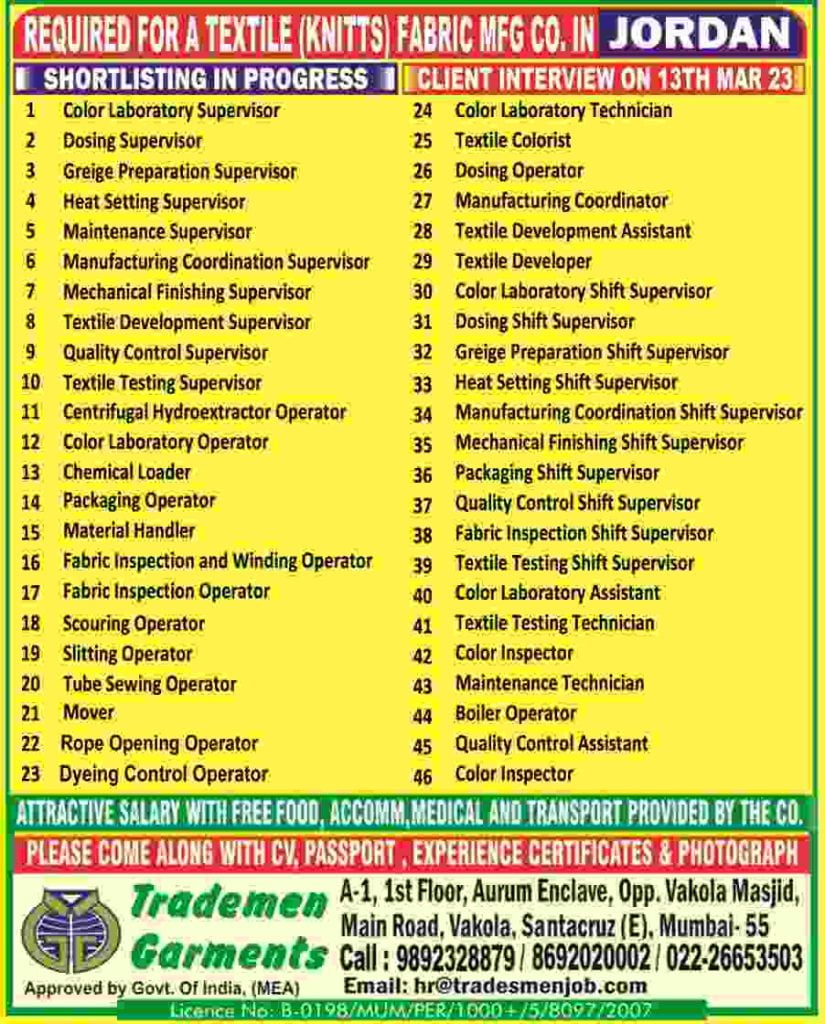 Job Role:
Color Laboratory Supervisor
Color Laboratory Technician
Dosing Supervisor
Textile Colorist
Greige Preparation Supervisor
Dosing Operator
Heat Setting Supervisor
Manufacturing Coordinator
Maintenance Supervisor
Textile Development Assistant
Manufacturing Coordination Supervisor
Textile Developer
Mechanical Finishing Supervisor
Color Laboratory Shift Supervisor
Textile Development Supervisor
Dosing Shift Supervisor
Quality Control Supervisor
Greige Preparation Shift Supervisor
Textile Testing Supervisor
Heat Setting Shift Supervisor
Centrifugal Hydroextractor Operator
Manufacturing Coordination Shift Supervisor
Color Laboratory Operator
Mechanical Finishing Shift Supervisor
Chemical Loader
Packaging Shift Supervisor
Packaging Operator
Quality Control Shift Supervisor
Material Handler
Fabric Inspection Shift Supervisor
Fabric Inspection and Winding Operator
Textile Testing Shift Supervisor
Fabric Inspection Operator
Color Laboratory Assistant
Scouring Operator
Textile Testing Technician
Slitting Operator
Color Inspector
Tube Sewing Operator
Maintenance Technician
Mover
Boiler Operator
Rope Opening Operator
Quality Control Assistant
Dyeing Control Operator
Color Inspector
Job Location: Jordan
Consultancy Name: Tradesmen Garments
Office Address: A-1, 1st Floor, Aurum Enclave, Opp. Vakola Masjid, Main Road, Vakola, Santacruz (EL Mumbai- 55
Contact: 9892328879/ 8692020002 / 022.26653503
Email: hr@tradesmenjob.com
Free Recruitment For Long-term Projects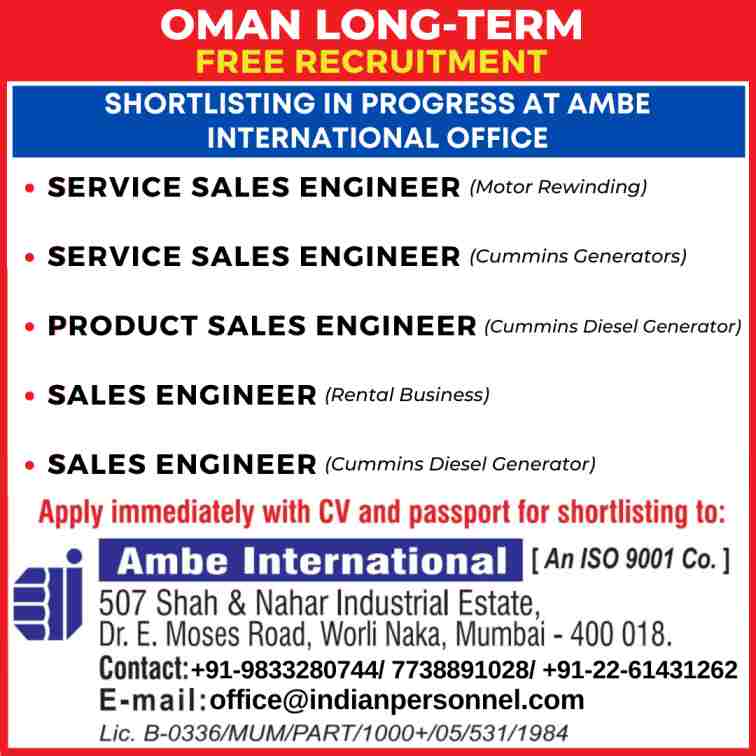 Job Role:
Service Sales Engineer (Motor Rewinding)
Service Sales Engineer (Cummins Generators)
Product Sales Engineer (Cummins Diesel Generator)
Sales Engineer (Rental Business)
Sales Engineer (Cummins Diesel Generator)
Job Location: Oman
Consultancy Name: Ambe International
Office Address: 07 Shah & Nahar Industrial Estate, Dr. E. Moses Road, Worli Naka, Mumbai – 400 018.
Contact: +91-98332807441 77388910281+91-22-61431262
Email: office@indianpersonnel.com
Gulf Jobs Required For A Leading Company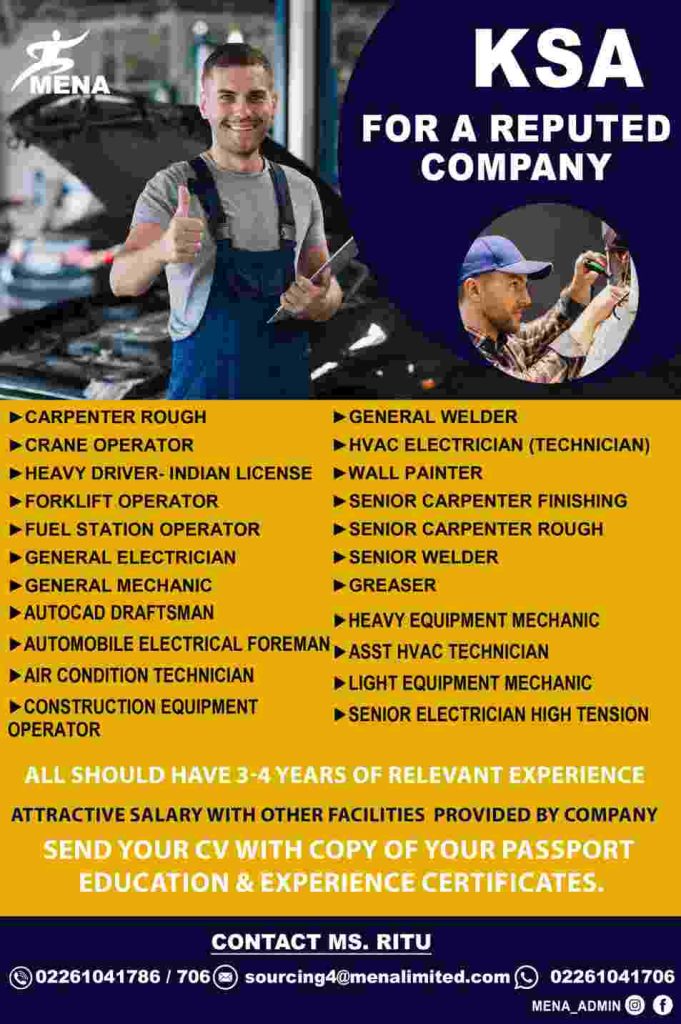 Job Role:
Carpenter Rough
Crane Operator
Heavy Driver- Indian License
Forklift Operator
Fuel Station Operator
General Electrician
General Mechanic
Autocad Draftsman
Automobile Electrical Foreman
Air Condition Technician
Construction Equipment Operator
General Welder
HVAC Electrician (Technician)
Wall Painter
Senior Carpenter Finishing
Senior Carpenter Rough
Senior Welder
Greaser
Heavy Equipment Mechanic
Asst Hvac Technician
Flight Equipment Mechanic
Senior Electrician High Tension
Job Location: KSA
Experience: All should have 03-04 years of relevant experience.
Benefits: Attractive salary with other facilities provided by the company
Consultancy Name: Mena Support Service
Contact: 02261041786 / 706
Email: sourcing4@menalimited.com
MNC Company Recruitment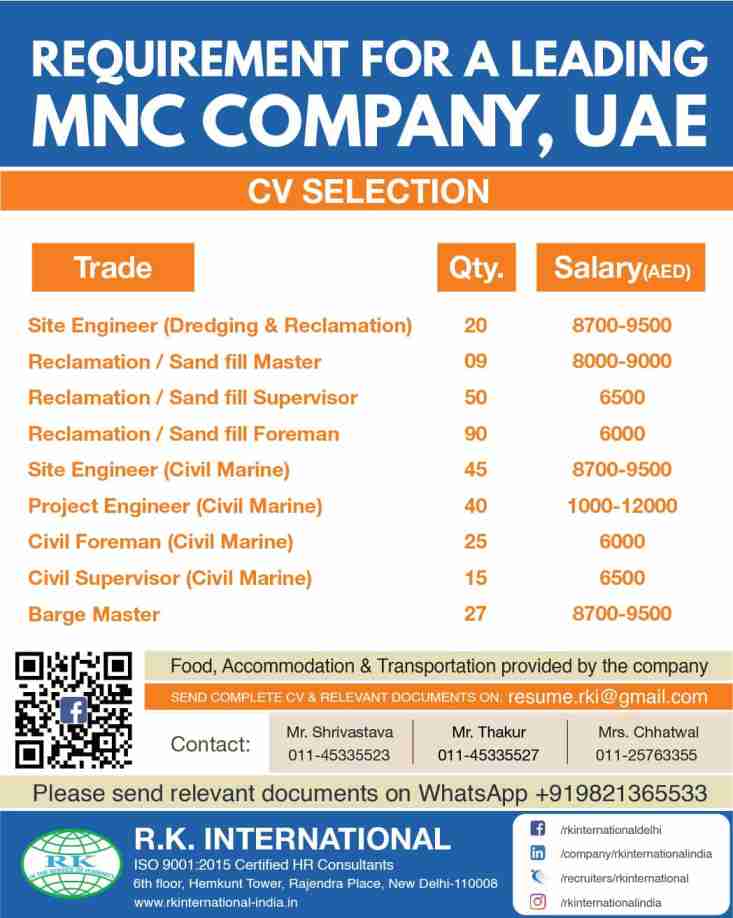 Job Role:
Site Engineer (Dredging & Reclamation)
Reclamation / Sand Fill Master
Reclamation / Sand Fill Supervisor
Reclamation / Sand Fill Foreman
Site Engineer (Civil Marine)
Project Engineer (Civil Marine)
Civil Foreman (Civil Marine)
Civil Supervisor (Civil Marine)
Barge Master
Job Location: UAE
Benefits: Food, Accommodation & Transportation provided by the company
Consultancy Name: R.K International
Office Address: 6th floor, Hemkunt Tower, Rajendra Place, New Delhi-110008
Contact: +919821365533
Email: resume.rki@gmail.com
Gulf Vacancy For A Leading Company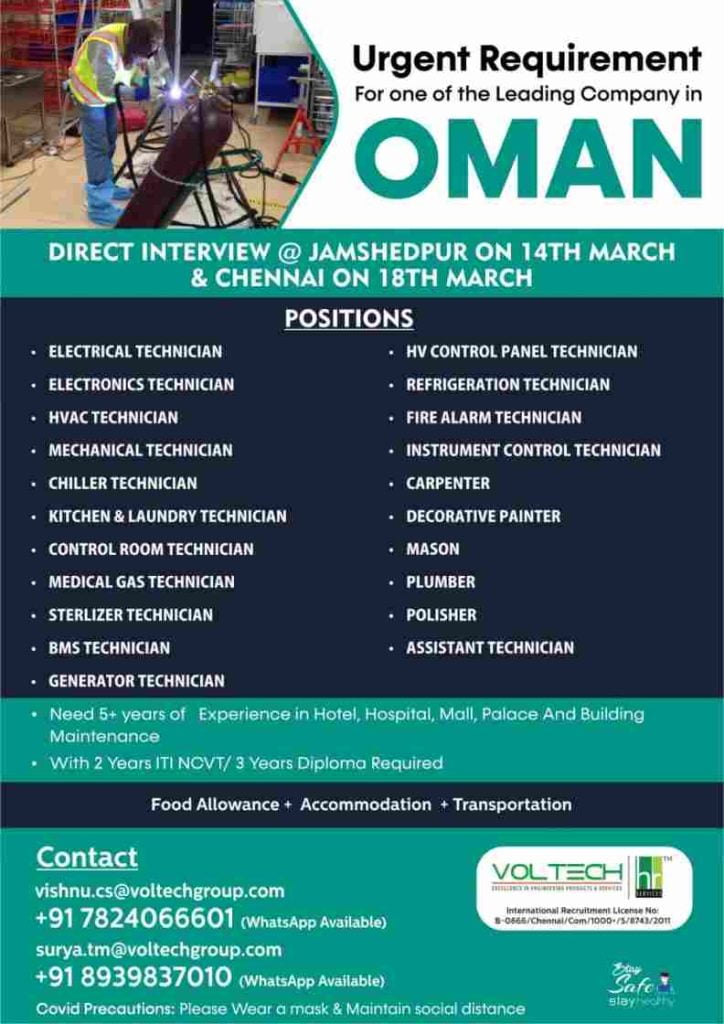 Job Role:
Electrical Technician
Electronics Technician
Hvac Technician
Mechanical Technician
Chiller Technician
Kitchen & Laundry Technician
Control Room Technician
Medical Gas Technician
Sterlizer Technicia
Bms Technician
Generator Technician
Hv Control Panel Technician
Refrigeration Technician
Fire Alarm Technician
Instrument Control Technician
Carpenter
Decorative Painter
Mason
Plumber
Polisher
Assistant Technician
Job Location: Oman
Experience: Need 5+ years of Experience in Hotel, Hospital, Mall, Palace And Building Maintenance
Qualifications: 2 Years ITI NCVT/ 3 Years Diploma Required
Benefits: Food Allowance + Accommodation + Transportation
Consultancy Name: Voltech
Contact: +91 7824066601 (WhatsApp Available) / +91 8939837010 (WhatsApp Available)
Email: vishnu.cs@voltechgroup.com / surya.tm@voltechgroup.com
MEP Project Job Requirement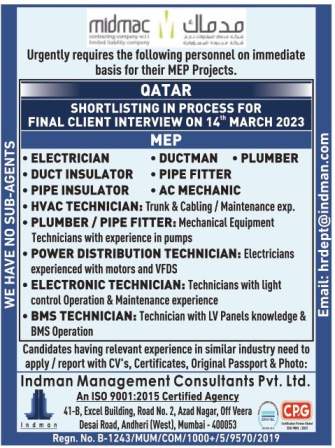 Job Role:
Electrician
Ductman
Plumber
Duct Insulator
Pipe Fitter
Pipe Insulator
Ac Mechanic
HVAC Technician: Trunk & Cabling / Maintenance Exp.
Plumber / Pipe Fitter: Mechanical Equipment Technicians With Experience In Pumps
Power Distribution Technician: Electricians Experienced With Motors And Ufos
Electronic Technician: Technicians With Light Control Operation & Maintenance Experience
Bms Technician: Technician With Lv Panels Knowledge & Bms Operation
Job Location: Qatar
Experience: Candidates having relevant experience in a similar industry need to apply.
Consultancy Name: Indman Management Consultants Pvt. Ltd
Office Address: 41-B, Excel Building, Road No.2, Azad Nagar, Off Veera d Desai Road, Andheri (West), Mumbai – 400053
Email: hrdept@indman.com
Facility Maintenance Company Job Required
Job Role:
Auto Electrician
Auto Mechanic
Electrical Technician
Electronic Technician
Generator Electrician
Generator Mechanic
Generator Operator
Generator Technician
Mechanical Foreman
Mechanic. Technician
Job Location: Saudi Arabia
Experience & Qualifications: Candidates Should Have A Qualification Diploma, ITI For Technician | Minimum Of 5 Years Of Experience In Indian & Gcc
Consultancy Name: Al Arab Arafa
Benefits: Food Allowance, Accommodation & Transportation Provided by Company.
Contact: +91 98409 98065 +91 80983 78652 / 0431 2963555
Email: resume3@alarabarafa.com
How To Apply?
Candidates with related experience contact the branch office or send an emailed CV with a valid contact number, experience certificates, and passport copy & photo. Also, do not forget to mention the job subject line and your skype, zoom id in your cv for an easy online interview.
संबंधित अनुभव वाले उम्मीदवार शाखा कार्यालय से संपर्क करें या वैध संपर्क नंबर, अनुभव प्रमाण पत्र, और पासपोर्ट कॉपी और फोटो के साथ ईमेल सीवी भेजें। साथ ही, एक आसान ऑनला-इन साक्षात्कार के लिए अपने सीवी में जॉब सब्जेक्ट लाइन और अपने स्काइप, ज़ूम आईडी का उल्लेख करना न भूलें।
Gulf Job Pape Mumbai PDF
For more exciting careers related to Gulf jobs, you must join our TELEGRAM CHANNEL