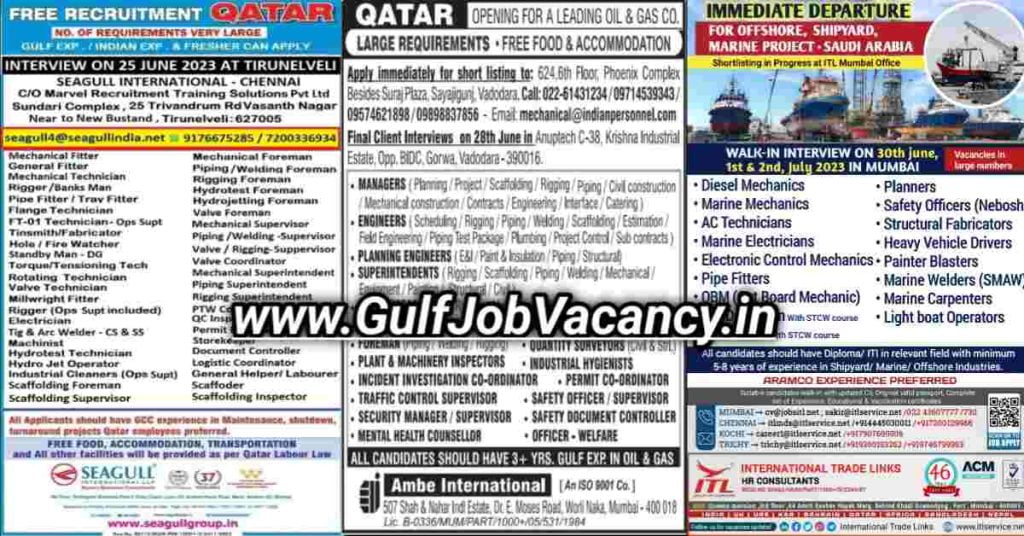 Gulf Job Paper – Mumbai latest interview requirement for Qatar, Oman, Saudi Arabia and Kuwait. Interested job seekers can apply for their jobs in Oil & gas companies, Engineering company required for their shutdown projects, Offshore, Shipyard, Marine projects, Maintenance, Shutdown and Turnaround projects. Interested job seekers kindly check all the details and apply for the interview immediately. Shorlisting is in progress.

Oil & Gas Company Requirements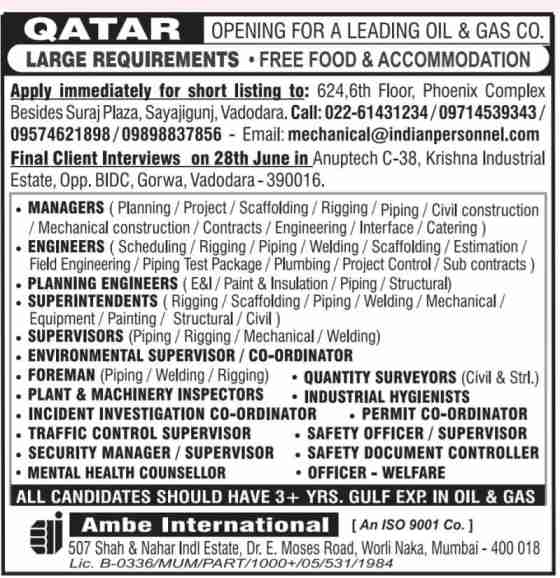 Job Role:
Managers ( Planning / Project / Scaffolding / Rigging / Piping / Civil Construction / Mechanical Construction / Contracts / Engineering / Interface / Catering )
Engineers ( Scheduling / Rigging / Piping / Welding / Scaffolding / Estimation / Field Engineering / Piping Test Package / Plumbing / Project Control / Sub Contracts )
Planning Engineers ( E&I / Paint & Insulation / Piping / Structural)
Superintendents ( Rigging / Scaffolding / Piping / Welding / Mechanical / Equipment; Painting / Structural / Civil )
Supervisors (Piping / Rigging / Mechanical / Welding)
Environmental Supervisor / Co-ordinator
Foreman (Piping / Welding / Rigging)
Quantity Surveyors (Civil & Strl.)
Plant & Machinery Inspectors
Industrial Hygienists
Incident Investigation Co-ordinator
Permit Co-ordinator
Traffic Control Supervisor
Safety Officer / Supervisor
Security Manager / Supervisor
Safety Document Controller
Mental Health Counsellor
Officer – Welfare
Job Location: Qatar
Experience: All Candidates Should Have 3+ Yrs. Gulf Exp. In Oil & Gas
Consultancy Name: Ambe International
Contact: 022-61431234/ 09714539343 / 09574621898 / 09898837856
Email: mechanical@indianpersonnel.com
Refinery Shutdown Project Jobs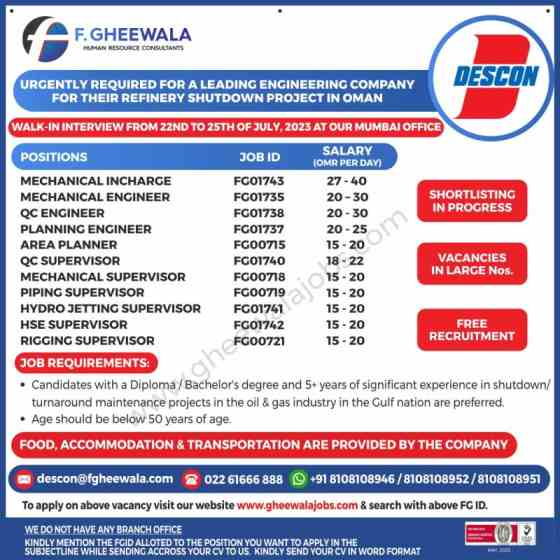 Job Role:
Mechanical Incharge
Mechanical Engineer
Qc Engineer
Planning Engineer
Area Planner
Qc Supervisor
Mechanical Supervisor
Piping Supervisor
Hydro Jetting Supervisor
Hse Supervisor
Rigging Supervisor
Job Location: Oman
Experience & Qualifications: Candidates with a Diploma / Bachelor's degree and 5, years of significant experience in shutdown/ turnaround maintenance projects in the oil & gas industry in the Gulf nation are preferred.
Age Limit: Age should be below 50 years of age.
Benefits: Food, Accommodation & Transportation Are Provided By The Company.
Consultancy Name: ASMACS
Contact: 022 61666 888 / +91 8108108946 /8108108952/8108108951
Email: descon@fgheewala.com
Offshore/Shipyard & Marine Project Jobs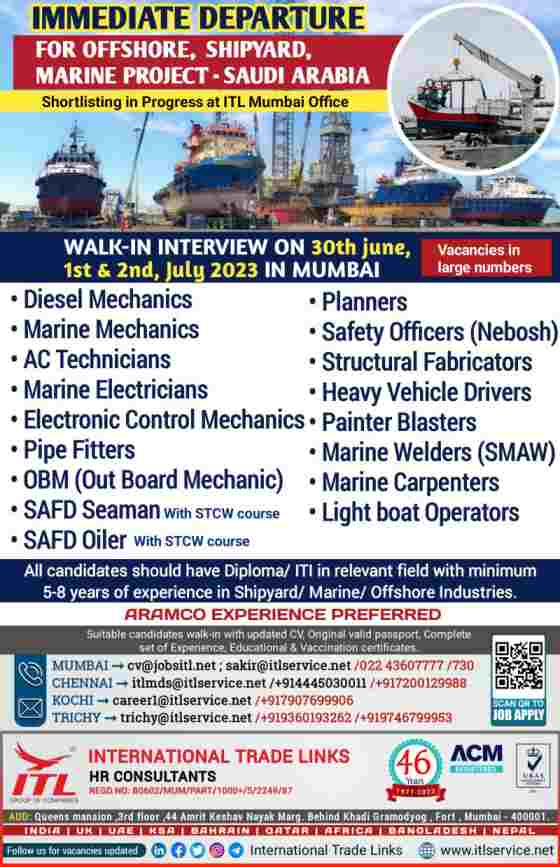 Job Role:
Diesel Mechanics
Marine Mechanics
AC Technicians
Marine Electricians
Planners
Safety Officers (Nebosh)
Structural Fabricators
Heavy Vehicle Drivers
Electronic Control Mechanics
Painter Blasters
Pipe Fitters
OBM (Out Board Mechanic)
SAFD Seaman With STCW course
SAFD Oiler With STCW course
Marine Welders (SMAW)
Marine Carpenters
Light boat Operators
Job Location: Saudi Arabia
Experience & Qualifications: All candidates should have a Diploma/ ITI in a relevant field With a minimum of 5-8 years of experience in Shipyard/ Marine/ Offshore Industries. ARAMCO EXPERIENCE PREFERRED
Consultancy Name: International Trade Links
Contact: 022 43607777 /730
Email: cv@jobsitl.net / sakir@itlservice.net
Free Recruitment For Turnaround Project
Job Role:
Mechanical Fitter
General Fitter
Mechanical Technician
Rigger/Banks Man
Pipe Fitter / Tray Fitter
Flange Technician
FT-01 Technician- Ops Supt
Tinsmith/Fabricator
Hole / Fire Watcher
Standby Man – DG
Torque/Tensioning Tech
Rotating Technician
Valve Technician
Millwright Fitter
Rigger (Ops Supt included)
Electrician
Tig & Arc Welder – CS & SS
Machinist
Hydrotest Technician
Hydro Jet Operator
Industrial Cleaners (Ops Supt)
Scaffolding Foreman
Scaffolding Supervisor
Mechanical Foreman
Piping /Welding Foreman
Rigging Foreman
Hydrotest Foreman
Hydro jetting Foreman
Valve Foreman
Mechanical Supervisor
Piping /Welding -Supervisor
Valve / Rigging- Supervisor
Valve Coordinator
Mechanical Superintendent
Piping Superintendent
Rigging Superintendent
PTW Coordinator
QC Inspector
Permit Receiver
Storekeeper
Document Controller
Logistic Coordinator
General Helper/ Labourer
Scaffolder
Scaffolding Inspector
Job Location: Qatar
Experience: All Applicants should have GCC experience in Maintenance, shutdown, and turnaround projects Qatar employees are preferred.
Benefits: Free Food, Accommodation, Transportation And All Other Facilities Will Be Provided As Per Qatar Labour Law
Consultancy Name: Seagull International
Contact: 9176675285 / 7200336934
Email: seagull4@seagullindia.net
Long-Term Job For KOC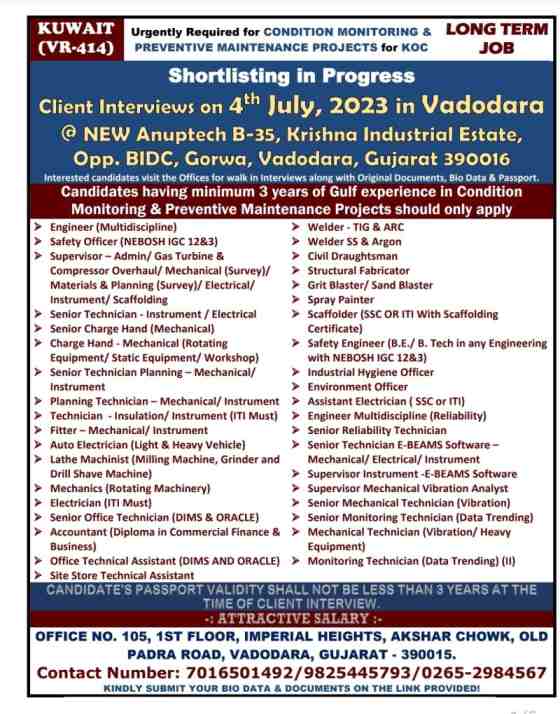 Job Role:
Engineer (Multidiscipline)
Safety Officer (NEBOSH IGC 12&3)
Supervisor – Admin/ Gas Turbine & Compressor Overhaul/ Mechanical (Survey)/ Materials & Planning (Survey)/ Electrical/ Instrument/ Scaffolding
Senior Technician – Instrument / Electrical
Senior Charge Hand (Mechanical)
Charge Hand – Mechanical (Rotating Equipment/ Static Equipment/ Workshop)
Senior Technician Planning – Mechanical/ Instrument
Planning Technician – Mechanical/ Instrument-
Technician – Insulation/ Instrument (ITI Must)
Fitter – Mechanical/ Instrument
Auto Electrician (Light & Heavy Vehicle)
Lathe Machinist (Milling Machine, Grinder and Drill Shave Machine)
Mechanics (Rotating Machinery)
Electrician (ITI Must)
Senior Office Technician (DIMS & ORACLE)
Accountant (Diploma in Commercial Finance & Business)
Office Technical Assistant (DIMS AND ORACLE)
Site Store Technical Assistant
Welder – TIG & ARC
Welder SS & Argon
Civil Draughtsman
Structural Fabricator
Grit Blaster/ Sand Blaster
Spray Painter
Scaffolder (SSC OR ITI With Scaffolding Certificate)
Safety Engineer (B.E./ B. Tech in any Engineering with NEBOSH IGC 12&3)
Industrial Hygiene Officer
Environment Officer
Assistant Electrician ( SSC or ITI)
Engineer Multidiscipline (Reliability)
Senior Reliability Technician
Senior Technician E-BEAMS Software – Mechanical/ Electrical/ Instrument
Supervisor Instrument -E-BEAMS Software
Supervisor Mechanical Vibration Analyst
Senior Mechanical Technician (Vibration)
Senior Monitoring Technician (Data Trending)
Mechanical Technician (Vibration/ Heavy Equipment)
Monitoring Technician (Data Trending) (II)
Job Location: Kuwait
Experience: Candidates having minimum 3 years of Gulf experience in Condition Monitoring & Preventive Maintenance Projects should only apply
Consultancy Name: Asiapower Overseas Employment Services
Contact: 7016501492/9825445793/0265-2984567
How To Apply?
Candidates with related experience contact the branch office or send an emailed CV with a valid contact number, experience certificates, and passport copy & photo. Also, do not forget to mention the job subject line and your Skype, zoom id in your cv for an easy online interview.
संबंधित अनुभव वाले उम्मीदवार शाखा कार्यालय से संपर्क करें या वैध संपर्क नंबर, अनुभव प्रमाण पत्र, और पासपोर्ट कॉपी और फोटो के साथ ईमेल सीवी भेजें। साथ ही, एक आसान ऑनला-इन साक्षात्कार के लिए अपने सीवी में जॉब सब्जेक्ट लाइन और अपने स्काइप, ज़ूम आईडी का उल्लेख करना न भूलें।
Gulf Job Paper Mumbai Interviews
For more exciting careers related to Gulf jobs, you must join our TELEGRAM CHANNEL