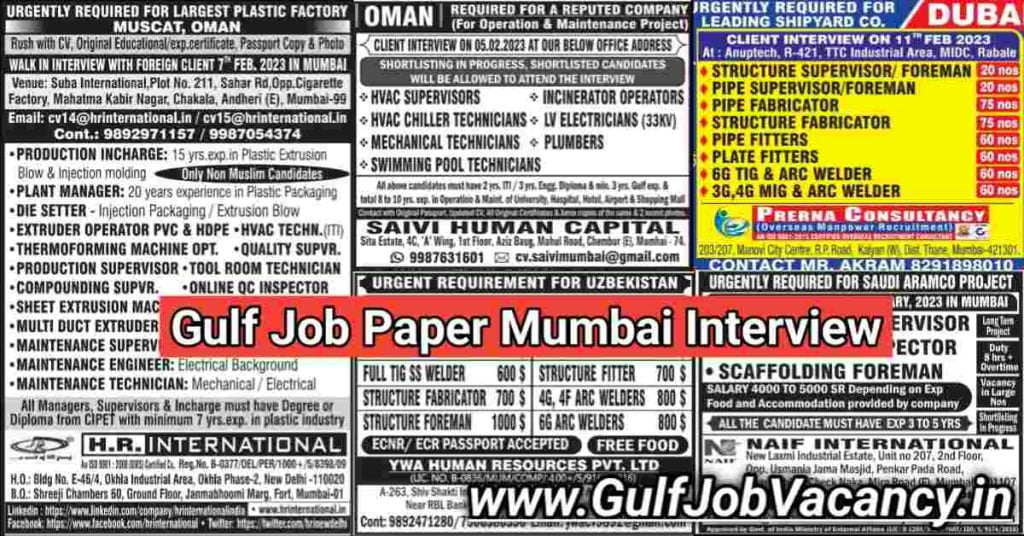 Gulf Job Paper – Mumbai Assignment Abroad Times interview requirements for Dubai, Saudi Arabia, Qatar, and Oman. Interested job seekers with relevant experience and qualifications can apply for their jobs in Civil contracting divisions, Aluminium divisions, Contracting companies, FMCG companies, Shipyard companies, Infrastructure commissioning projects, F&B companies, Catering services, Offshore companies, Plastic factories, Oil & gas companies, Logistics & transport companies, ARAMCO projects and Operation & maintenance projects. Interested and serious candidates kindly check all the details and apply for the interview immediately. Shortlisting is in progress.

Civil Construction/Aluminium Division Jobs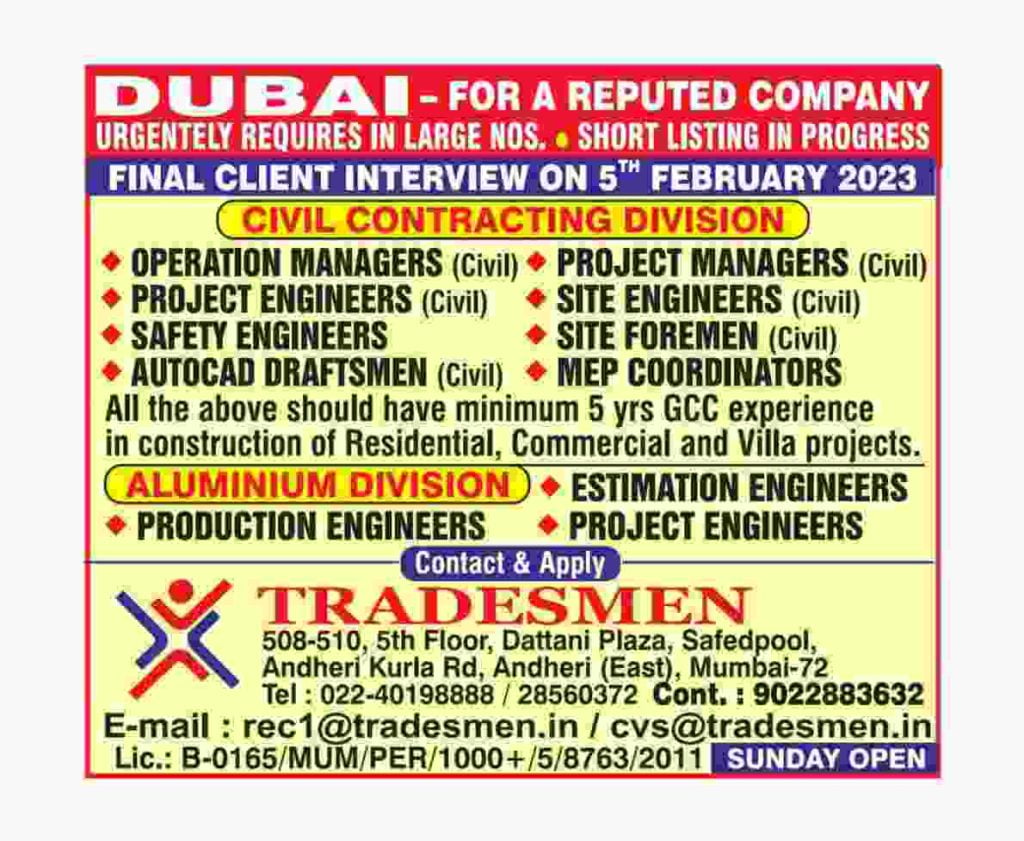 Job Role:
Operation Managers (Civil)
Project Managers (Civil)
Project Engineers (Civil)
Site Engineers (Civil)
Safety Engineers
Site Foremen (Civil)
Autocad Draftsmen (Civil)
Mep Coordinators Estimation Engineers
Production Engineers
Project Engineers
Job Location: Dubai
Experience: All the above should have a minimum of 5 yrs GCC experience in the construction of Residential, Commercial and Villa projects.
Hiring Organization: Tradesmen
Contact: 022-40198888 / 28560372 Cont. : 9022883632
Email: rec1@tradesmen.in
Contracting Company (Substation Project) Jobs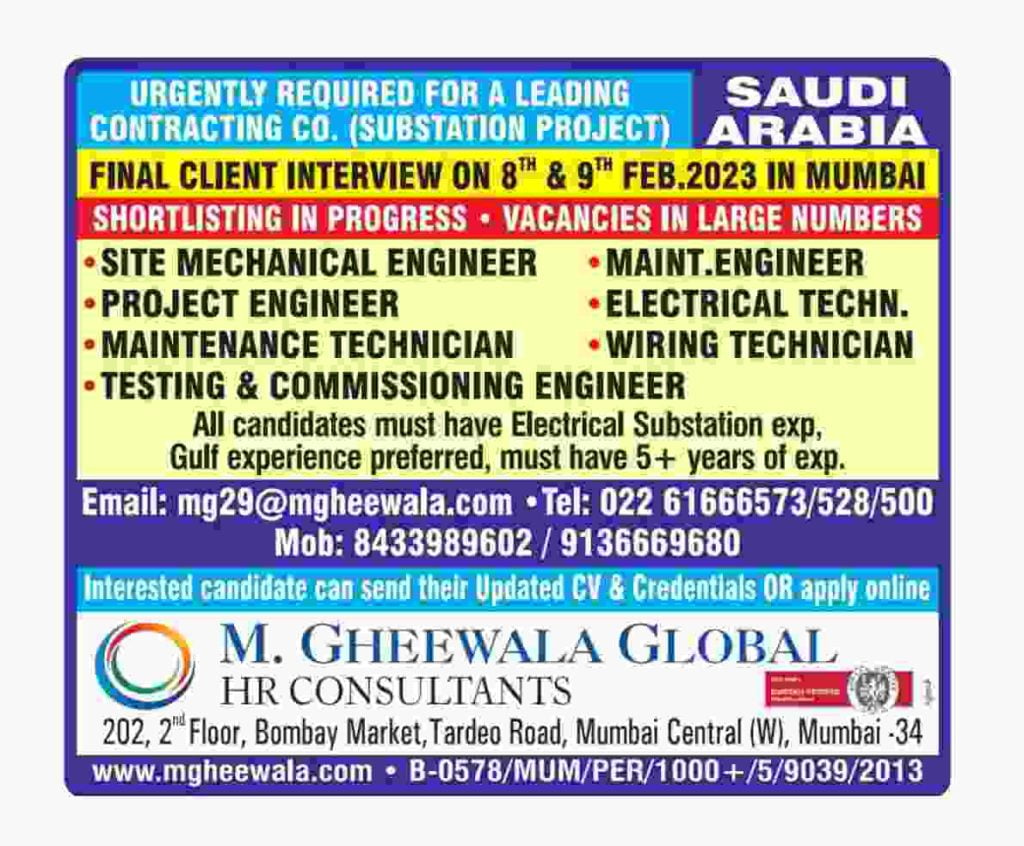 Job Role:
Site Mechanical Engineer
Maint. engineer
Project Engineer
Electrical Techn.
Maintenance Technician
Wiring Technician
Testing & Commissioning Engineer
Job Location: Saudi Arabia
Experience: All candidates must have Electrical Substation exp, Gulf experience preferred, and must have 5+ years of exp.
Hiring Organization: M Gheewala Global HR Consultants
Contact: 022 61666573/528/500 Mob: 8433989602 / 9136669680
Email: mg29@mgheewala.com
FMCG Company Jobs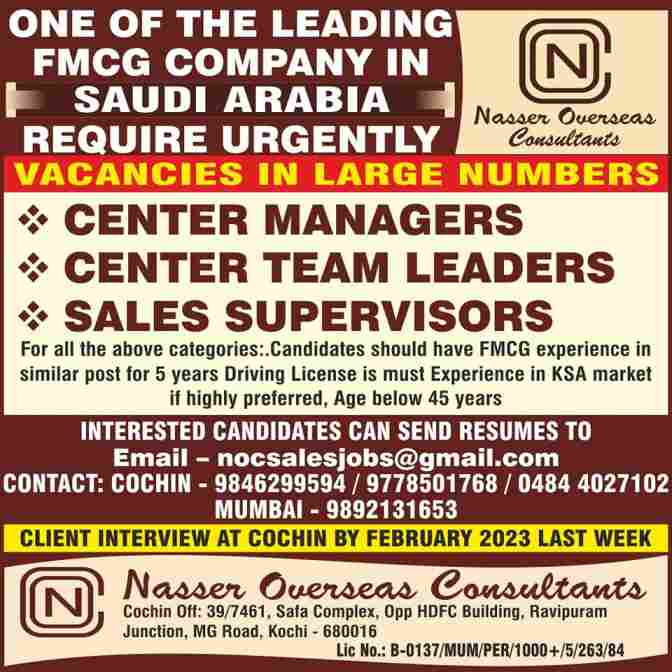 Job Role:
Center Managers
Center Team Leaders
Sales Supervisors
Job Location: Saudi Arabia
Experience: For all the above categories:.Candidates should have FMCG experience in a similar posts for 5 years Driving License is a must Experience in the KSA market is highly preferred.
Age Limit: Below 45 years
Hiring Organization: Nasser Overseas Consultants
Contact: 9846299594 / 9778501768 / 0484 4027102
Email: nocsalesjobs@gmail.com
A Leading Shipyard Company Jobs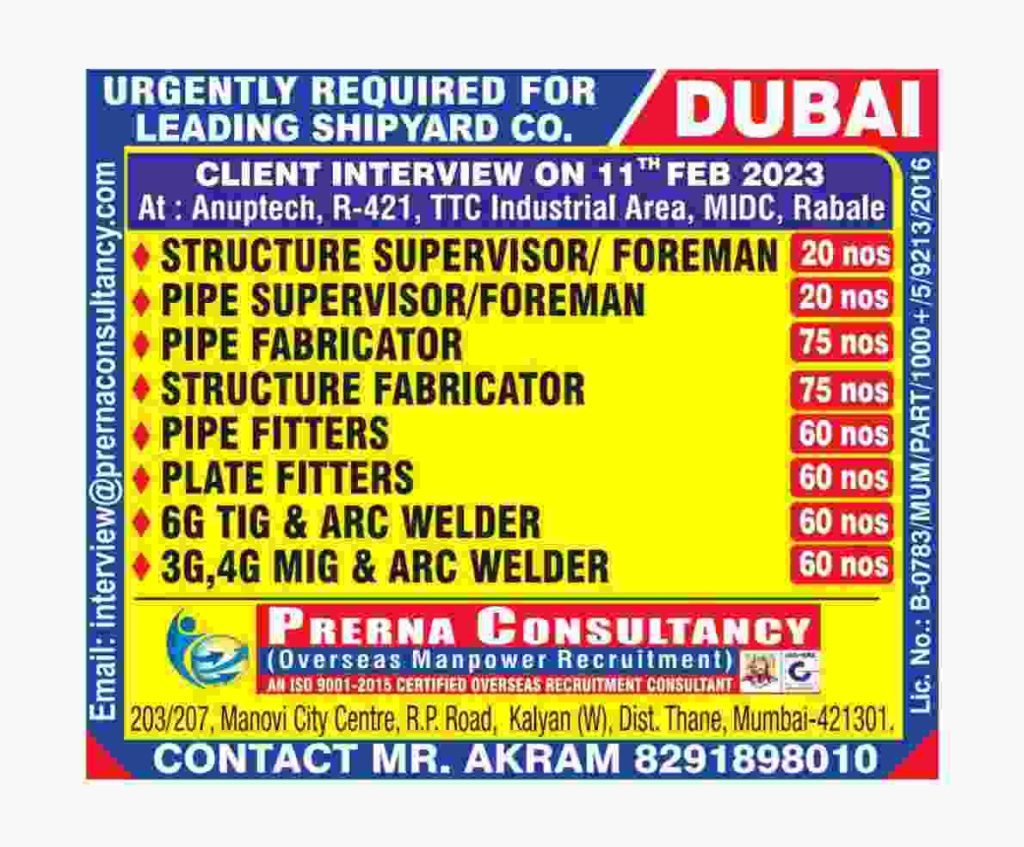 Job Role:
Structure Supervisor/ Foreman
Pipe Supervisor/foreman
Pipe Fabricator
Structure Fabricator
Pipe Fitters
Plate Fitters
6g Tig & Arc Welder
3g,4g Mig & Arc Welder
Job Location: Dubai
Hiring Organization: Prerna Consultancy
Contact: 8291898010
Email: interview@prernaconsultancy.com
अगर आप गल्फ देशों में काम करना चाहते है तो अप्लाई करें
Oil & Gas /Infrastructure Commissioning Project Jobs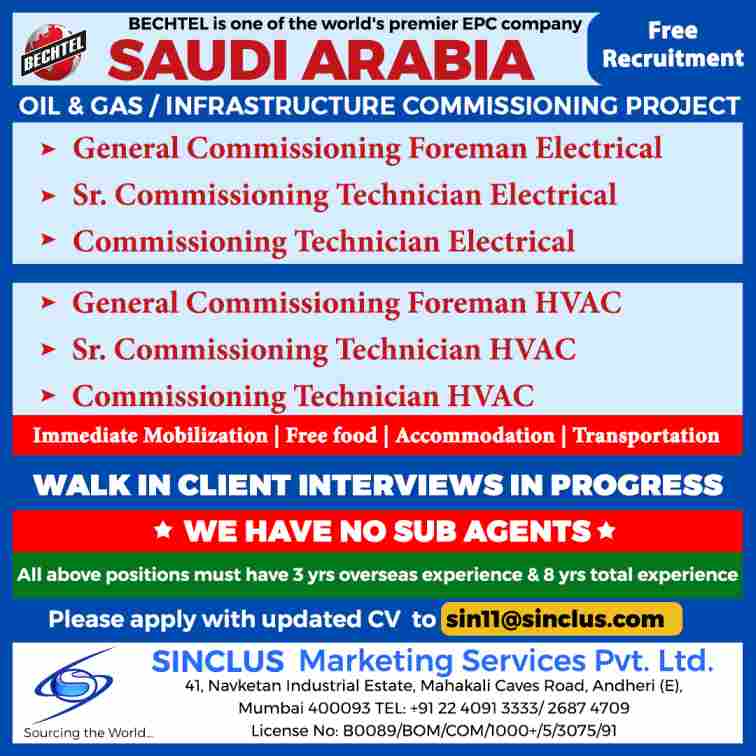 Job Role:
General Commissioning Foreman Electrical
Sr. Commissioning Technician Electrical
Commissioning Technician Electrical
General Commissioning Foreman HVAC
Sr. Commissioning Technician HVAC
Commissioning Technician HVAC
Job Location: Saudi Arabia
Experience: All above positions must have 3 yrs overseas experience & 8 yrs total experience
Benefits: Immediate Mobilization | Free food | Accommodation | Transportation
Hiring Organization: Sinclus
Contact: +91 22 4091 3333/ 2687 4709
Email: sin11@sinclus.com
F& B & Catering Services Requirement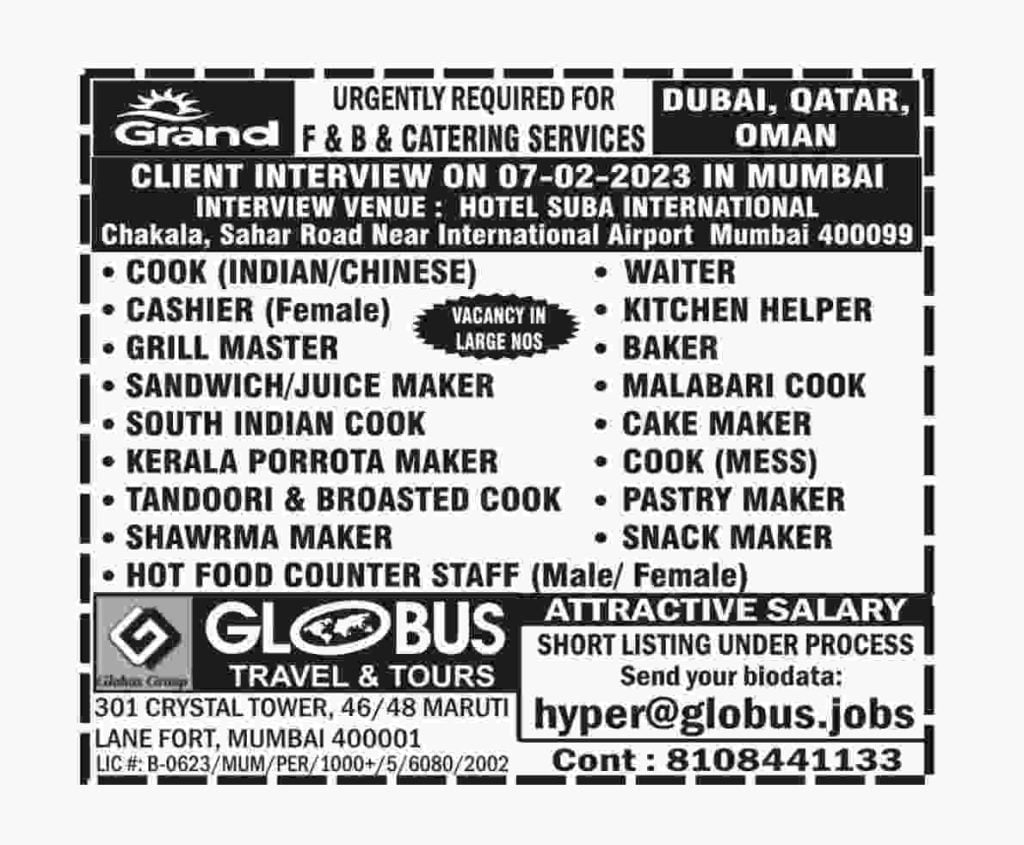 Job Role:
Cook (Indian/Chinese)
Waiter
Cashier (Female)
Kitchen Helper
Grill Master
Baker
Sandwich/juice Maker
Malabari Cook
South Indian Cook
Cake Maker
Kerala Porrota Maker
Cook (Mess)
Tandoori & Broasted Cook
Pastry Maker
Shawrma Maker
Snack Maker
Hot Food Counter Staff Male/ Female
Job Location: Gulf
Hiring Organization: Globus Travel & Tours
Contact: 8108441133
Email: hyper@globus.jobs
Shipyard/Offshore Company Requirement
Job Role:
Construction Manager
Piping Superintendent
Structural Superintendent
Field Engineer
Electrical & Instrumentation Engineer
Instrument Engineer
Piping & Mechanical Engineer
Structural Engineer
Technical Engineer (Project Engineer)
Field Engineer (Project Engineer)
Eic Supervisor
Structural Supervisor
Electrical Control Supervisor
Instrument Communication Supervisor
Scaffolding Inspector (Valid Aramco Card)
Scaffolding Supervisor (Valid Aramco Card)
Rtr Field Supervisor
Painting Crew Supervisor (Valid Aramco Card)
Hse Supervisor (Nebosh Igc 123)
Hse Coordinator (Nebosh Igc 123)
Electrical Technician
Electrical & Instrument Foreman
Instrumentation Technician
Safety Officer (Nebosh Igc 123)
Mechanical Supervisor
Material Supervisor
General Supervisor
Logistic Coordinator
Electrical Foreman
Instrumentation Foreman
Piping Foreman
Structural Foreman
Electrical Technician
Material Controller
Piping Welding Foreman
Millwright Technician
Logistic Coordinator
Qc Document Controller
Pipe Fitter
Structural Fitter
Pipe Fabricator
Structural Fabricator
Blaster/painter
Instrument Tube Fitter
Tig & Arc Welders (Cs/ss)
Structural Welders
6gr Welders
Full Tig Welders
Marine Mechanic
Diesel Mechanic
Rtr Field
Laminators (Fiber Glass)
Job Location: Saudi Arabia
Experience: All candidates should have experience in Offshore/ Shipyard projects Gulf Experience must.
Benefits: Free Food & Free Accommodation provided by the company.
Hiring Organization: ASMACS
Contact: +91 9846031729/0484 – 4029243/4619176
Email: cochin2@jobs4hunt.com
A Leading Oil & Gas Company Jobs
Job Role:
Foreman Mechanical
Foreman Rigging
Foreman Structural
Supervisor Rigging
Supervisor Structural
Leadman Structural
Leadman Mechanical
Leadman Piping
Rigging Superintendent
Painting Superintendent
Job Location: Qatar
Experience: All candidates should have gulf exp. In oil & gas
Hiring Organization: Ambe International
Contact: +91-8976985664/ 7738891028/ 9833783239 +91-22-61431234
Email: mechanical@indianpersonnel.com
Largest Plastic Factory Jobs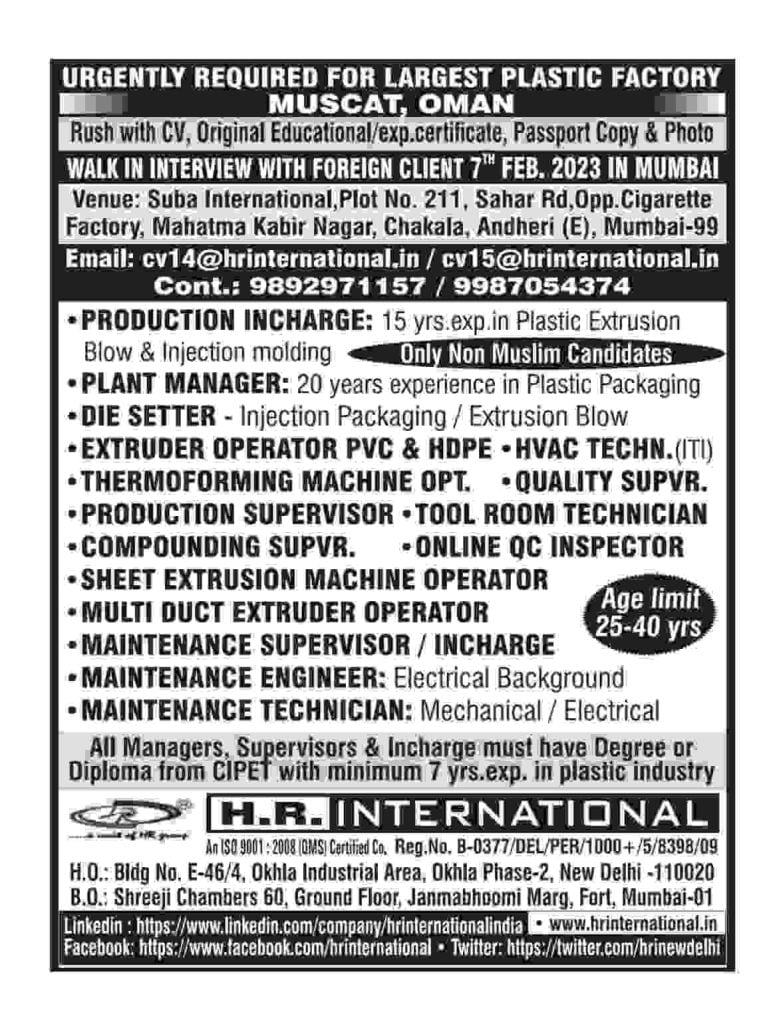 Job Role:
Production Incharge: 15 Yrs.exp.in Plastic Extrusion Blow & Injection Molding
Plant Manager: 20 Years of Experience In Plastic Packaging
Die Setter – Injection Packaging / Extrusion Blow
Extruder Operator Pvc & Hdpe
HVAC Techn.(ITI)
Thermoforming Machine Opt.
Quality Supvr.
Production Supervisor
Tool Room Technician
Compounding Supvr. -online
Qc Inspector
Sheet Extrusion Machine Operator
Multi-Duct Extruder Operator
Maintenance Supervisor / Incharge
Maintenance Engineer: Electrical Background
Maintenance Technician: Mechanical / Electrical
Job Location: Oman
Experience: All Managers, Supervisors & in charge must have a Degree or Diploma from CIPET with a minimum of 7 yrs. exp. in the plastic industry.
Age Limit: 25-40 years
Hiring Organization: H.R International
Contact: 9892971157 / 9987054374
Email: cv14@hrinternational.in / cv15@hrinternational.in
Logistic & Transport Company Requirement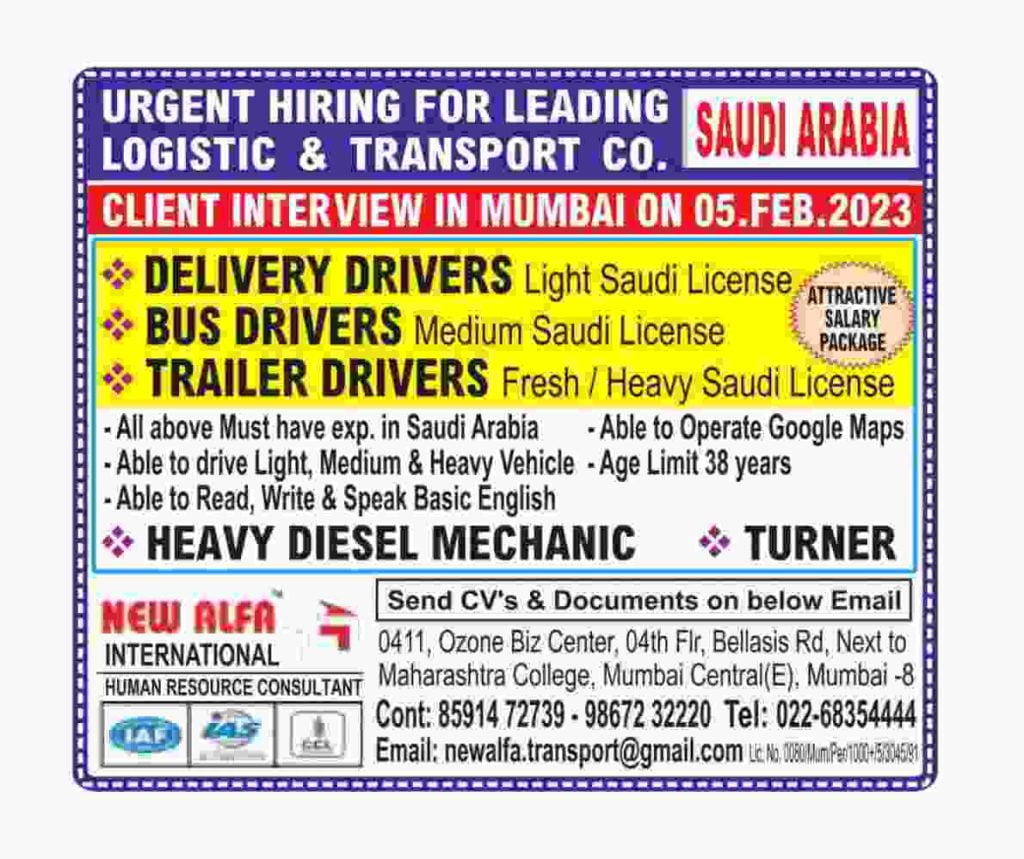 Job Role:
Delivery Drivers – Light Saudi License
Bus Drivers – Medium Saudi License
Trailer Drivers
Heavy Diesel Mechanics
Turner
Job Location: Saudi Arabia
Experience: All above Must have exp. in Saudi Arabia -Able to Operate Google Maps. Able to drive Light, Medium & Heavy Vehicle. Able to Read, Write & Speak Basic English.
Age Limit: 38 years
Hiring Organization: New Alfa International
Contact: 85914 72739 – 98672 32220 Tel: 022-68354444
Email: newalfa.transport@gmail.com
Welder/Fabricator/Fitters Job Requirement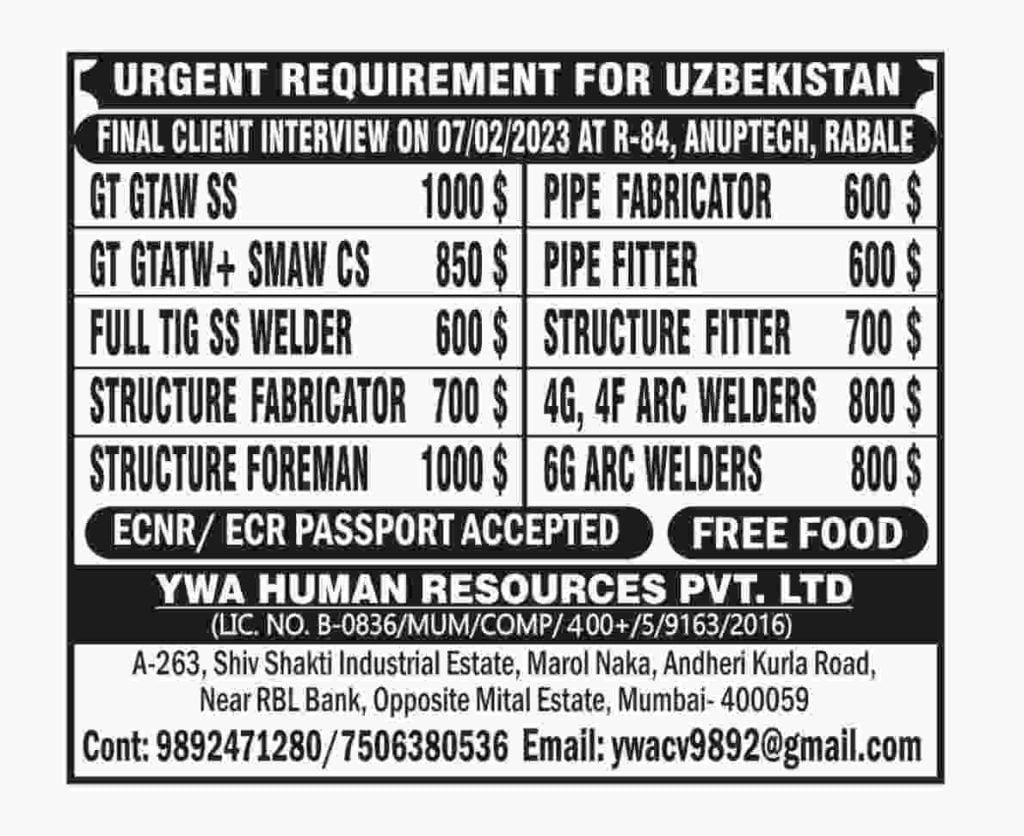 Job Role:
Gt Gtaw SS
Pipe Fabricator
GT GTATW Smaw CS
Pipe Fitter
Full Tig Ss Welder
Structure Fitter
Structure Fabricator
4g, 4f Arc Welders
Structure Foreman
6g Arc Welders
Job Location: Uzbekistan
Hiring Organization: Ywa Human Resources Pvt. Ltd
Contact: 9892471280/7506380536
Email: ywacv9892@gmail.com
Operation & Maintenance Project Jobs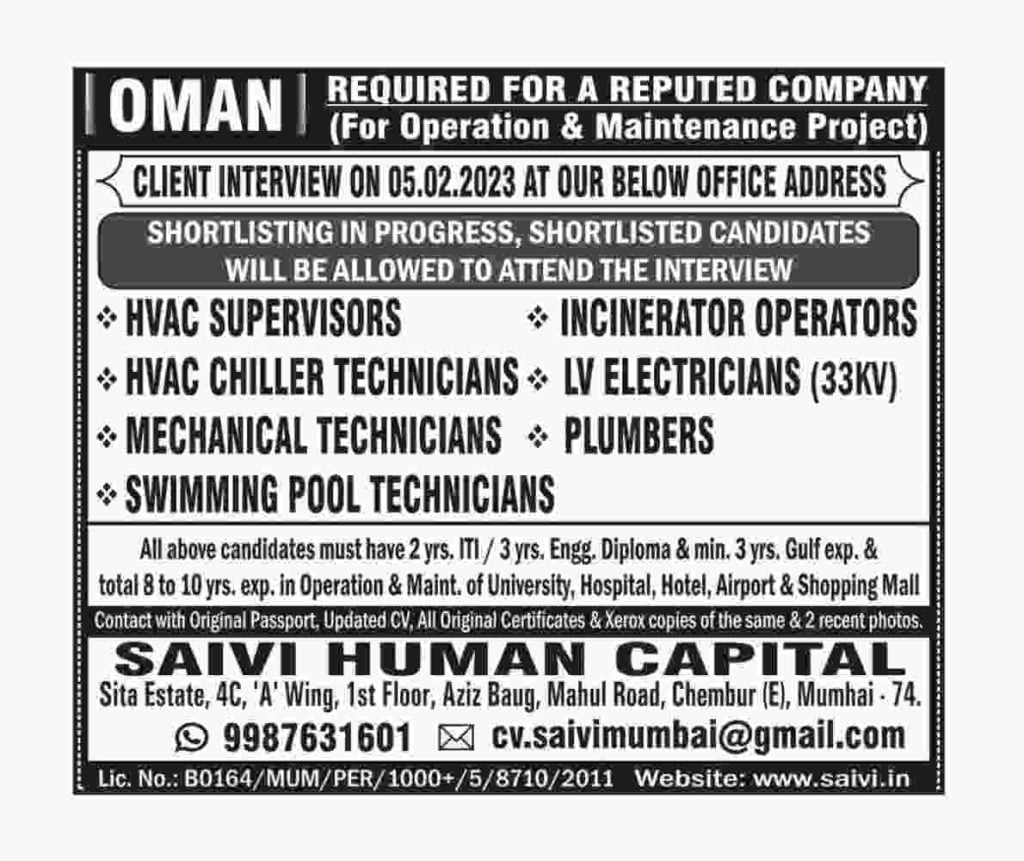 Job Role:
Hvac Supervisors
Incinerator Operators
Hvac Chiller Technicians
Electricians
Mechanical Technicians
Plumbers
Swimming Pool Technicians
Job Location: Oman
Experience & Qualifications: All the above candidates must have 2 yrs. ITI / 3 yrs. Engg. Diploma & min. 3 yrs. Gulf exp. & total 8 to 10 yrs. exp. in Operation & Maint. of University, Hospital, Hotel, Airport & Shopping Mall
Hiring Organization: Saivi Human Capital
Contact: 9987631601
Email: cv.saivimumbai@gmail.com
ARAMCO Project Job Vacancies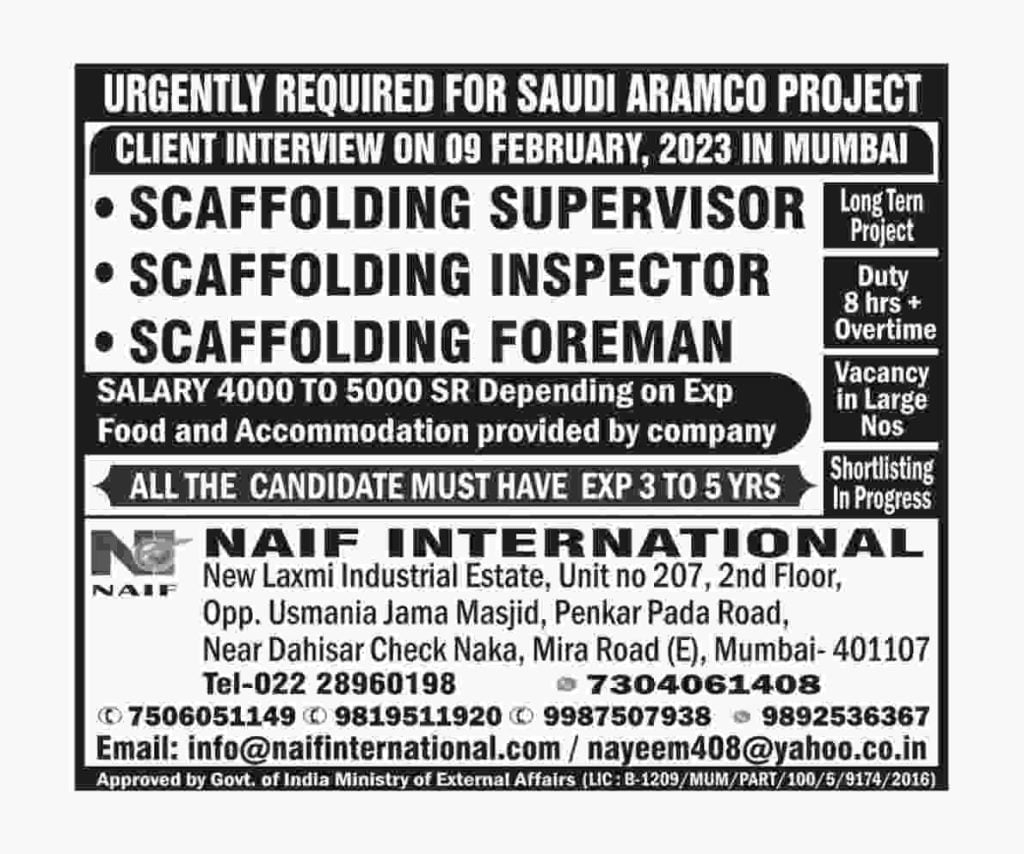 Job Role:
Scaffolding Supervisor
Scaffolding Inspector
Scaffolding Foreman
Job Location: Saudi Arabia
Experience: All the candidates must have 03 to 05 years of experience.
Duty Hours: 08HRS Duty + OT
Benefits: Food and Accommodation are provided by the company.
Salary: SAR 4000-5000/-
Hiring Organization: Naif International
Contact: 7506051149 / 9819511920 / 9987507938 / 9892536367
Email: info@naifinternational.com / nayeem408@yahoo.co.in
Chargehand Job Requirements
Job Role:
Structural Chargehand
Instrument Chargehand
Painter Chargehand
Millwright Fitter
Piping Chargehand
Structural Fitter
Structural Fabricator
Pipe Fabricator
Pipe Fitter (Pipe Line Spacer)
Job Location: Qatar
Experience: 03 years gulf experience with oil & gas field.
Duty Hrs: 08 HRS. / CONTRACT: 02 YEAR
Benefits: Attractive Salary + Free Food
Hiring Organization: Fly Sky Consultants
Contact: 9167755883 / 9820550156 / 9820558838
Email: cv.flysky@yahoo.com
How To Apply?
Candidates with related experience contact the branch office or send an emailed CV with a valid contact number, experience certificates, and passport copy & photo. Also, do not forget to mention the job subject line and your skype, zoom id in your cv for an easy online interview.
संबंधित अनुभव वाले उम्मीदवार शाखा कार्यालय से संपर्क करें या वैध संपर्क नंबर, अनुभव प्रमाण पत्र, और पासपोर्ट कॉपी और फोटो के साथ ईमेल सीवी भेजें। साथ ही, एक आसान ऑनला-इन साक्षात्कार के लिए अपने सीवी में जॉब सब्जेक्ट लाइन और अपने स्काइप, ज़ूम आईडी का उल्लेख करना न भूलें।
Gulf Job Paper Mumbai PDF
For more exciting careers related to Gulf jobs, you must join our TELEGRAM CHANNEL