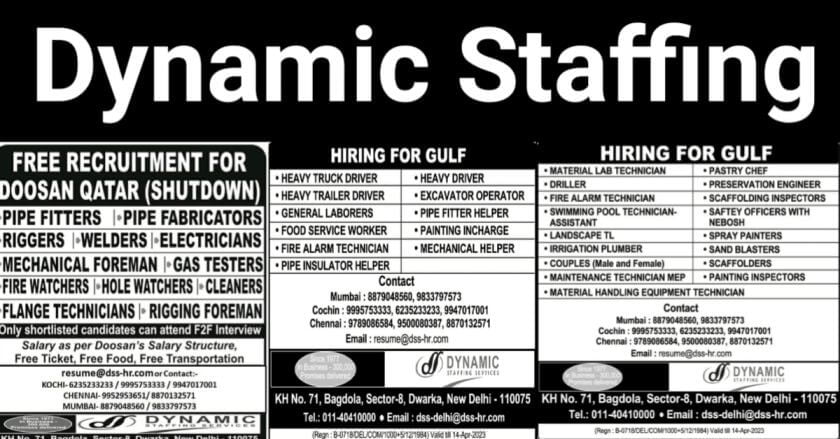 Gulf Job Vacancy – Requirement for HEAVY TRUCK DRIVER, HEAVY DRIVER, HEAVY TRAILER DRIVER, EXCAVATOR OPERATOR, GENERAL LABORERS, PIPE FITTER HELPER, FOOD SERVICE WORKER, PAINTING INCHARGE, FIRE ALARM TECHNICIAN, MECHANICAL HELPER, PIPE INSULATOR HELPER and more jobs. check all the details and apply.
Job seekers who want to apply for this job. kindly request to you read all the recruiting process carefully. and apply for this job after all the requirement is meet with your job profile.
Gulf Job Vacancy Dynamic Staffing Interview Details and Job Descriptions
1. FREE RECRUITMENT FOR DOOSAN QATAR (SHUTDOWN)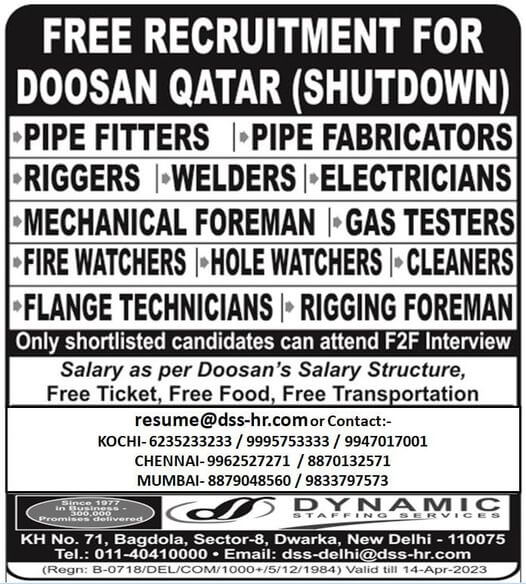 Job Role –
PIPE FITTERS
PIPE FABRICATORS
RIGGERS
WELDERS
ELECTRICIANS
MECHANICAL FOREMAN
GAS TESTERS
FIRE WATCHERS
HOLE WATCHERS
CLEANERS
FLANGE TECHNICIANS
RIGGING FOREMAN
2. HIRING FOR GULF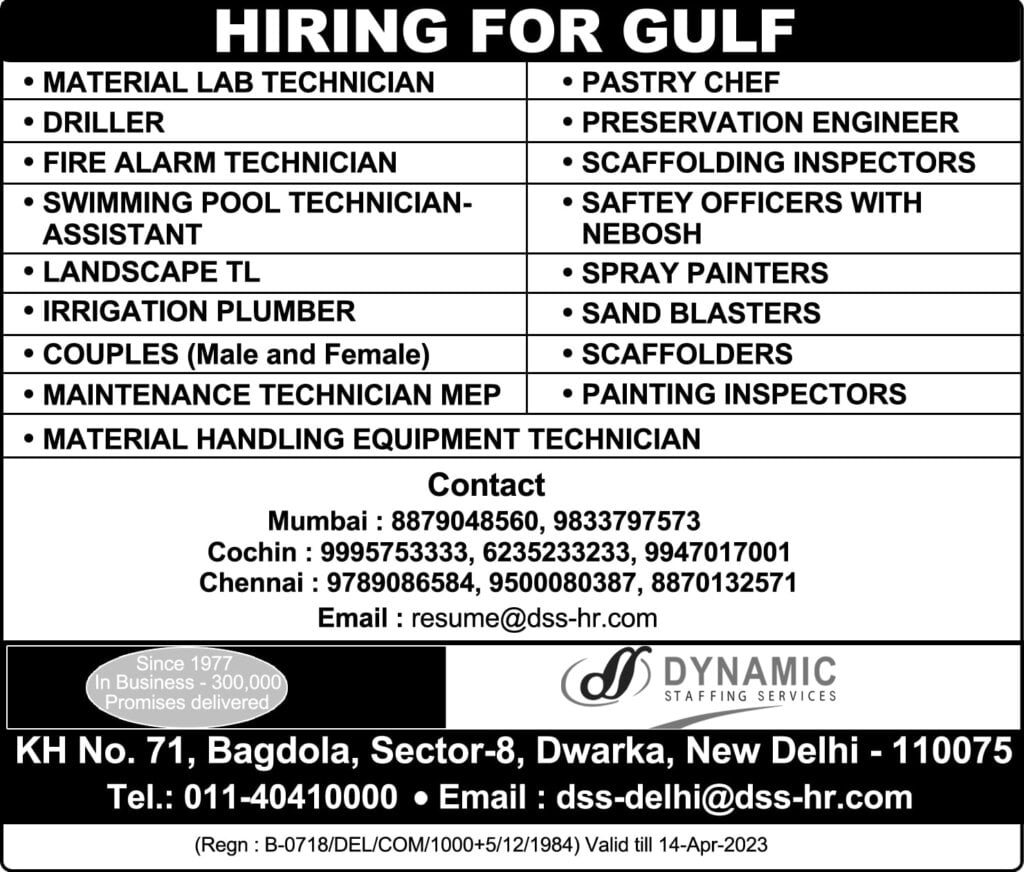 Job Role –
MATERIAL LAB TECHNICIAN
PASTRY CHEF
DRILLER
PRESERVATION ENGINEER
FIRE ALARM TECHNICIAN
SCAFFOLDING INSPECTORS
SWIMMING POOL TECHNICIAN- ASSISTANT
SAFETY OFFICERS WITH NEBOSH
LANDSCAPE TL
SPRAY PAINTERS
IRRIGATION PLUMBER
SAND BLASTERS
COUPLES (Male and Female)
SCAFFOLDERS
MAINTENANCE TECHNICIAN MEP
PAINTING INSPECTORS
MATERIAL HANDLING EQUIPMENT TECHNICIAN
3. HIRING FOR GULF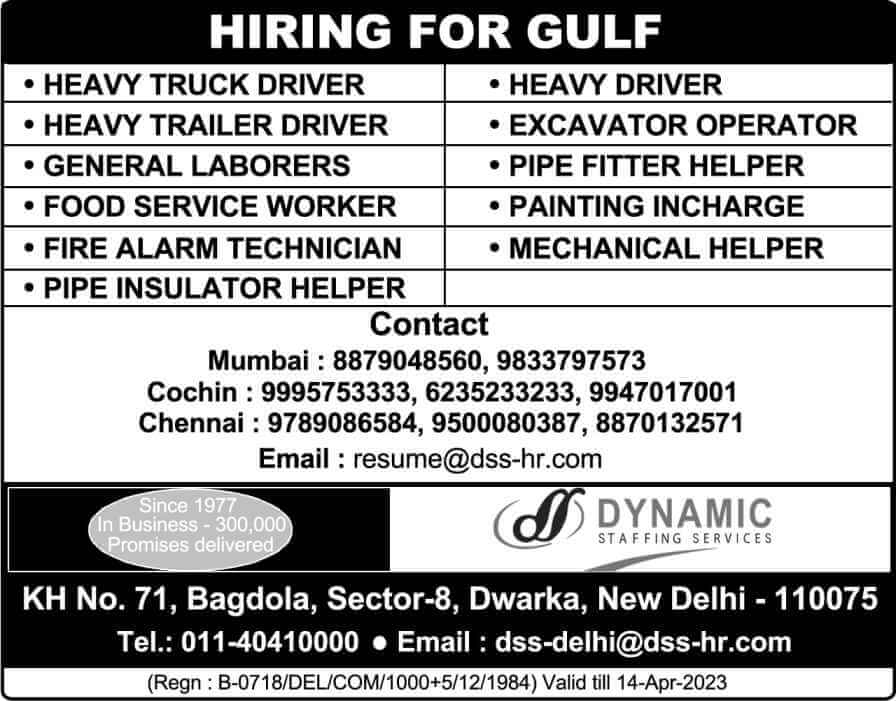 Job Role –
HEAVY TRUCK DRIVER
cHEAVY DRIVER
HEAVY TRAILER DRIVER
EXCAVATOR OPERATOR
GENERAL LABORERS
PIPE FITTER HELPER
FOOD SERVICE WORKER
PAINTING INCHARGE
FIRE ALARM TECHNICIAN
MECHANICAL HELPER
PIPE INSULATOR HELPER
Job location – QATAR, GULF COUNTRIES
EXPERIENCE – Candidates Should have experience in related field. Candidates with GULF experience will be preferred.
Qualifications – 10TH / 12TH / ITI / GRADUATE / DIPLOMA / B.TECH
Interview Venue – CV selection or Direct client interview at DELHI.
Features and benefits –
Should be physically and mentally sound to perform the duty.
Know language – Hindi and English both. (OPTIONAL)
Should be read/understand/speak basic English.
Extra benefits – FREE FOOD + ACCOMODATION + FREE TRANSPORTATION + 3HRS OVERTIME + FREE MEDICAL INSURANCE
Salary – NEGOTIABLE.
Consultancy name – DYNAMIC STAFFING SERVICES
Contact us for recruitment process or send CV to given email id – Interested candidates can send their updated CV, Passport copy, Photo & Experience certificates by email with the position applied in the subject line.
Address – Dynamic House, KH-71, Block B, Sector 8 Dwarka, Dwarka, New Delhi, Delhi 110077, Delhi, India 110077.
Call : +91-11-40410000
EMAIL – Send CV's immediately for shortlisting on resume@dss-hr.com
MORE RELATED GULF JOBS :-
For more interesting careers related gulf jobs you must join our TELEGRAM CHANNEL