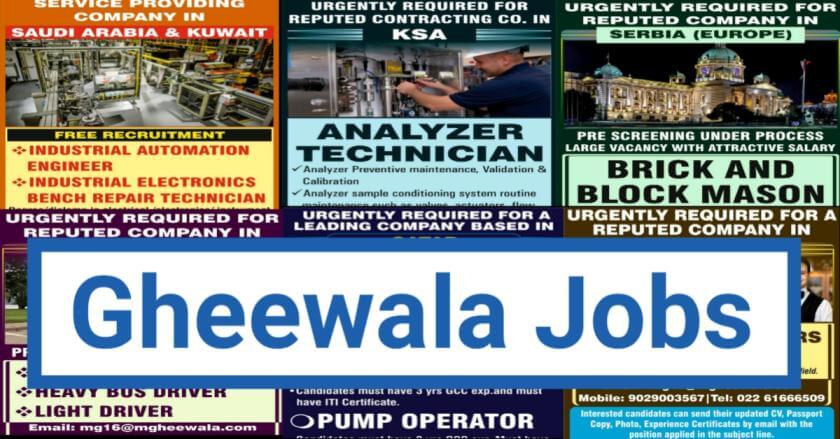 Gulf Job Vacancy – Gheewala Jobs requirement for Saudi Arabia, Qatar, Europe, Kuwait and UAE. Candidates required for HEAVY TRAILER DRIVER, HEAVY BUS DRIVER, LIGHT DRIVERGENERAL CLEANERS, WAITERS, ALL ROUNDER MASON, INDUSTRIAL AUTOMATION ENGINEER, INDUSTRIAL ELECTRONICS, BENCH REPAIR TECHNICIAN, AUTO ELECTRICIAN, AUTO PAINTER, PUMP OPERATOR, PIPE FITTER, PIPE FABRICATOR, MILLWRIGHT FITTER, RIGGER, PLANNING ENGINEER, SAFETY OFFICER, HYDROJETTER, BOLT TORQUE, and LEAD TECHNICIAN.
Gulf Job Vacancy For Saudi Arabia, Qatar, Kuwait, Europe and UAE Interview Details And Job Descriptions
1. REPUTED CONTRACTING COMPANY IN KSA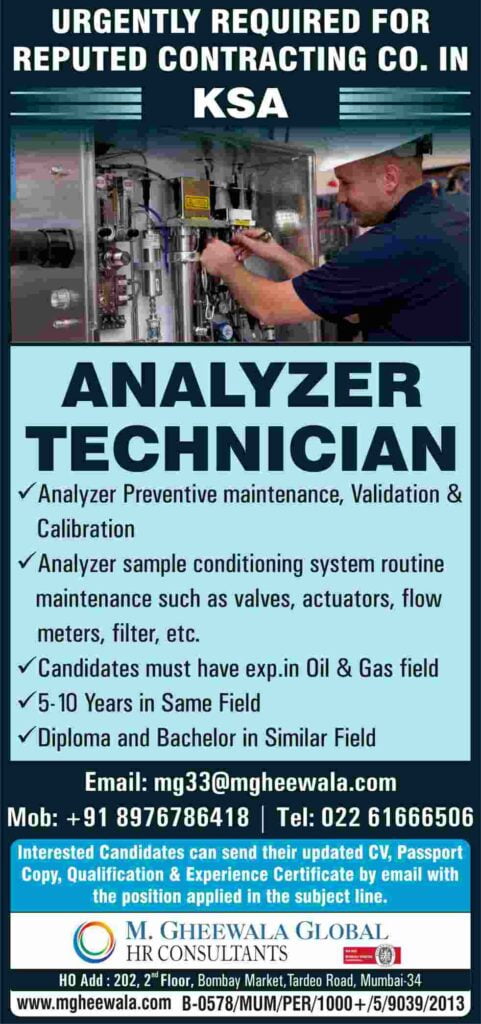 2. REPUTED COMPANY IN SERBIA (EUROPE)
3. REQUIRED FOR INDUSTRIAL SERVICES / CONTRACTING COMPANY IN SAUDI ARABIA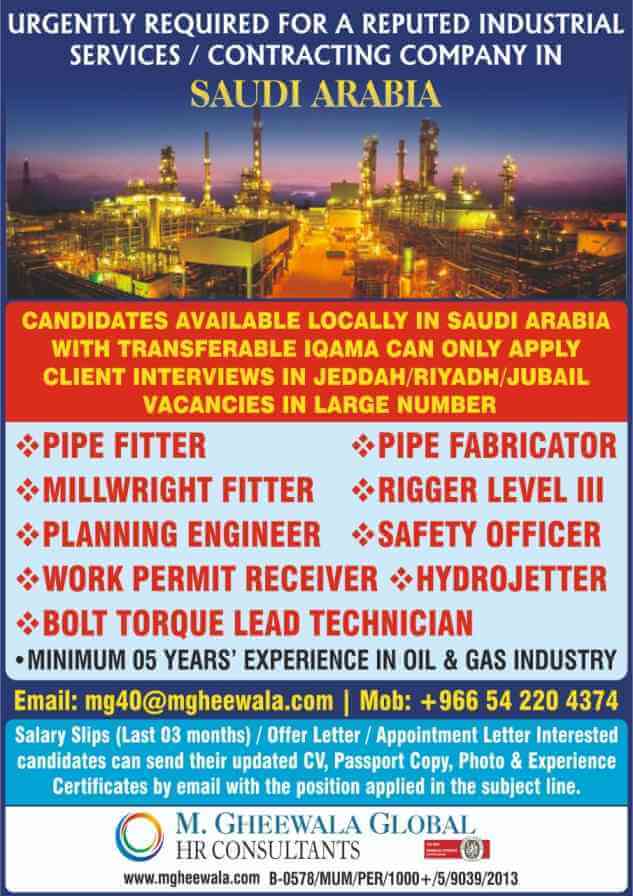 4. REQUIRED FOR A LEADING COMPANY BASED IN QATAR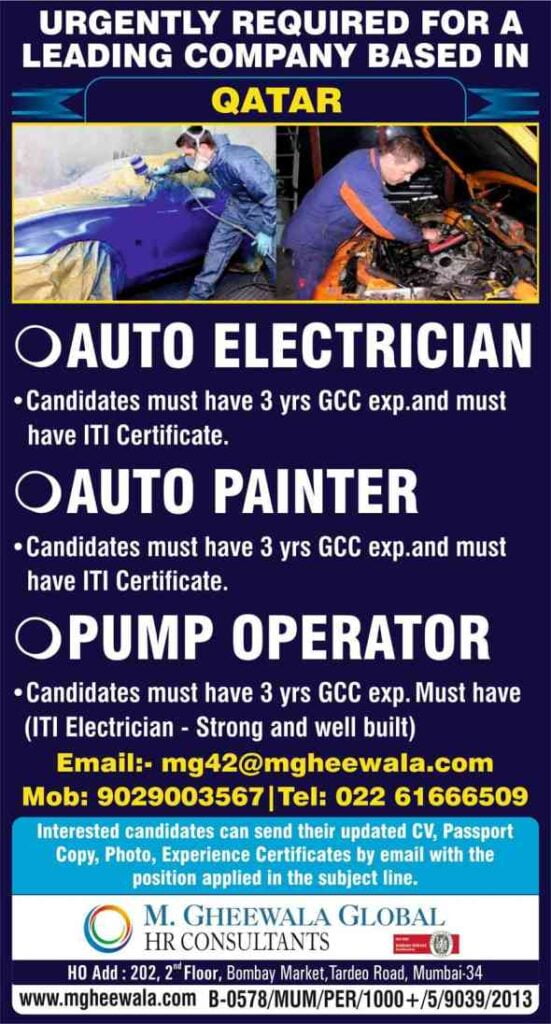 5. REQUIRED FOR SERVICE PROVIDING COMPANY IN SAUDI ARABIA AND QATAR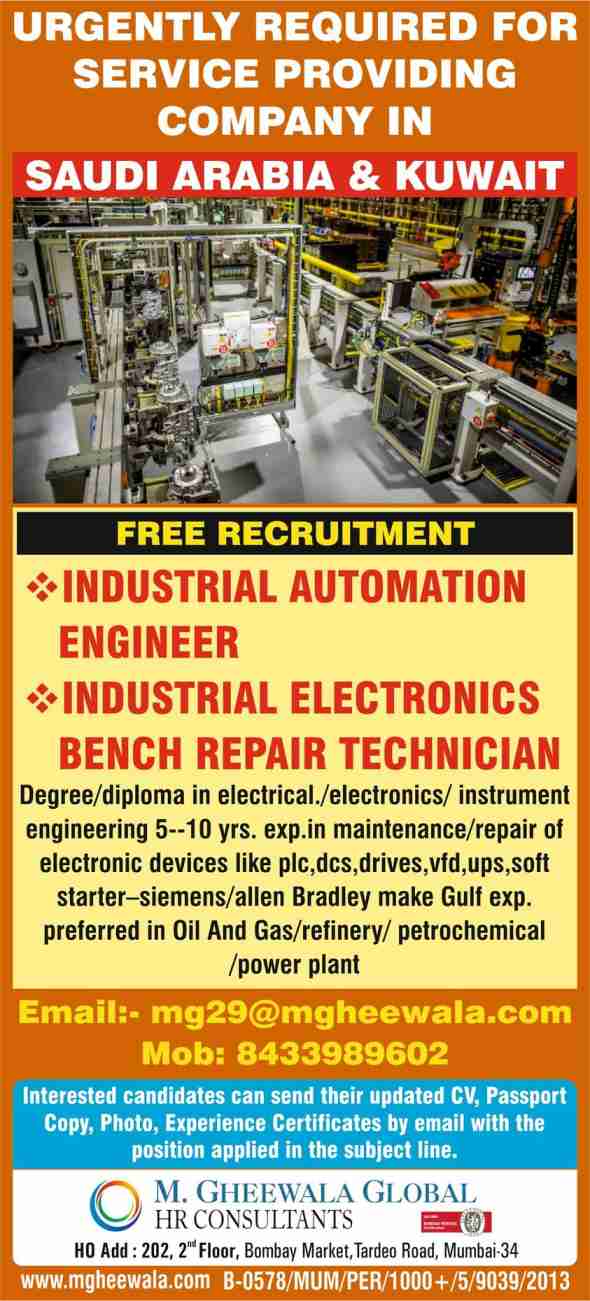 6. REQUIRED FOR A LEADING METAL INDUSTRIES IN KSA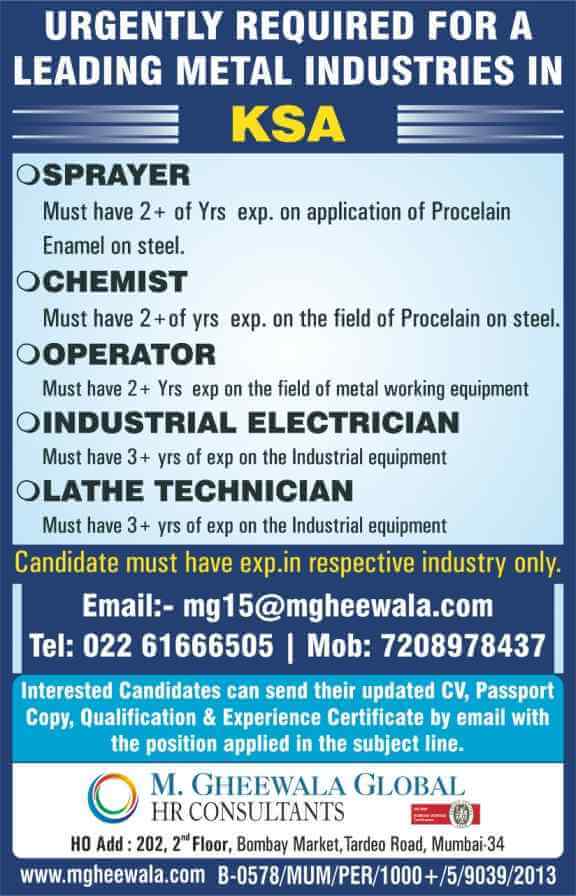 7. REQUIRED FOR A REPUTED COMPANY IN DUBAI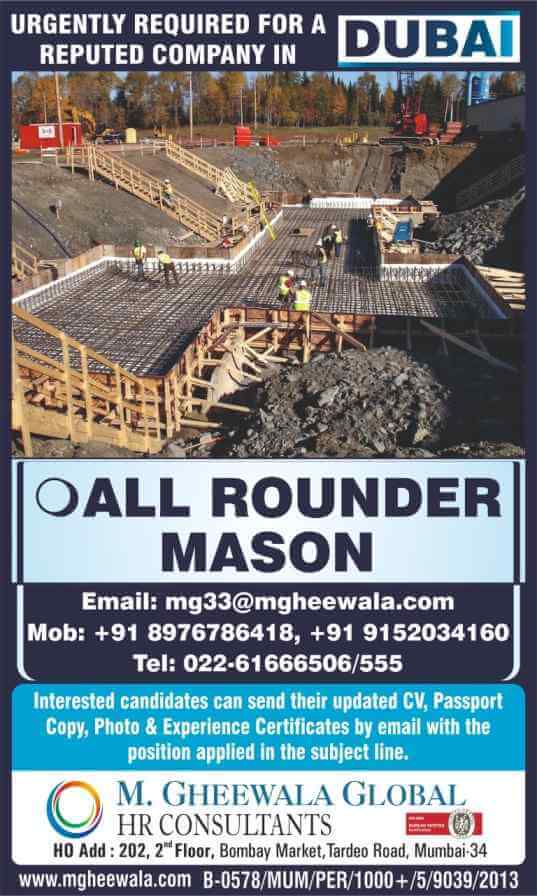 8. URGENTLY REQUIRED FOR A REPUTED COMPANY IN UAE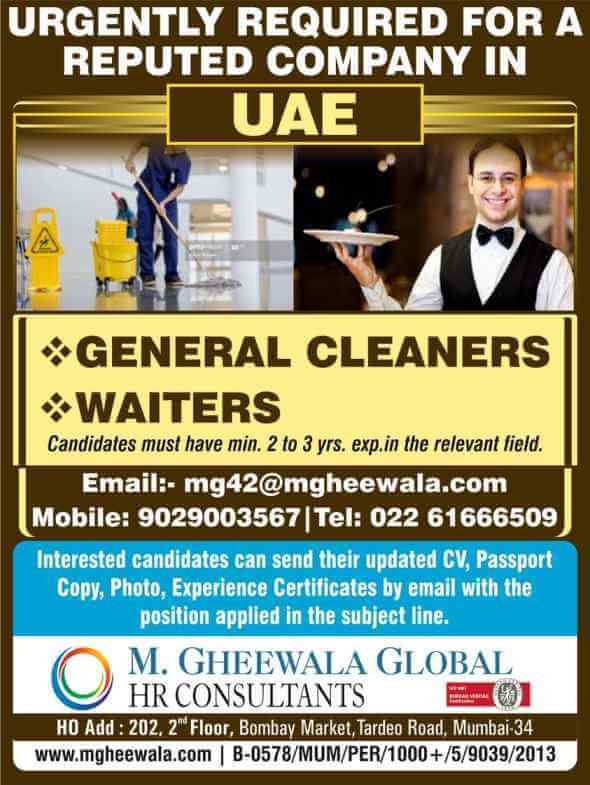 9. REQUIRED FOR REPUTED COMPANY IN QATAR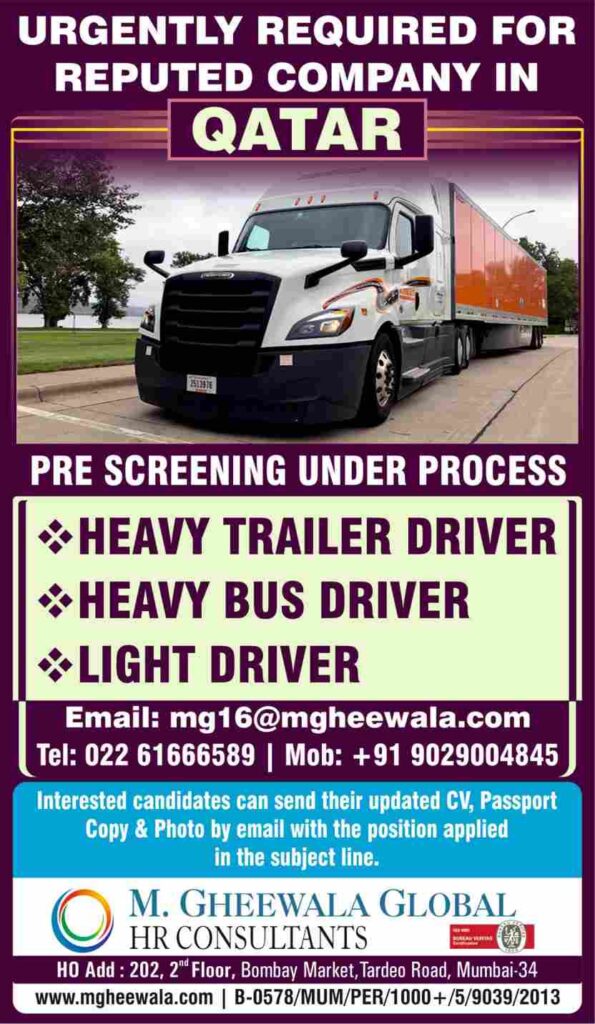 10. URGENTLY REQUIRED FOR SHIP REPAIR PROJECT IN BAHRAIN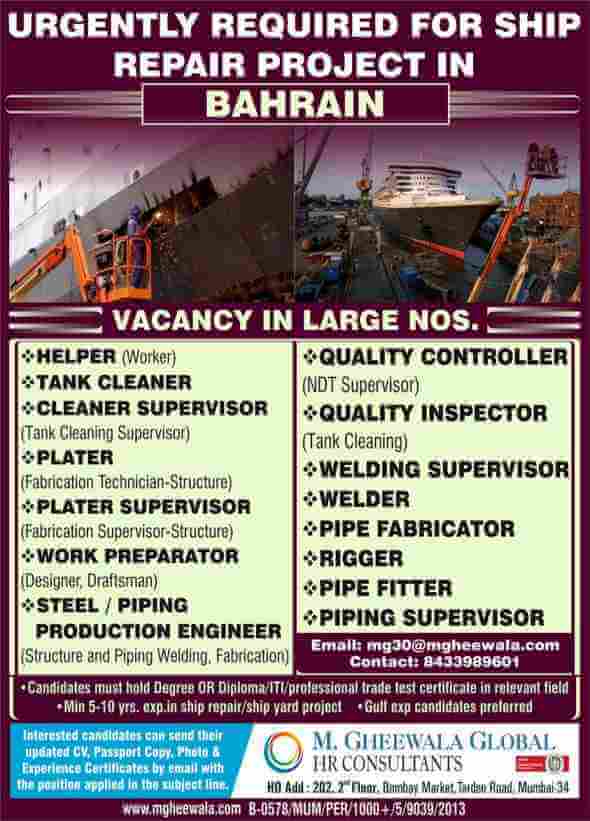 Job Location – SAUDI ARABIA, QATAR, UAE, SLOVAKIA
Experience – Candidates must have experience in related field. gulf experience preferred first.
Qualifications – Matric/ITI/Diploma/Graduate/B.tech
Interview Mode – Direct CV selection or Online Interview.
Features and benefits –
Should be physically and mentally sound to perform the duty.
Know language – Hindi and English both.(Optional)
Should be read/understand/speak basic English.
Extra benefits – FREE FOOD + ACCOMODATION + FREE TRANSPORTATION + 3HRS OVERTIME + FREE MEDICAL INSURANCE
Salary – NEGOTIABLE
Consultancy name – M. GHEEWALA GLOBAL HR CONSULTANT
Contact us for recruitment process or send CV to given email id – Interested candidates can send their updated CV, Passport copy, Photo & Experience certificates by email with the position applied in the subject line.
Address : Head office 202, 2nd Floor, Bombay Market,Tardeo Road, Mumbai-34
EMAIL – Send all the documents to given email id which is mention in the above image. shortlisting is in process.
MORE RELATED GULF JOBS –
For more interesting careers related gulf jobs you must join our TELEGRAM CHANNEL