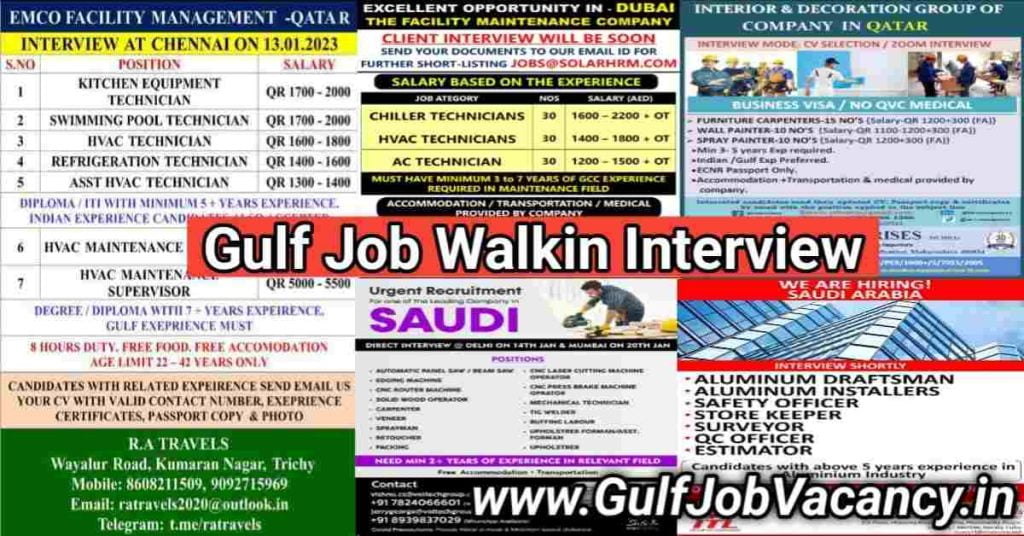 Gulf Job Walkin – Overseas job interview requirement for Qatar, Abu Dhabi, Dubai, Saudi Arabia and Mauritius. Interested job seekers can apply for jobs in Facility management companies, Interior and decoration companies, Printing & Publishing LLCs, Speciality hospitals and a leading group of companies. Kindly check all the details and apply for the interview immediately. Shortlisting is in progress.

EMCO Facility Management Jobs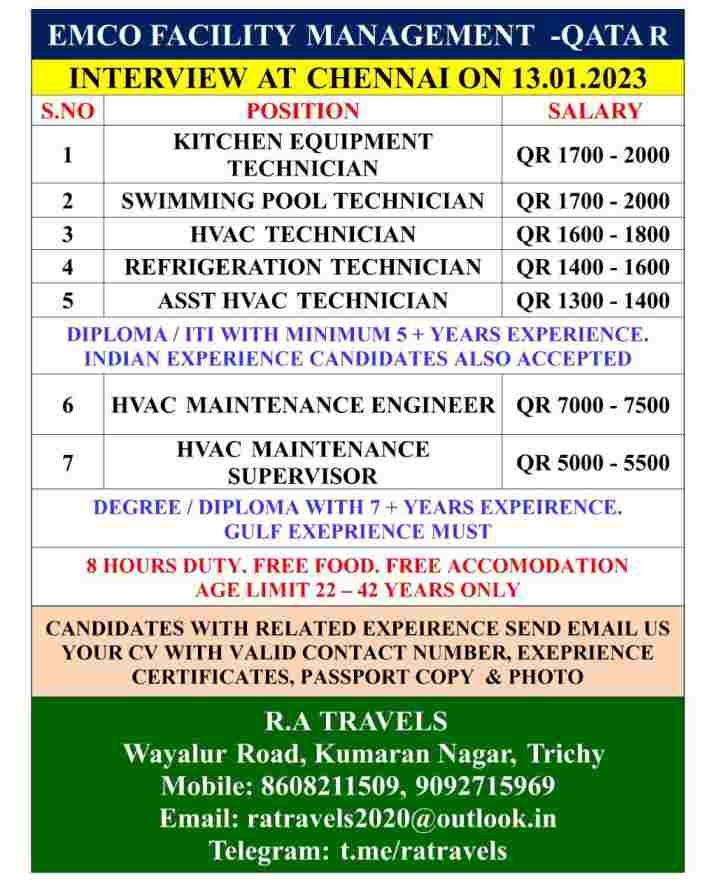 Job Role:
Kitchen Equipment Technician
Swimming Pool Technician
HVAC Technician
Refrigeration Technician
Asst HVAC Technician
HVAC Maintenance Engineer
HVAC Maintenance Supervisor
Job Location: Qatar
Experience: A minimum of 05+ years of experience is required.
Qualifications: ITI/Diploma
Interview Date & Venue: Interview at Chennai on 13.01.2023
Age Limit: 22-42 years only
Salary: QR 1700-7000/-
Consultancy Name: R.A Travels
Contact: 8608211509, 9092715969
Email: ratravels2020@outlook.in
A Leading Company Jobs For Gulf
Job Role:
Automatic Panel Saw / Beam Saw
Edging Machine
CNC Router Machine
Solid Wood Operator
Carpenter
Veneer
Sprayman
Retoucher
Packing
CNC Laser Cutting Machine Operator
CNC Press Brake Machine Operator
Mechanical Technician
Tig Welder
Buffing Labour
Upholstrer Forman/asst. Forman
Upholsterer
Job Location: Saudi Arabia
Experience: Need min 2+ years of experience in relevant field.
Interview Date & Venue: Direct interview at Delhi on 14th January 2023 & Mumbai on 20th Jan 2023.
Benefits: Free Accommodation + Transportation
Consultancy Name: Voltech
Contact: +91 7824066601/ +91 8939837029
Email: vishnu.cs@voltechgroup.com / jerrygeorge@voltechgroup.com
Facility Maintenance Company Jobs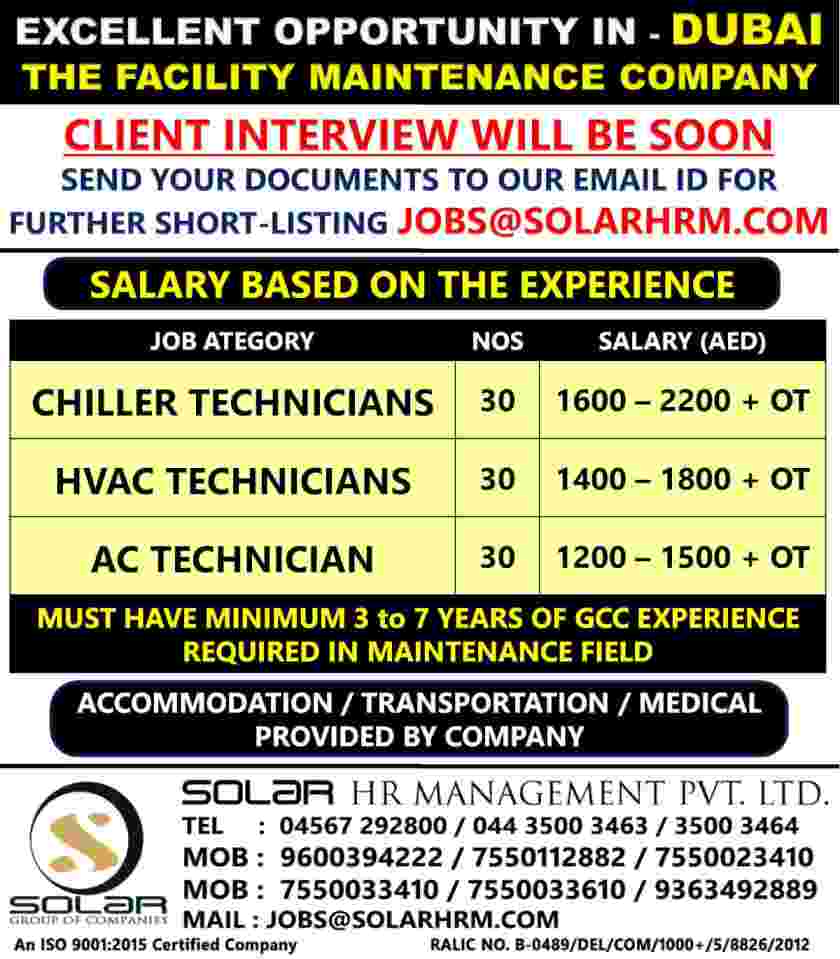 Job Role:
Chiller Technicians
HVAC Technicians
Ac Technician
Job Location: Dubai
Experience: Must Have a Minimum of 3 To 7 Years Of Gcc Experience Required In the Maintenance Field.
Interview Date & Venue: The client interview will be soon.
Benefits: Accommodation / Transportation / Medical Provided By The Company
Salary: AED 1200-2200 + OT
Consultancy Name: Solar HR Management Pvt Ltd.
Contact: 04567 292800 / 044 3500 3463 / 3500 3464 / 9600394222 / 7550112882 / 7550023410 / 7550033410 / 7550033610 / 9363492889
Email: jobs@solarhrm.com
Aluminium Industry Jobs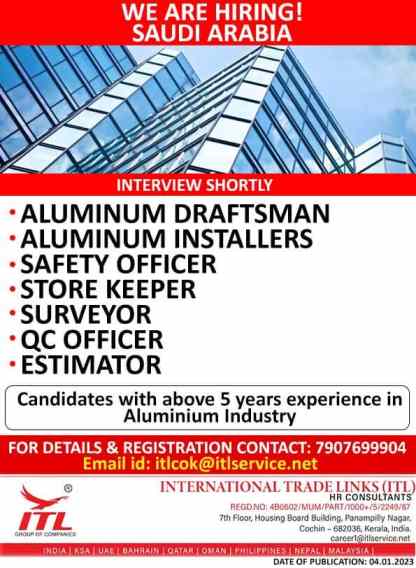 Job Role:
Aluminum Draftsman
Aluminum Installers
Safety Officer
Store Keeper -surveyor
Qc Officer
Estimator
Job Location: Saudi Arabia
Experience: Candidates with above 5 years of experience in the Aluminium Industry.
Salary: Negotiable
Consultancy Name: International Trade Links
Contact: 7907699904
Email: iticok@itlservice.net
Printing & Publising LLC Jobs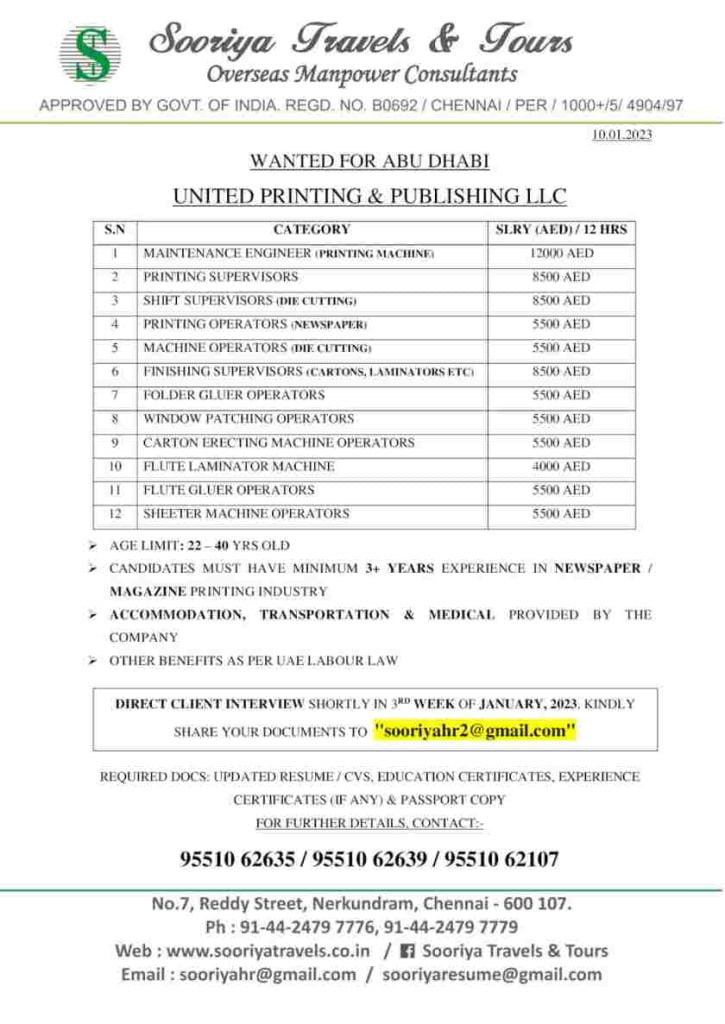 Job Role:
Maintenance Engineer (Printing Machine)
Printing Supervisors
Shift Supervisors (Die Curring)
Printing Operators (Newspaper)
Machine Operators (Die-Cutting)
Finishing Supervisors (Cartons, Laminators Etc)
Folder Gluer Operators
Window Patching Operators
Carton Erecting Machine Operators
Flute Laminator Machine
Flute Gluer Operators
Sheeter Machine Operators
Job Location: Abu Dhabi
Experience: Candidates must have a minimum of 3+ years of experience in the newspaper/magazine printing industry
Interview Date & Venue: Direct client interview shortly in 3rd Week of January 2023
Age Limit: 22 – 40 yrs old
Benefits: Accommodation, transportation & medical provided by the company. Other benefits as per UAE labour law.
Salary: AED 4000-12000/-
Consultancy Name: Sooriya Travels & Tours
Contact: 95510 62635 / 95510 62639 / 95510 62107
Email: sooriyahr2@gmail.com / sooriyahr@gmail.com / sooriyaresume@gmail.com
Interior & Decoration Company Jobs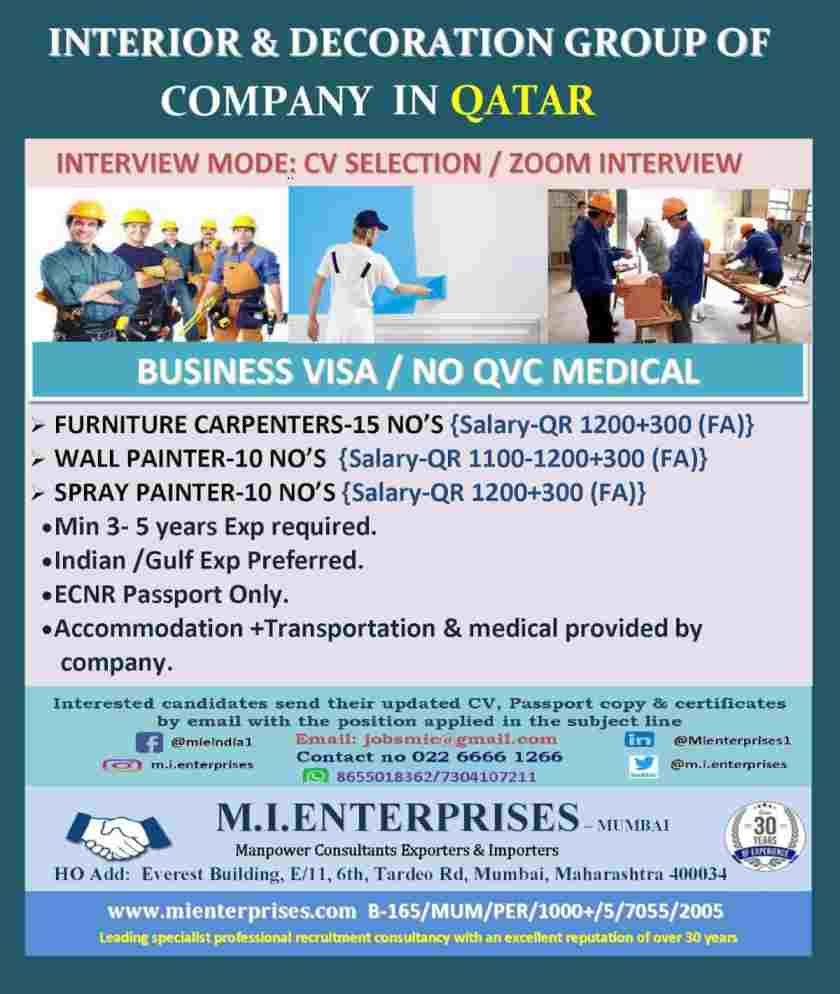 Job Role:
Furniture Carpenters
Wall Painter
Spray Painter
Job Location: Qatar
Experience: Min 3- 5 years Exp required. Indian /Gulf Exp Preferred.
Interview Mode: Accommodation +Transportation & Medical provided by the company.
Salary: QR 1100-1200+ 300(FA)
Consultancy Name: M.I Enterprises
Contact: 022 6666 1266
Email: jobsmie@gmail.com
Speciality Hospital Jobs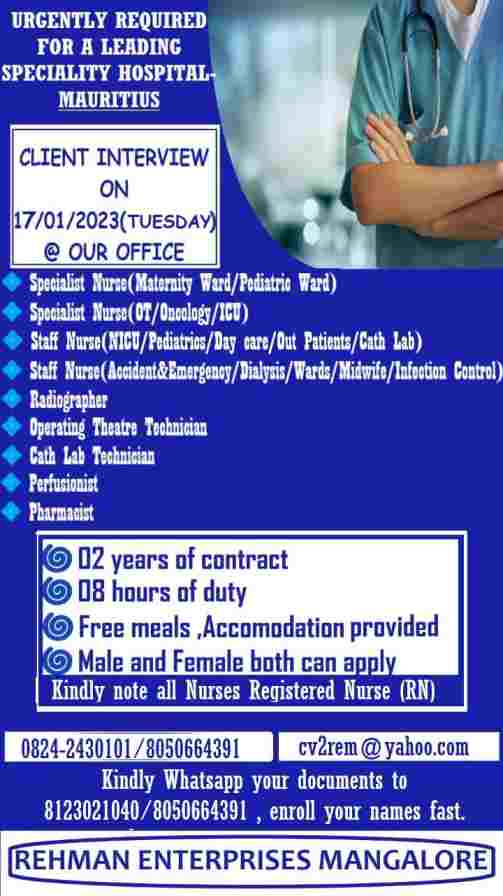 Job Role:
Specialist Nurse(Maternity Ward/Pediatric Ward)
Specialist Nurse(OT/Oneologs/ICU)
Staff Nurse(NICU/Pediatrics/Daycare/Out Patients/Cath Lab)
Staff Nurse(Accident&Emergency/Dialysis/Wards/Midwife/Infection Control)
Radiographer
Operating Theatre Technician
Cath Lab Technician
Perfusionist
Pharmacist
Job Location: Mauritius
Interview Date: Client interview on 17/01/2023 in Mangalore
Contract Period & Duty Hours: 02 years of contract + 08 Hrs duty
Benefits: Free meals, Accommodation provided Males and Females both can apply.
Consultancy Name: Rehman Enterprises
Contact: 0824-2430101/8050664391
Email: cv2rem @ yahoo.com
How To Apply?
Candidates with related experience contact the branch office or send an emailed CV with a valid contact number, experience certificates, and passport copy & photo. Also, do not forget to mention the job subject line and your skype, zoom id in your cv for an easy online interview.
संबंधित अनुभव वाले उम्मीदवार शाखा कार्यालय से संपर्क करें या वैध संपर्क नंबर, अनुभव प्रमाण पत्र, और पासपोर्ट कॉपी और फोटो के साथ ईमेल सीवी भेजें। साथ ही, एक आसान ऑनला-इन साक्षात्कार के लिए अपने सीवी में जॉब सब्जेक्ट लाइन और अपने स्काइप, ज़ूम आईडी का उल्लेख करना न भूलें।
Gulf Job Walkin
For more exciting careers related to Gulf jobs, you must join our TELEGRAM CHANNEL