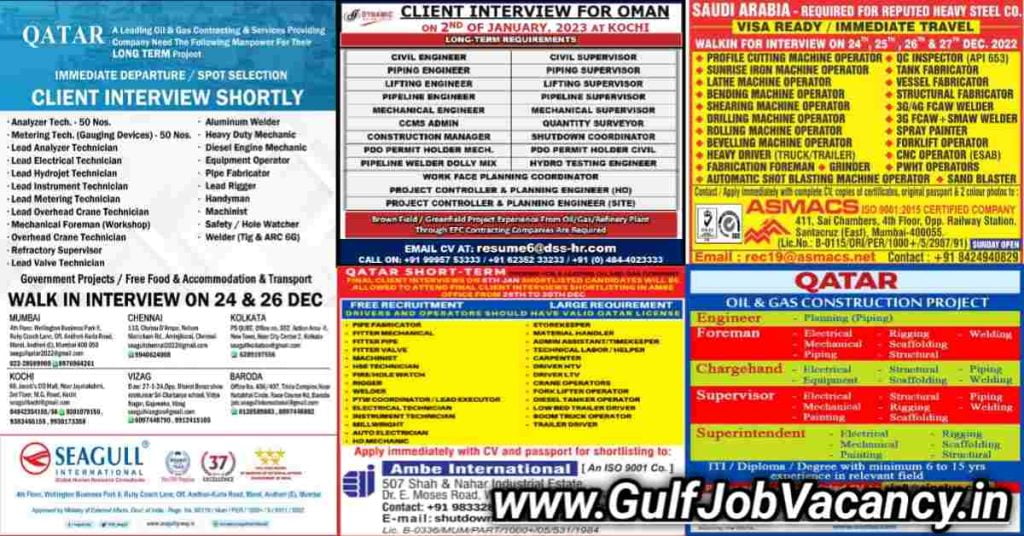 Gulf Visa – Interview requirement for Qatar, Saudi Arabia, Oman and UAE. Interested job seekers can apply for interviews in Oil and gas companies, Heavy steel companies, EPC contracting companies, Semi government companies, Multinational companies, Oil & construction project, and Maintenance fields. Kindly check all the job positions and apply for the interview immediately. Shortlisting is in progress.

Short-Term Job Opening For Oil And Gas Company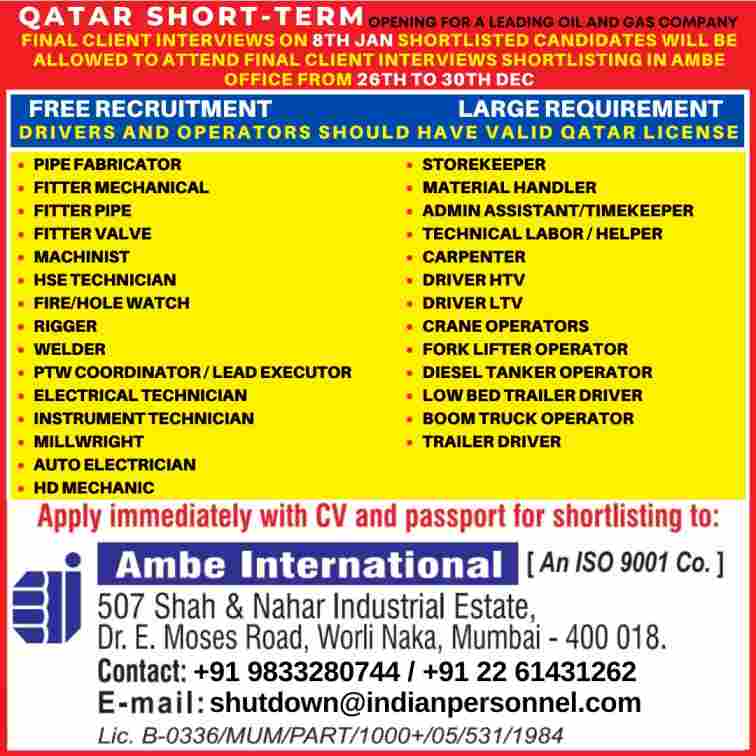 Job Role:
Pipe Fabricator
Fitter Mechanical
Fitter Pipe
Fitter Valve
Machinist
HSE Technician
Fire/Hole Watch
Rigger
Welder
PTW Coordinator / Lead Executor
Electrical Technician
Instrument Technician
Millwright
Auto Electrician
Hd Mechanic
Storekeeper
Material Handler
Admin Assistant/Timekeeper
Technical Labor / Helper
Carpenter
Driver HTV
Driver LTV
Crane Operators
Fork Lifter Operator
Diesel Tanker Operator
Low Bed Trailer Driver
Boom Truck Operator
Trailer Driver
Job Location: Qatar
Interview Date & Venue: Final client interviews on 8th January 2023 shortlisted candidates will be allowed to attend final client interviews shortlisting in the Ambe office from 26th to 30th December 2022.
Consultancy Name: Ambe International
Office Address: Shah & Nahar Industrial Estate, Dr E. Moses Road, Worli Naka, Mumbai – 400 018.
Contact: +9198332807441 +91 22 61431262
Email: shutdown@indianpersonnel.com
Heavy Steel Company Job Required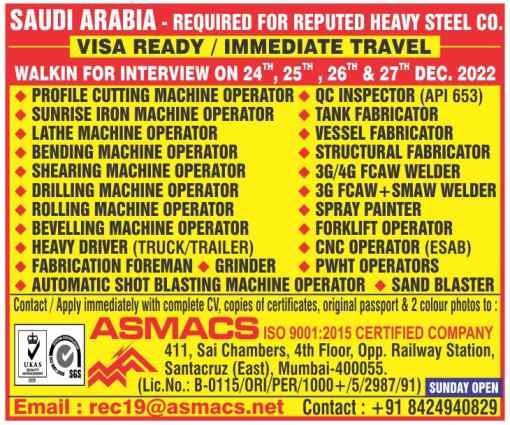 Job Role:
Profile Cutting Machine Operator
Qc Inspector (API 653)
Sunrise Iron Machine Operator
Tank Fabricator
Lathe Machine Operator
Vessel Fabricator
Bending Machine Operator
Structural Fabricator
Shearing Machine Operator
3g/4g Fcaw Welder
Drilling Machine Operator
3g FCAW+SMAW Welder
Rolling Machine Operator
Spray Painter
Bevelling Machine Operator
Forklift Operator
Heavy Driver (Truck/trailer)
CNC Operator (Esab)
Fabrication Foreman
Grinder
PWHT Operators
Automatic Shot Blasting Machine Operator
Sand Blaster
Job Location: Saudi Arabia
Interview Date & Venue: Walk in for an interview on 24th, 25th, 26th & 27th Dec 2022.
Consultancy Name: ASMACS
Office Address: 411, Sai Chambers, 4th Floor, Opp. Railway Station, Santacruz (East), Mumbai-400055.
Contact: +91 8424940829
Email: rec19@asmacs.net
EPC Contracting Company Required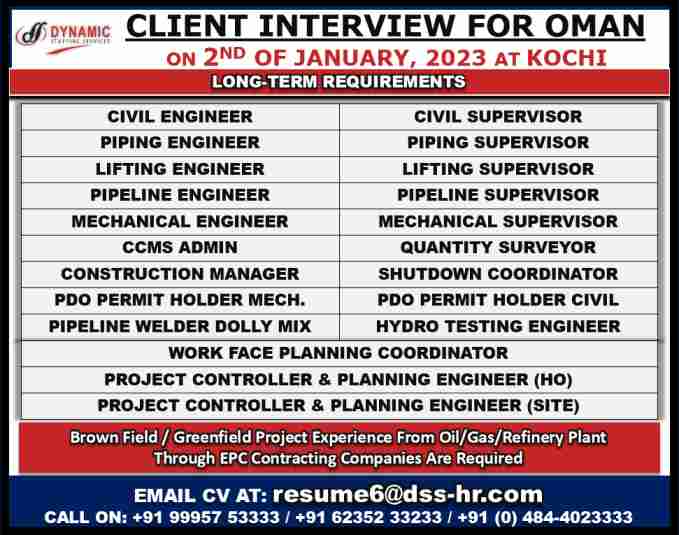 Job Role:
Civil Engineer
Civil Supervisor
Piping Engineer
Piping Supervisor
Lifting Engineer
Lifting Supervisor
Pipeline Engineer
Pipeline Supervisor
Mechanical Engineer
Mechanical Supervisor
Ccms Admin
Quantity Surveyor
Construction Manager
Shutdown Coordinator
Pdo Permit Holder Mech.
Pdo Permit Holder Civil
Pipeline Welder Dolly Mix
Hydro Testing Engineer
Work Face Planning Coordinator
Project Controller & Planning Engineer (Ho)
Project Controller & Planning Engineer (Site)
Job Location: Oman
Experience: Brown Field / Greenfield Project Experience From Oil/Gas/Refinery Plant Through EPC Contracting Companies Are Required.
Interview Date & Venue: Client interview for Oman on 2nd of January, 2023 at Kochi
Consultancy Name: Dynamic Staffing Services
Contact: +91 99957 53333 / +91 62352 33233 / +91 0 484-4023333
Email: resume6@dss-hr.com
Semi-Government Company Required
Job Role:
Electrician
Plumber
Ac Technician
Electrical Foreman
Wall Painter
Accountant
Purchasing Officer
Finishing Carpenter
Job Location: UAE
Interview Date & Mode: Final client zoom interview at our office on 27th December 2022.
Benefits: 08Hrs Duty + Accommodation + Transportation + Medical
Salary: DHS 1000-5000/-
Consultancy Name: Iconic Overseas Services
Office Address: Road No.2, Makhdumpur, P.O – Tatanagar, P.S – Parsudih, Jamshedpur East Singhbhum, Jharkhand, Pin Code – 831002
Contact: 9693916751 /9693916752 /9693916754
Email: iosdubai22@gmail.com
Multinational Company Requirement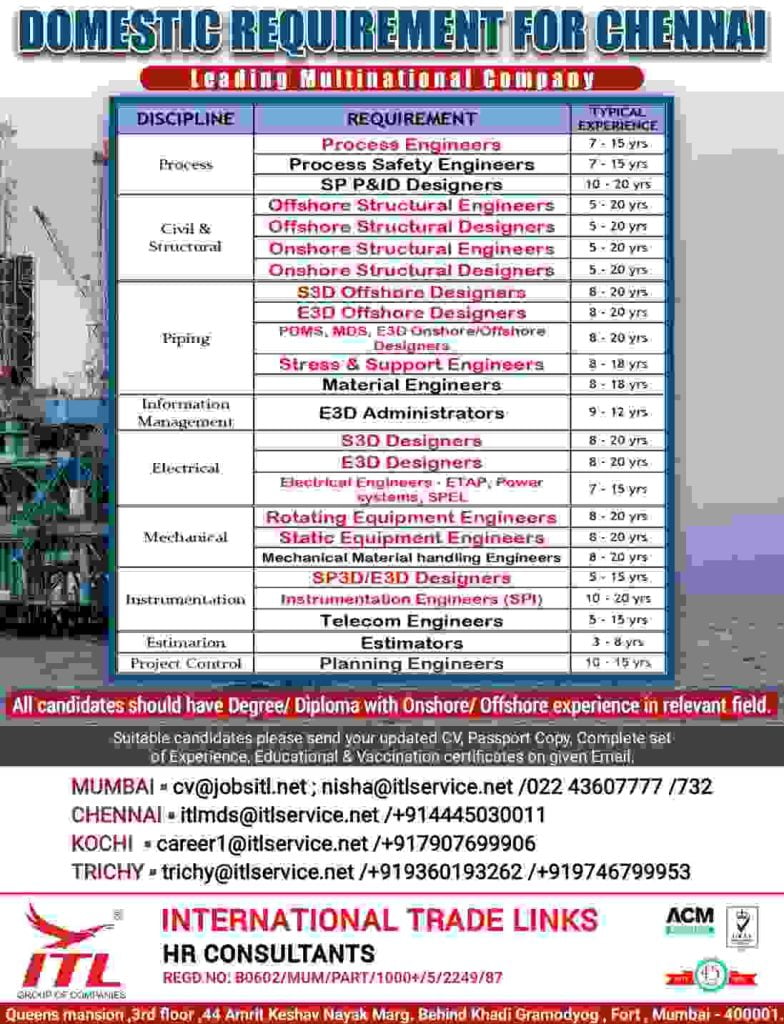 Job Role:
Process Engineers
Process Safety Engineers
SP P&ID Designers
Civil & Structural
Offshore Structural Engineers
Offshore Structural Designers
Onshore Structural Engineers
Onshore Structural Designers
S3D Offshore Designers
E3D Offshore Designers
PDMS, MDS, E3D Onshore/Offshore Designers
Stress & Support Engineers
8- 18 yrs
Material Engineers
8 – 18 yrs
Information Management
E3D Administrators
9 – 12 yrs
Electrical
S3D Designers
8 – 20 yrs
E3D Designers
8 – 20 yrs
Electrical Engineers – ETAP, Power systems, SPEL
Mechanical
Rotating Equipment Engineers
Static Equipment Engineers
Mechanical Material handling Engineers
Instrumentation
SP3D/E3D Designers
Instrumentation Engineers (SPI)
Telecom Engineers
Estimation
Estimators
Project Control
Planning Engineers
Job Location: Gulf
Experience & Qualifications: All candidates should have a Degree/ Diploma with Onshore/ Offshore experience in a relevant field.
Consultancy Name: International Trade Links
Office Address: Queens mansion,3rd floor,44 Amrit Keshav Nayak Marg. Behind Khadi Gramodyog, Fort, Mumbai – 400001.
Contact: 022 43607777 /732
Email: cv@jobsitl.net ; nisha@itlservice.net
Contracting & Services Providing Company Required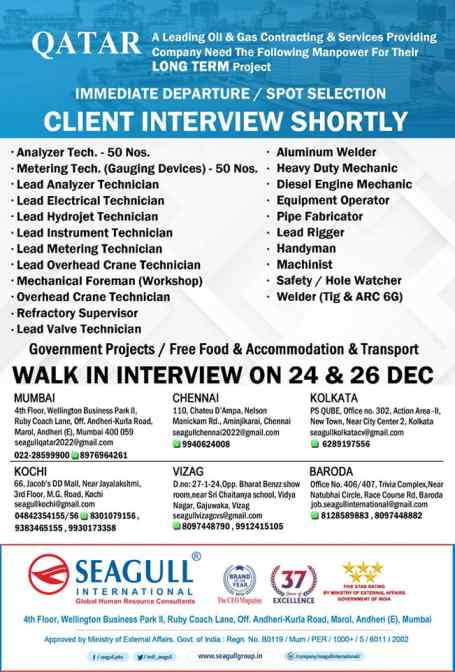 Job Role:
Analyzer Tech.
Aluminum Welder
Metering Tech. (Gauging Devices)
Heavy Duty Mechanic
Lead Analyzer Technician
Diesel Engine Mechanic
Lead Electrical Technician
Equipment Operator
Lead Hydrojet Technicia
Pipe Fabricator
Lead Instrument Technician
Lead Rigger
Lead Metering Technician
Handyman
Lead Overhead Crane Technician
Machinist
Mechanical Foreman (Workshop)
Safety / Hole Watcher
Overhead Crane Technician
Welder (Tig & ARC 6G)
Refractory Supervisor
Lead Valve Technician
Job Location: Qatar
Interview Date & Venue: Walk-in-interview at Mumbai, Chennai, Kolkata, Kochi, Vizag, and Baroda on 24 & 26 December 2022.
Benefits: Government Projects / Free Food & Accommodation & Transport
Consultancy Name: Seagull International
Office Address: 4th Floor, Wellington Business Park II, Off. Andheri Kurla Road, Marol Andheri (E) Mumbai 400059
Email: seagullqatar2022@gmail.com
Oil & Gas Construction Project Jobs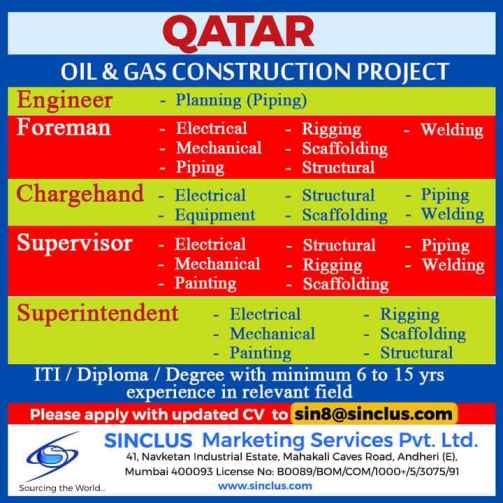 Job Role:
Engineer – Planning (Piping)
Electrical Foreman
Rigging Foreman
Welding Foreman
Mechanical Foreman
Scaffolding Foreman
Piping Foreman
Structural Foreman
Electrical Chargehand
Equipment Chargehand
Structural Chargehand
Piping Chargehand
Scaffolding Chargehand
Welding Chargehand
Electrical Supervisor
Structural Supervisor
Piping Supervisor
Mechanical Supervisor
Rigging Supervisor
Welding Supervisor
Painting Supervisor
Scaffolding Supervisor
Electrical Superintendent
Mechanical Superintendent
Painting Superintendent
Rigging Superintendent
Scaffolding Superintendent
Structural Superintendent
Job Location: Qatar
Experience & Qualifications: ITI / Diploma / Degree with minimum 6 to 15 yrs experience in relevant field.
Consultancy Name: Sinclus Marketing Services Pvt. Ltd.
Office Address: 41, Navketan Industrial Estate. Mahakali Caves Road, Andheri (E), Mumbai 400093
Email: sin8@sinclus.com
ITI/Diploma Vacancies For Maintenance Company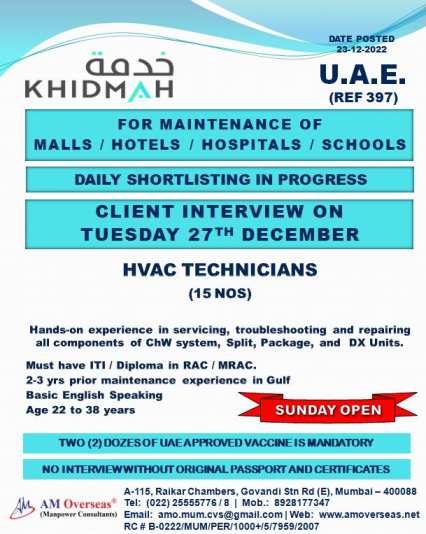 Job Role:
Job Location: UAE
Experience: Hands-on experience in servicing, troubleshooting and repairing all components of ChW system, Split, Package, and DX Units. 2-3 yrs prior maintenance experience in Gulf
Qualifications: Must have ITI / Diploma in RAC / MRAC.
Interview Date & Venue: Client interview on Tuesday 27th December 2022.
Age Limit: 22 to 38 years
Consultancy Name: AM Overseas
Office Address: A-115, Raikar Chambers, Govandi Stn Rd (E). Mumbai – 400088
Contact: (022) 25555776 / 8 / 8928177347
Email: amo.mum.cvs@gmail.com
How To Apply?
Candidates with related experience contact the branch office or send an emailed CV with a valid contact number, experience certificates, and passport copy & photo. Also, do not forget to mention the job subject line and your skype, zoom id in your cv for an easy online interview.
संबंधित अनुभव वाले उम्मीदवार शाखा कार्यालय से संपर्क करें या वैध संपर्क नंबर, अनुभव प्रमाण पत्र, और पासपोर्ट कॉपी और फोटो के साथ ईमेल सीवी भेजें। साथ ही, एक आसान ऑनला-इन साक्षात्कार के लिए अपने सीवी में जॉब सब्जेक्ट लाइन और अपने स्काइप, ज़ूम आईडी का उल्लेख करना न भूलें।
Gulf Visa Interview
For more exciting careers related to Gulf jobs, you must join our TELEGRAM CHANNEL