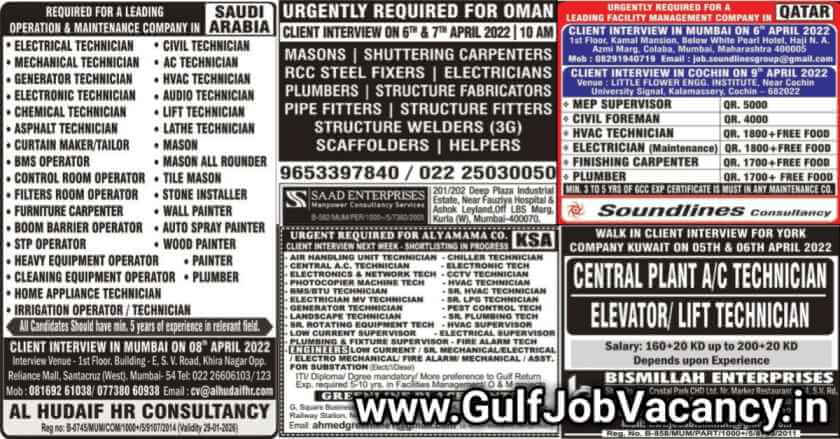 Gulfjobpaper – Mumbai interview requirements for Saudi Arabia, Qatar, Oman and UAE. Job seekers can apply for jobs in Operation & maintenance companies, Shutdown projects, Alyamama companies, Transportation companies, Facility management companies and Semi-government companies. Kindly check all the details and apply for the interviews. Shortlisting is in progress.

A LEADING OPERATION & MAINTENANCE COMPANY IN SAUDI ARABIA
Required for a leading operation & maintenance company in Saudi Arabia. The final client interview in Mumbai on 08th April 2022.
Job Role:
Electrical Technician
Civil Technician
Mechanical Technician
Ac Technician
Generator Technician
HVAC Technician
Electronic Technician
Audio Technician
Chemical Technician
Lift Technician
Asphalt Technician
Lathe Technician
Curtain Maker/Tailor
Mason
Bms Operator
Mason All-Rounder
Control Room Operator
Tile Mason
Filters Room Operator
Stone Installer
Furniture Carpenter
Wall Painter
Boom Barrier Operator
Auto Spray Painter
Stp Operator
Wood Painter
Heavy Equipment Operator
Painter
Cleaning Equipment Operator
Plumber
Home Appliance Technician
Irrigation Operator / Technician
Job Location: Saudi Arabia
Experience: All Candidates Should have min. 5 years of experience in a relevant field.
Consultancy Name: AL Hudaif HR Consultancy
Office Address:
Contact: 081692 61038/ 077380 60938
Email: cv@alhudaifhr.com
URGENTLY REQUIRED FOR A LEADING COMPANY IN SAUDI ARABIA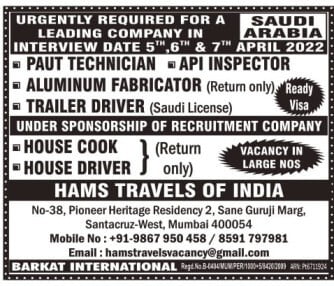 Urgently required for a leading company in Saudi Arabia. The final client interview dates are the 5th,6th & 7th of April 2022.
Job Role:
PAUT Technician
API Inspector
Aluminium Fabricator (Return Only)
Trailer Driver (Saudi License)
House Cook
House Driver
Job Location: Saudi Arabia
Consultancy Name: Barkat International
Office Address: No-38. Pioneer Heritage Residency 2, Sane Gump Marg, Santacruz-West, Mumbai 400054.
Contact: +91-9867 950 458 / 8591 797981
Email: hamstravelsvacancy@gmail.com
SAUDI ARABIA REQUIRED FOR SHUTDOWN PROJECTS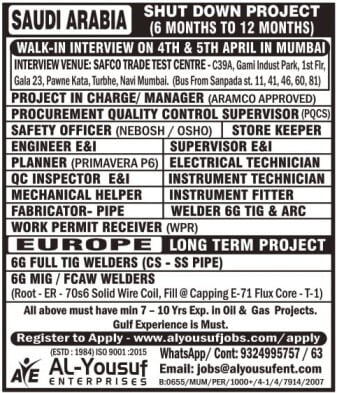 Saudi Arabia shutdown project required 06months to 12 months projects. Final walk-in-interview on 04th & 05th April in Mumbai office.
Job Role:
Project In Charge/ Manager (Aramco Approved)
Procurement Quality Control Supervisor (PQCS)
Safety Officer (Nebosh / Osho)\
Store Keeper
Engineer E&I
Supervisor E&I
Planner (Primavera P6)
Electrical Technician
Qc Inspector E&I
Instrument Technician
Mechanical Helper
Instrument Fitter
Fabricator- Pipe
Welder 6g Tig & Arc
Work Permit Receiver (WPR)
Job Location: Saudi Arabia
Experience: All above must have min 7 -10 Yrs Exp. in Oil & Gas Projects. Gulf Experience is Must.
Consultancy Name: AL Yousouf Enterprises
Office Address: C39A, Gami Indust Park, 1st Flr, Gala 23, Pawne Kata, Turbhe, Navi Mumbai. (Bus From Sanpada st. 11, 41, 46, 60, 81)
Contact: 9324995757 / 63
Email: jobs@alyousufent.com
REQUIRED FOR ALYAMAMA COMPANY IN KSA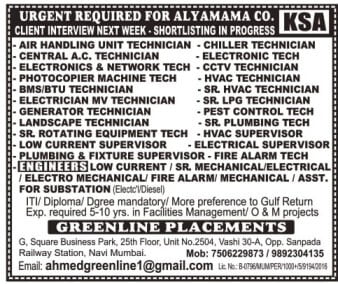 Urgent required for ALYAMAMA company in KSA. The final client interview is next week. Shortlisting is in progress.
Job Role:
Air Handling Unit Technician
Chiller Technician
Central A.c. Technician
Electronic Tech
Electronics & Network Tech
Cctv Technician
Photocopier Machine Tech
HVAC Technician
Bms/btu Technician
Sr. HVAC Technician
Electrician
Mv Technician
Sr. Lpg Technician
Generator Technician
Pest Control Tech
Landscape Technician
Sr. Plumbing Tech
Sr. Rotating Equipment Tech
Hvac Supervisor
Low Current Supervisor
Electrical Supervisor
Plumbing & Fixture Supervisor
Fire Alarm Tech
Low Current /Sr. Mechanical/electrical / Electro Mechanical/ Fire Alarm/ Mechanical / Asst. For Substation
Job Location: KSA
Experience: More preference for Gulf Return Exp. required 5-10 yrs. in Facilities Management/ O & M projects
Qualifications: ITI/ Diploma/ Degree mandatory
Consultancy Name: Greenline Placements
Office Address: G. Square Business Park, 25th Floor, Unit No.2504, Vashi 30-A, Opp. Sanpada Railway Station, Navi Mumbai.
Contact: 7506229873 / 9892304135
Email: ahmedgreenline1@gmail.com
REQUIRED LIGHT DUTY DRIVERS IN KSA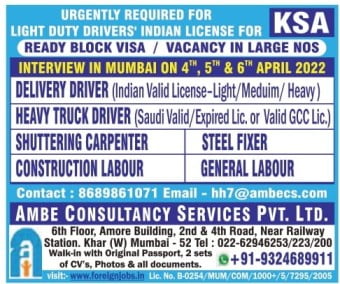 Urgently required for light duty drivers Indian license for KSA. Vacancies are in large numbers the final client interview held at Mumbai on 04th, 05th & 06th April 2022.
Job Role:
Delivery Driver (Indian Valid license-Light/Medium/ Heavy )
Heavy Truck Driver (Saudi Valid/Expired Lic. Or Valid Gcc Lic.)
Shuttering Carpenter
Steel Fixer
Construction Labour
General Labour
Job Location: KSA
Consultancy Name: Ambe Consultancy Services Pvt. Ltd.
Office Address: 6th Floor, Amore Building, 2nd & 4th Road, Near Railway Station. Khar (W) Mumbai – 52
Contact: 8689861071, 022-62946253/223/200
Email: hh7@ambecs.com
URGENT REQUIREMENTS FOR OMAN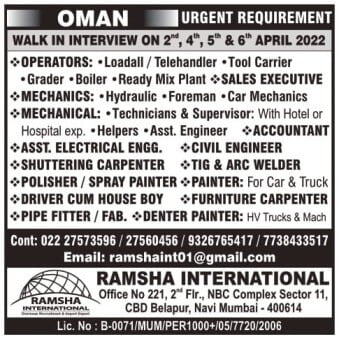 Urgently required for Oman. The final client walk-in-interview will be held at the Mumbai office on 04th, 05th & 06th April 2022.
Job Role:
OPERATORS: Loadall / Telehandler, Tool Carrier, Grader, Boiler, Ready Mix Plant
SALES EXECUTIVE
MECHANICS: Hydraulic, Foreman, Car Mechanics
MECHANICAL: Technicians & Supervisor: With Hotel or Hospital exp.
Helpers
Asst. Engineer
ACCOUNTANT
ASST. ELECTRICAL ENGG
CIVIL ENGINEER
SHUTTERING CARPENTER
TIG & ARC WELDER
POLISHER / SPRAY PAINTER
PAINTER: For Car & Truck
DRIVER CUM HOUSE BOY
FURNITURE CARPENTER
PIPE FITTER / FAB
DENTER PAINTER: HV Trucks & Mach
Job Location: Oman
Consultancy Name: Ramsha International
Office Address: Office No 221, 2nd Flr., NBC Complex Sector 11, CBD Belapur, Navi Mumbai – 400614
Contact: 022 27573596 / 27560456 / 9326765417 / 7738433517
Email: ramshaint01@gmail.com
JOB VACANCY FOR OMAN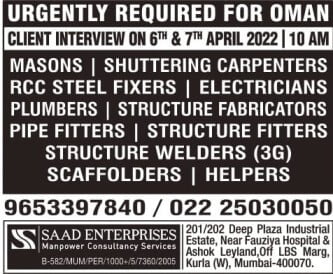 Urgent requirements for Oman's leading group of companies. The final client interview will be held on 06th & 07th April 2022.
Job Role:
Masons
Shuttering Carpenters
RCC Steel Fixers
Electricians
Plumbers
Structure Fabricators
Pipe Fitters
Structure Fitters
Structure Welders (3g)
Scaffolders
Helpers
Job Location: Oman
Consultancy Name: Saad Enterprises
Office Address: 201/202 Deep Plaza Industrial Estate, Near Fauziya Hospital & Ashok Leyland, Off LBS Marg, Kurla (W), Mumbai-400070.
Contact: 9653397840 / 022 25030050
REQUIRED FOR A LEADING FACILITY MANAGEMENT COMPANY IN QATAR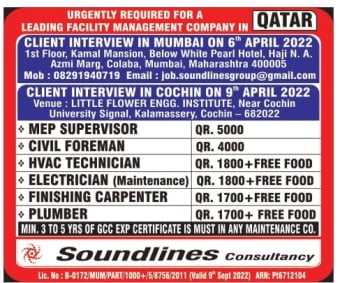 Urgently required for a leading facility management company in Qatar. The final client interview at Mumbai on 06th April 2022 and Cochin on 09th April 2022.
Job Role:
Mep Supervisor
Civil Foreman
HVAC Technician
Electrician (Maintenance)
Finishing Carpenter
Plumber
Job Location: Qatar
Experience: Min. 3 to 5 yrs of GCC exp certificate is a must in any maintenance company.
Consultancy Name: Soundlines Consultancy
Office Address:
Mumbai Address – 1st Floor, Kamal Mansion. Below White Pearl Hotel, Haji N. A. Azmi Marg, Colaba, Mumbai, Maharashtra 400005. Mob: 08291940719, Email: job.soundlinesgroup@gmail.com
Cochin Address – LITTLE FLOWER ENGG. INSTITUTE, Near Cochin University Signal, Kalamassery, Cochin – 682022.
UAE JOB VACANCY FOR SEMI GOVERNMENT COMPANY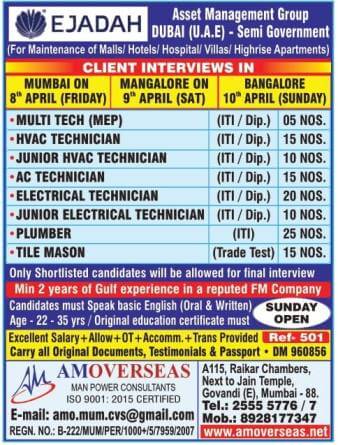 EJADAH Asset Management Group DUBAI (U.A.E) is required for a semi-government company. Job seekers can apply for their jobs in the Maintenance of Malls/ Hotels/ Hospital/ Villas/ Highrise Apartments. Apply immediately only shortlisted candidates will be allowed for the final interview.
Job Role:
Multi-Tech (MEP)
HVAC Technician
Junior HVAC Technician
AC Technician
Electrical Technician
Junior Electrical Technician
Plumber
Tile Mason
Job Location: UAE
Experience: Minimum 2 years of Gulf experience in a reputed FM Company.
Age Limit: 22 – 35 yrs
Language Know: Candidates must Speak basic English (Oral & Written)
Benefits: Allow+ OT+ Accomm.+Trans Provided
Salary: Excellent Salary
Consultancy Name: AM Overseas
Office Address: A115, Raikar Chambers, Next to Jain Temple, Govandi (E), Mumbai – 88.
Contact: 2955 5778 / 7, 8928177347
Email: amo.mum.cvs@gmail.com
How To Apply?
Candidates with related experience contact the branch office or send an emailed CV with a valid contact number, experience certificates, and passport copy & photo. Also, do not forget to mention the job subject line and your skype, zoom id in your cv for an easy online interview.
संबंधित अनुभव वाले उम्मीदवार शाखा कार्यालय से संपर्क करें या वैध संपर्क नंबर, अनुभव प्रमाण पत्र, और पासपोर्ट कॉपी और फोटो के साथ ईमेल सीवी भेजें। साथ ही, एक आसान ऑनलाइन साक्षात्कार के लिए अपने सीवी में जॉब सब्जेक्ट लाइन और अपने स्काइप, ज़ूम आईडी का उल्लेख करना न भूलें।
RECENT GULFJOBPAPER MUMBAI INTERVIEWS
For more interesting careers related gulf jobs you must join our TELEGRAM