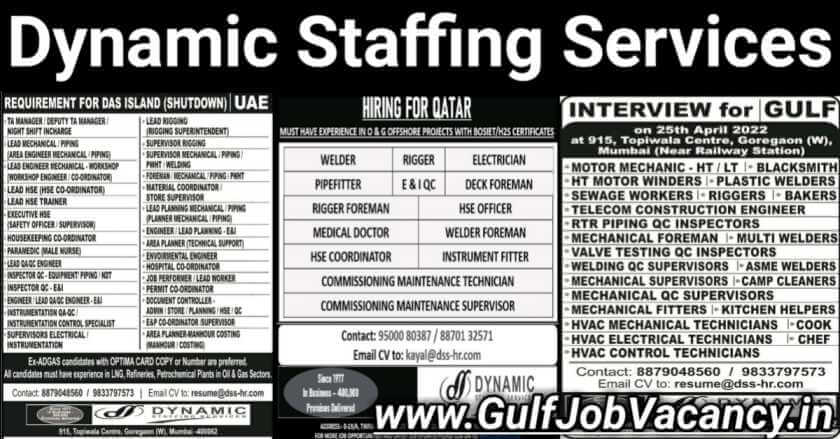 Gulfwalkin – Dynamic staffing gulf job vacancy interviews will be held in Mumbai, Chennai and New Delhi. Interested candidates can apply for their jobs in Gulf countries. Kindly check below all the job positions and apply for the interviews as per your jobs profile and qualifications.

Requirement For DAS Island (Shutdown)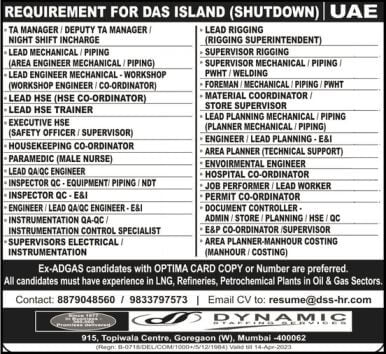 Job Role:
TA Manager/Deputy TA Manager/Night Shift Incharge
Lead Mechanical Piping (Area Engineer Mechanical / Piping)
Lead Engineer Mechanical Workshop (Workshop Engineer / Co.oroinator)
Lead HSE (HSE Co-ordinator)
Lead HSE Trainer
Executive HSE (Safety Officer / Supervisor)
Housekeeping Co-ordinator
Paramedic (Male Nurse)
Lead QA QC Engineer
Inspector QC – Equipment/Piping/NDT
Inspector QC – E&I
Engineer/ Lead QA/QC Engineer- E&I
Instrumentation QA-QC /Instrumentation Control Specialist
Supervisors Electrical / Instrumentation
Lead Rigging (Rigging Superintendent)
Supervisor Rigging
Supervisor Mechanical /Piping/PWHT/Welding
Foreman Mechanical/Piping/PWHT
Material Coordinator/Store Supervisor
Lead Planning Mechanical./Piping (Planner Mechanical/Piping)
Engineer Lead Planning -E&I
Area Planner (Technical Support)
Envoirmental Engineer
Hospital Co-ordinator
Job Performer / Lead Worker
Permit Co-ordinator
Document Controller – Admin/ Store / Planning / HSE / QC
E&P Co-ordinator /Supervisor
Area Planner- Manhour Costing (Manhour /Costing)
Job Location: UAE
Experience: All candidates must have experience in LNG, Refineries, Petrochemical Plants In Oil & Gas Sectors. Ex-ADGAS candidates with OPTIMA CARD COPY or Number are preferred.
Contact: 8879048560/9833797573
Email: resume@dss-hr.com
Interview For Gulf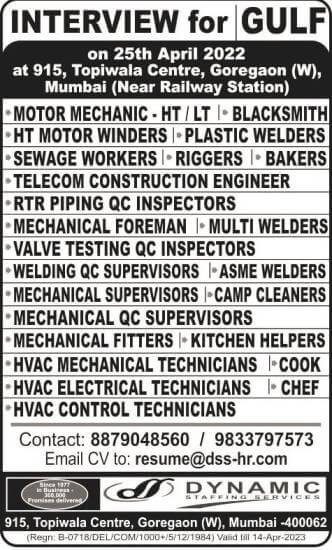 Job Role:
Motor Mechanic – HT/LT
Blacksmith
HT Motor Winders
Plastic Welders
Sewage Workers
Riggers
Bakers
Telecom Construction Engineer
RTR Piping Qc Inspectors
Mechanical Foreman
Multi Welders
Valve Testing Qc Inspectors
Welding Qc Supervisors
ASME Welders
Mechanical Supervisors
Camp Cleaners
Mechanical Qc Supervisors
Mechanical Fitters
Kitchen Helpers
HVAC Mechanical Technicians
Cook
HVAC Electrical Technicians
Chef
HVAC Control Technicians
Job Location: Gulf
Contact: 8879048560/9833797573
Email: resume@dss-hr.com
Hiring For Qatar Offshore Project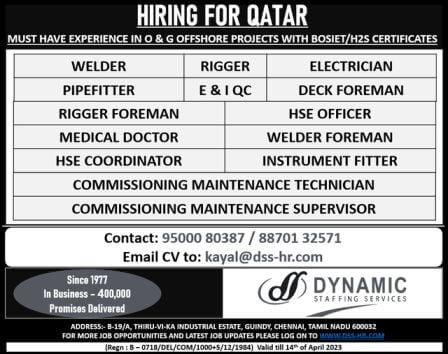 Job Role:
Welder
Rigger
Electrician
Pipefitter
E & I Qc
Deck Foreman
Rigger Foreman
Hse Officer
Medical Doctor
Welder Foreman
Hse Coordinator
Instrument Fitter
Commissioning Maintenance Technician
Commissioning Maintenance Supervisor
Job Location: Qatar
Contact: 887904 85560/98337 97573/93117 56607
Email: resume@dss-hr.com
Driver Vacancy For Qatar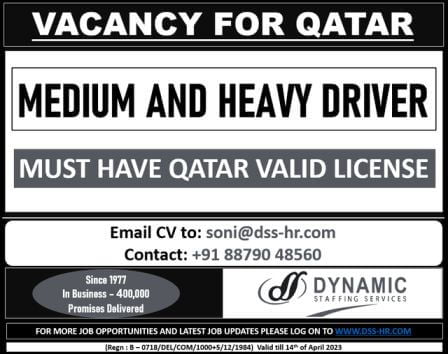 Job Role:
Job Location: Qatar
Experience: Must have Qatar Valid licence.
Contact: +91 8879048560
Email: soni@dss-hr.com
Qatar Offshore Project Requirements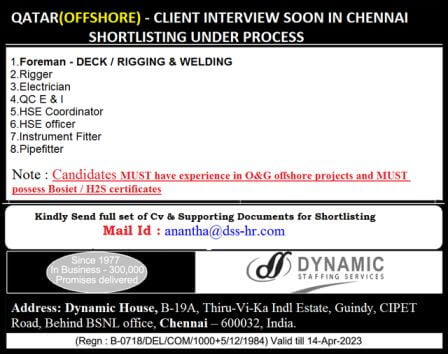 Job Role:
Foreman – DECK / RIGGING & WELDING
Rigger
Electdcian
QC E & I
HSE Coordinator
HSE officer
Instrument Fitter
Pipetitter
Job Location: Qatar
Experience: Candidates must have experience in O&G offshore projects and MUST possess Bosiet / H2S certificates
Email: anantha@dss-hr.com
Bahrain Free Requirements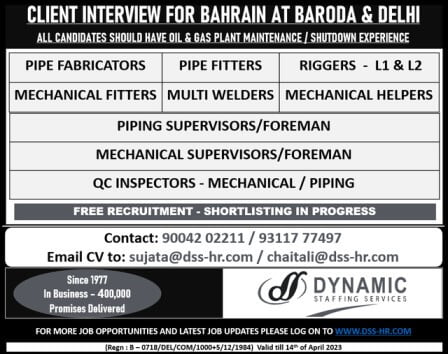 Job Role:
Pipe Fabricators
Pipe Fitters
Riggers – L1 & L2
Mechanical Fitters
Multi Welders
Mechanical Helpers
Piping Supervisors/foreman
Mechanical Supervisors/foreman
Qc Inspectors – Mechanical / Piping
Job Location: Bahrain
Experience: Candidates should have oil & gas plant maintenance I shutdown experience
Contact: 90042 02211 / 93117 77497
Email: sujata@dss-hr.com / chaitali@dss-hr.com
Bahrain Vacancies For Oil & Gas Plant Maintenance/Shutdown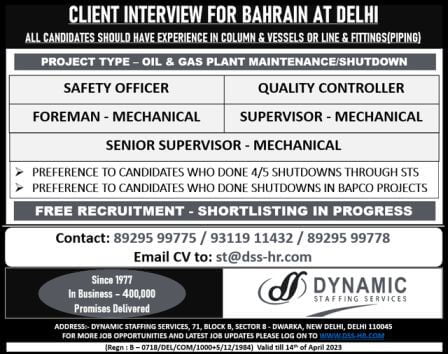 Job Role:
Safety Officer
Foreman – Mechanical
Quality Controller
Supervisor – Mechanical
Senior Supervisor – Mechanical
Job Location: UAE
Experience: All candidates should have experience in column & vessels or line & funds/piping)
Contact: 89295 99775 / 93119 11432 / 89295 99778
Email: st@dss-hr.com
Consultancy Details
Consultancy Name: Dynamic Staffing Services
Interview Venue:
New Delhi – Dynamic House, KH -71, Block B, Sector 8 Dwarka, New Delhi, Pin Code – 110045
Mumbai – 3C3, Gundecha Onclave, Kherani Road, Sakinaka Andheri East, Salisabai 400072
Chennai – Dynamic House, B-19A, Thiru – VI – KA Indl Estate, Guindy, CIPET Road, Behind BSNL office, Chennai – 600032.
How To Apply?
Candidates with related experience contact the branch office or send an emailed CV with a valid contact number, experience certificates, and passport copy & photo. Also, do not forget to mention the job subject line and your skype, zoom id in your cv for an easy online interview.
संबंधित अनुभव वाले उम्मीदवार शाखा कार्यालय से संपर्क करें या वैध संपर्क नंबर, अनुभव प्रमाण पत्र, और पासपोर्ट कॉपी और फोटो के साथ ईमेल सीवी भेजें। साथ ही, एक आसान ऑनलाइन साक्षात्कार के लिए अपने सीवी में जॉब सब्जेक्ट लाइन और अपने स्काइप, ज़ूम आईडी का उल्लेख करना न भूलें।
More Gulfwalkin Interview From Dynamic Staffing
For more interesting careers related to Gulf jobs, you must join our TELEGRAM CHANNEL