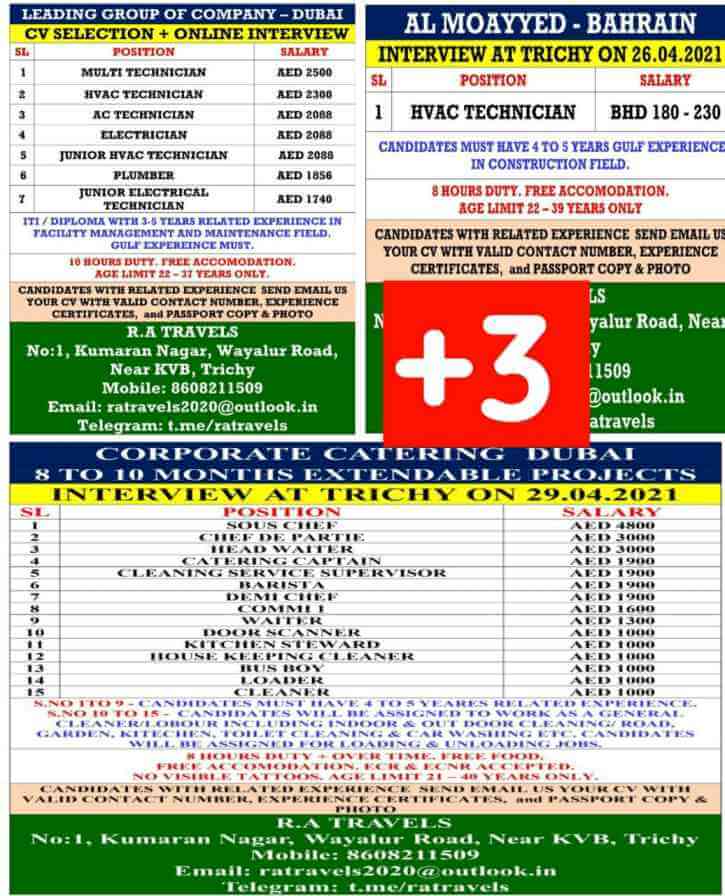 Jobs Gulf – Urgently required for AL Moayyed, Corporate catering and a leading group of company in Bahrain and Dubai. Job seekers who want to apply for this job. kindly request you to read all the recruitment process carefully and apply for this job after all the requirement is meet with your job profile.
Job Gulf | Required for Bahrain and Dubai interviews details and job descriptions
1. Corporate Catering Dubai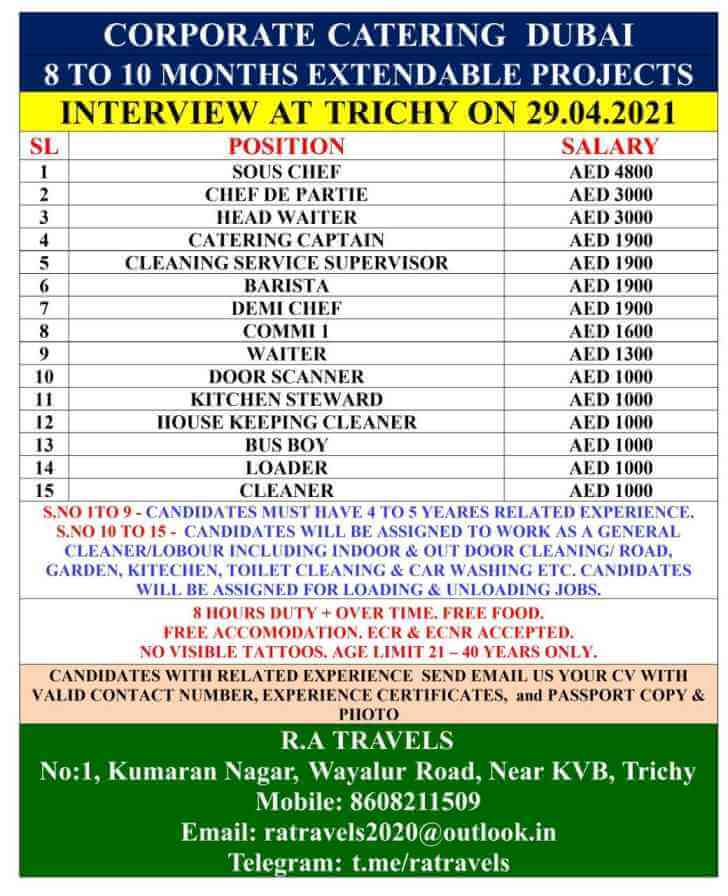 Job Location – DUBAI
Experience –
SERIAL. NO 1 TO 9 – CANDIDATES MUST HAVE 4 TO 5 YEARES RELATED EXPERIENCE.
SERIAL. NO 10 TO I5 – CANDIDATES WILL BE ASSIGNED TO WORK AS A GENERAL CLEANER / LOBOUR INCLUDING INDOOR & OUTDOOR CLEANING / ROAD, GARDEN, KITECHEN, TOILET CLEANING & CAR WASHING ETC. CANDIDATES WILL BE ASSIGNED FOR LOADING & UNLOADING JOBS.
Age Limit – 21-40 Years only.
2. Leading Group Of Company DUBAI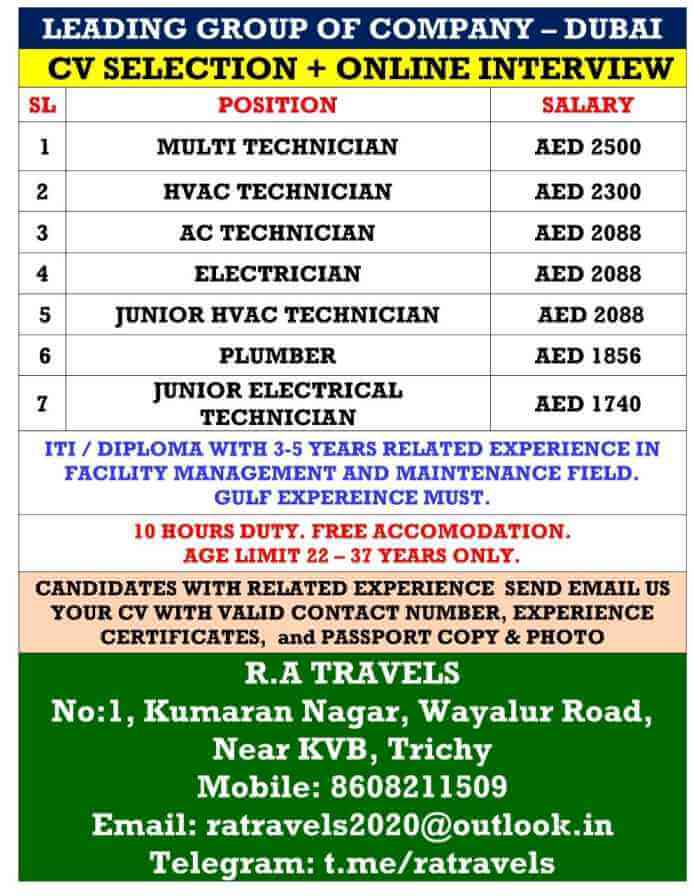 Job Location – DUBAI
Experience – 3-5 YEARS RELATED EXPERIENCE IN FACILITY MANAGEMENT AND MAINTENANCE FIELD. GULF EXPEREINCE MUST.
Qualifications – ITI / DIPLOMA
Age Limit – 22-37 Years only.
3. AL MOAYYED – BAHRAIN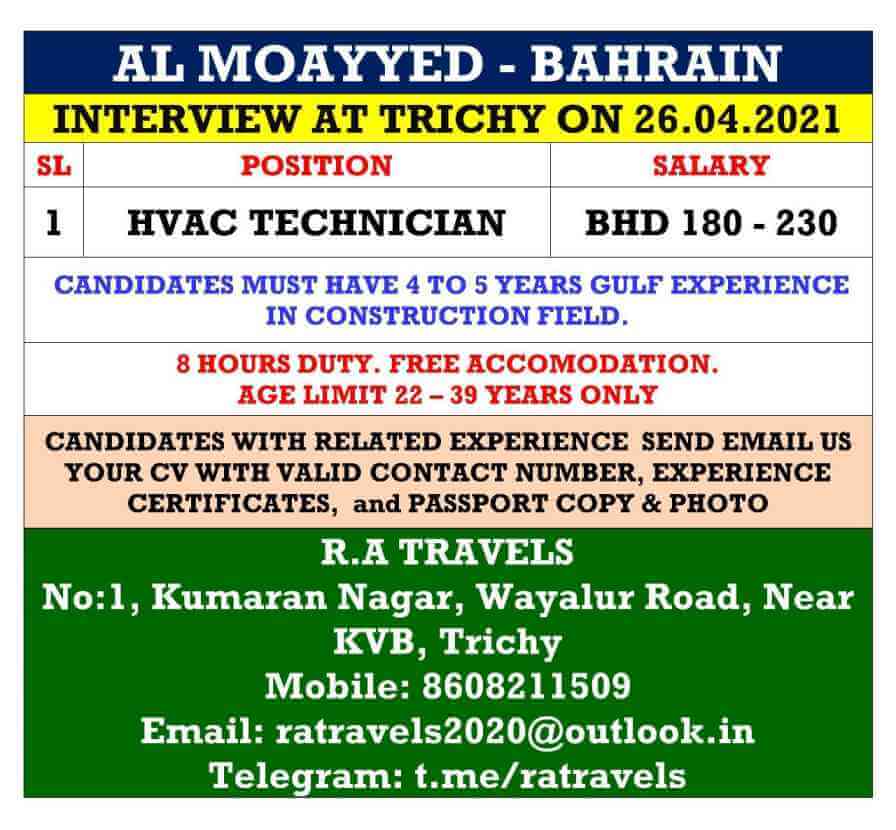 Job Location – BAHRAIN
Experience – CANDIDATES MUST HAVE 4 TO 5 YEARS GULF EXPERIENCE IN CONSTRUCTION FIELD.
Age Limit – 22-39 Years only.
MORE DETAILS :-
Interview Mode – CV Selection + Online Interview. OR Interview at Trichy.
Features and benefits –
Should be physically and mentally sound to perform the duty.
Know language – Hindi and English both. (OPTIONAL)
Should be read/understand/speak basic English.
Extra benefits – 8-10 HOURS DUTY + FREE ACCOMODATION + FREE TRANSPORATATION
Salary – Negotiable.
Consultancy name – R.A TRAVELS
Contact us for recruitment process or send CV to given email id – CANDIDATES WITH RELATED EXPEREINCE SEND EMAIL CV WITH VALID CONTACT NUMBER, EXPERIENCE CERTIFICATES, AND PASSPORT COPY & PHOTO.
ADDRESS : NO.1 Kumaran Nagar, Wayalur Road, Near KVB, Trichy.
Call : 8608211509
E-mail : Send CV's immediately for shortlisting on ratravels2020@outlook.in
MORE RELATED GULF JOBS :–
For more interesting careers related gulf jobs you must join our TELEGRAM CHANNEL