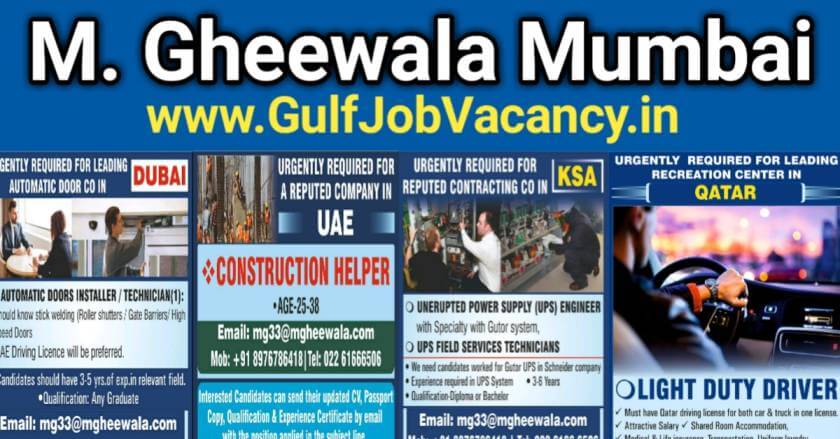 M Gheewala Mumbai – Gulf job requirement for Saudi Arabia, Qatar and UAE required for Automatic door company, Contracting company, Recreation centre, Manufacturing company, Marine engineering company and Oil and Gas company.
1. REQUIRED FOR A LEADING AUTOMATIC DOOR COMPANY IN DUBAI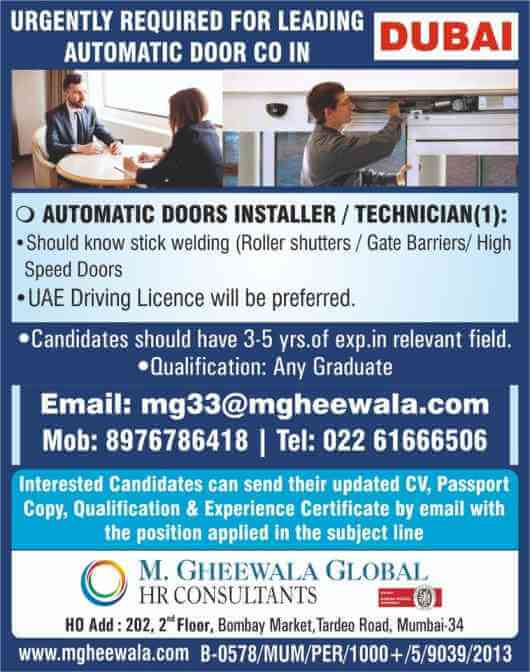 Job Role –
AUTOMATIC DOORS INSTALLER / TECHNICIAN
Job Description –
Should know stick welding (Roller shutters / Gate Barriers/ High Speed Doors.
UAE Driving Licence will be preferred.
2. CONSTRUCTION HELPER REQUIREMENT IN UAE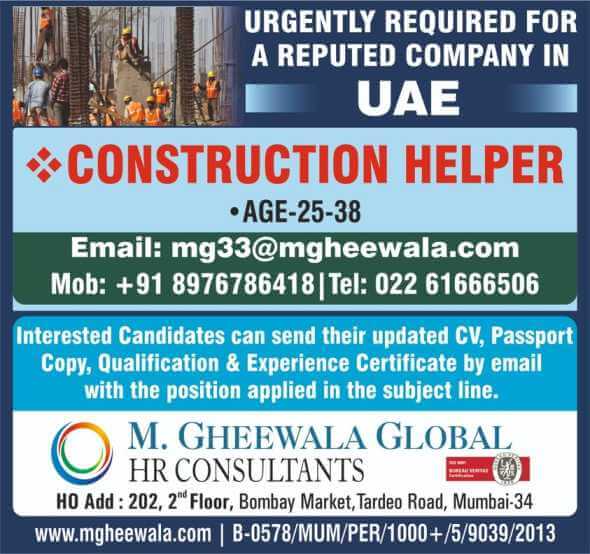 Job Role –
3. REQUIRED FOR REPUTED CONTRACTING COMPANY IN KSA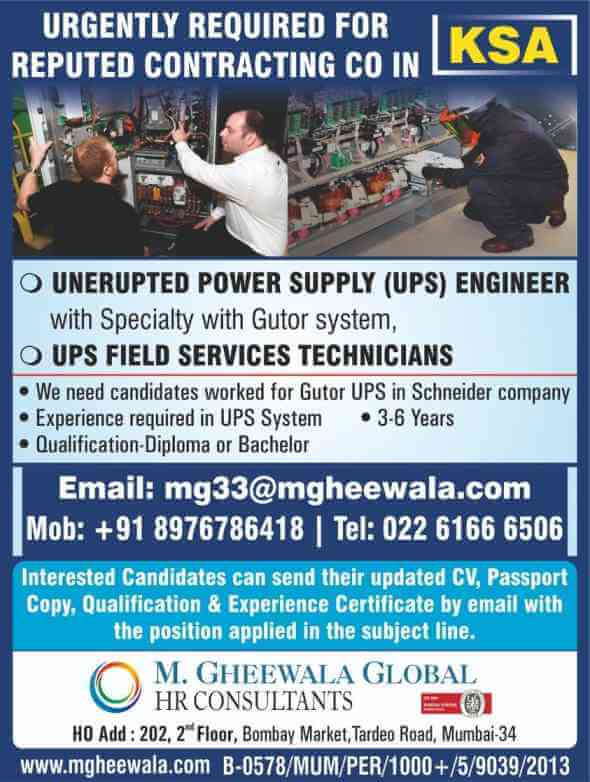 Job Role –
UNERUPTED POWER SUPPLY (UPS) ENGINEER
UPS FIELD SERVICES TECHNICIANS
Job Description –
Candidates worked for Gutor UPS in Schneider company.
Experience required in UPS System 3-6 Years.
Qualification-Diploma or Bachelor.
4. REQUIRED FOR LEADING RECREATION CENTRE IN QATAR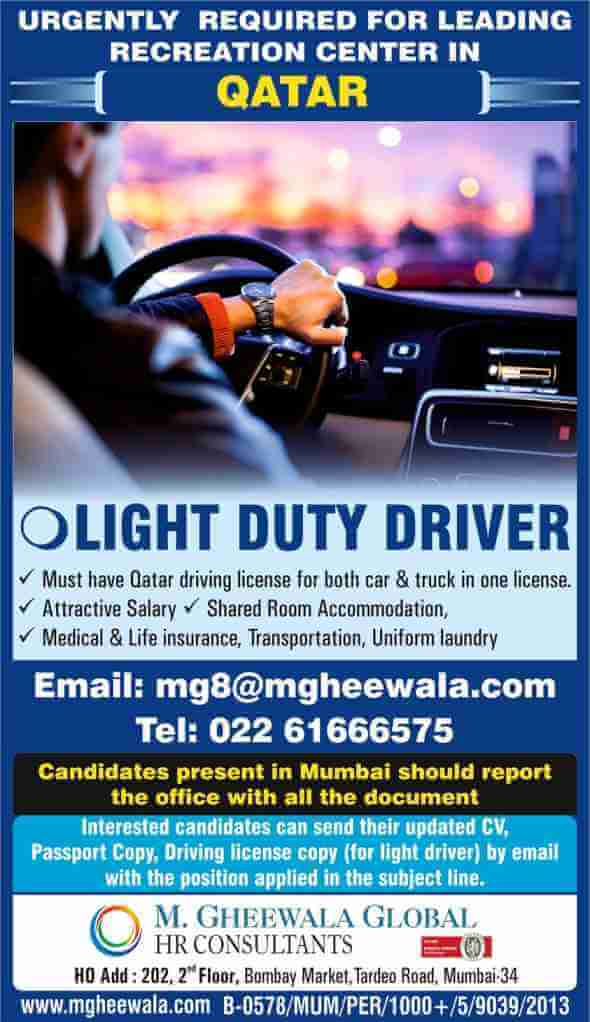 Job Role –
Job Description –
Must have Qatar driving license for both car & truck in one license.
Shared Room Accommodation.
Medical & Life insurance, Transportation, Uniform laundry PROVIDED BY THE COMPANY.
5. REQUIRED FOR MANUFACTURING COMPANY IN DUBAI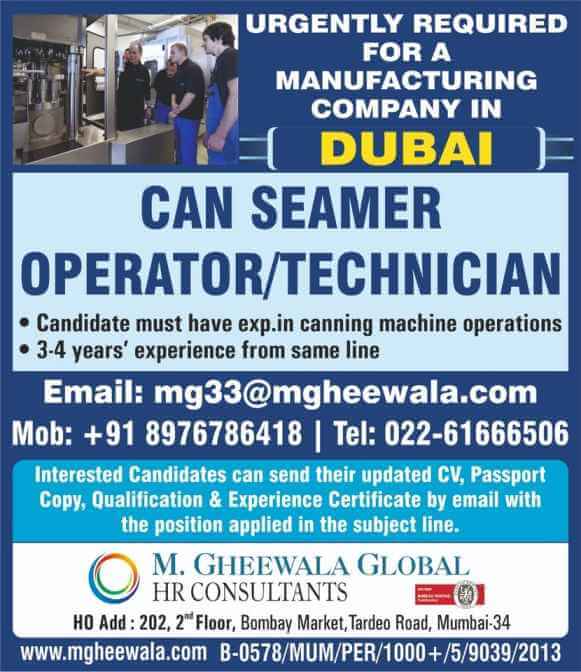 Job Role –
CAN SEAMER OPERATOR/TECHNICIAN
Job Description –
Candidate must have experience in canning machine operations.
3-4 years' experience from same line.
6. REQUIRED FOR LEADING MARINE ENGINEERING COMPANY IN DUBAI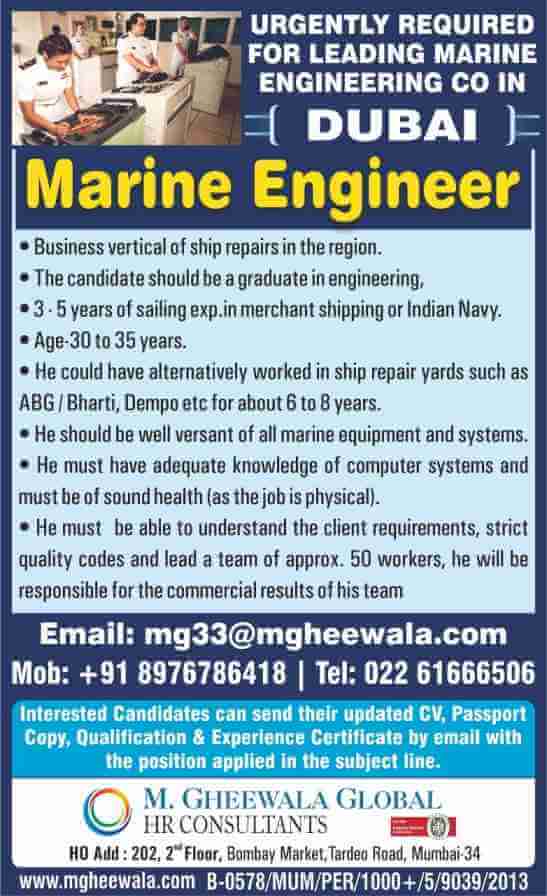 Job Role –
Job Description –
Business vertical of ship repairs in the region.
The candidate should be a graduate in engineering.
3-5 years of sailing exp.in merchant shipping or Indian Navy.
Age-30 to 35 years.
He could have alternatively worked in ship repair yards such as ABG/Bharti, Dempo etc for about 6 to 8 years.
He should be well versant of all marine equipment and systems.
He must have adequate knowledge of computer systems and must be of sound health (as the job is physical).
He must be able to understand the client requirements, strict quality codes and lead a team of approx. 50 workers, he will be responsible for the commercial results of his team.
7. REQUIRED FOR A LEADING OIL & GAS COMPANY IN QATAR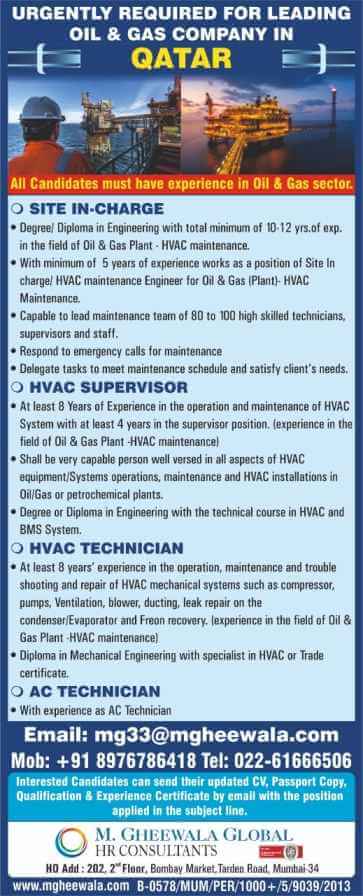 Job Role –
(i) SITE IN-CHARGE
Degree/ Diploma in Engineering with total minimum of 10-12 years of experience in the field of Oil & Gas Plant . HVAC maintenance.
With minimum of 5 years of experience works as a position of Site In chargel HVAC maintenance Engineer for Oil & Gas (Plant) – HVAC Maintenance.
Capable to lead maintenance team of 80 to 100 high skilled technicians, supervisors and staff.
Respond to emergency calls for maintenance.
Delegate tasks to meet maintenance schedule and satisfy client's needs.
(ii) HVAC SUPERVISOR
At least 8 Years of Experience in the operation and maintenance of HVAC System with at least 4 years in the supervisor position. (experience in the field of Oil & Gas Plant -HVAC maintenance)
Shall be very capable person well versed in all aspects of HVAC equipment/Systems operations, maintenance and HVAC installations in Oil & Gas or petrochemical plants.
Degree or Diploma in Engineering with the technical course in HVAC and BMS System.
(iii) HVAC TECHNICIAN
At least 8 years experience in the operation, maintenance and trouble shooting and repair of HVAC mechanical systems such as compressor, pumps, Ventilation, blower, ducting, leak repair on the condenserlEvaporator and Freon recovery. (experience in the field of Oil & Gas Plant -HVAC maintenance)
Diploma in Mechanical Engineering with specialist in HVAC or Trade certificate.
(iv) AC TECHNICIAN
With experience as AC Technician
More Details:-
Job Location – SAUDI ARABIA, QATAR, UAE
Experience – Candidates must have experience in a related field. gulf experience preferred first.
Qualifications – Matric/ITI/Diploma/Graduate/B.tech
Interview Mode – Direct CV selection or Online Interview.
Features and benefits –
Should be physically and mentally sound to perform the duty.
Know language – Hindi and English both.(Optional)
Should be read/understand/speak basic English.
Extra benefits – FREE FOOD + ACCOMODATION + FREE TRANSPORTATION + 3HRS OVERTIME + FREE MEDICAL INSURANCE
Salary – ATTRACTIVE.
Consultancy name – M. GHEEWALA GLOBAL HR CONSULTANT
Contact us for the recruitment process or send a CV to the given email id – Interested candidates can send their updated CV, Passport copy, Photo & Experience certificates by email with the position applied in the subject line.
Address: Head office 202, 2nd Floor, Bombay Market, Tardeo Road, Mumbai-34
EMAIL – Send all the documents to the given email id which is mention in the above image. shortlisting is in process.
MORE RELATED GULF JOBS –
For more interesting careers related gulf jobs you must join our TELEGRAM CHANNEL