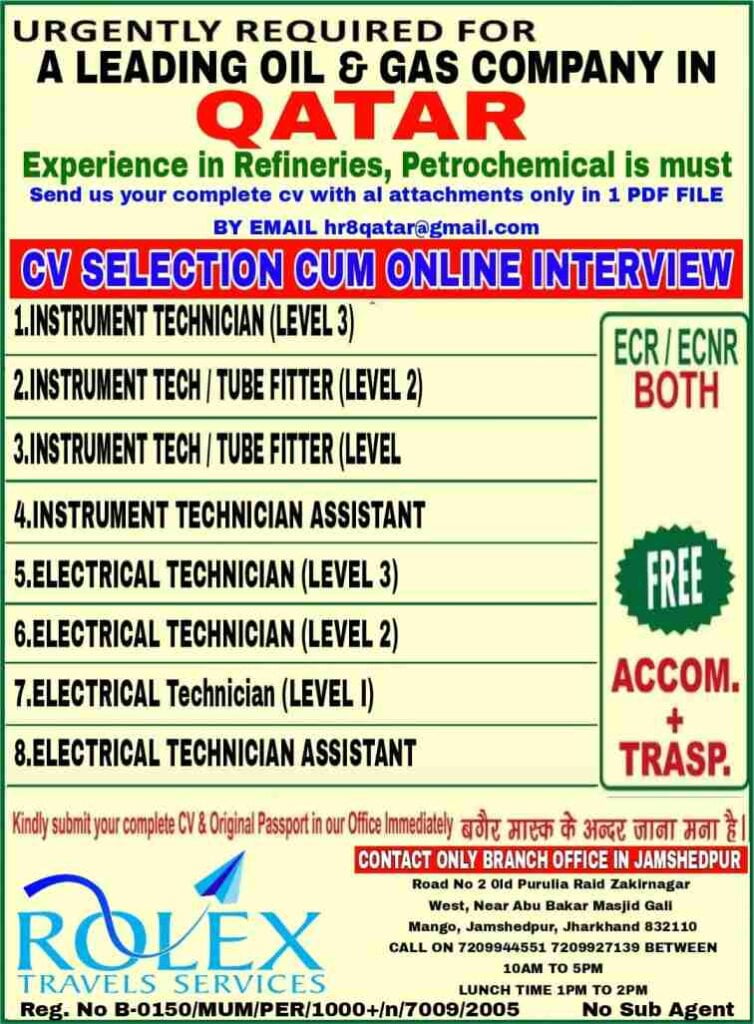 Oil and Gas jobs – Urgent requirement for candidates who have experience in Refineries, Petrochemical. jobseekers who want to apply for this job kindly request to you read all the recruitment process carefully. and apply for this job after all the requirement is meet with your job profile.
Oil and Gas jobs Qatar full job descriptions
JOB ROLE
1. INSTRUMENT TECHNICIAN (LEVEL 3)
2. INSTRUMENT TECH I TUBE FITTER (LEVEL 2)
3. INSTRUMENT TECH I TUBE FITTER
4. INSTRUMENT TECHNICIAN ASSISTANT
5. ELECTRICAL TECHNICIAN (LEVEL 3)
6. ELECTRICAL TECHNICIAN (LEVEL 2)
7. ELECTRICAL Technician (LEVEL 1)
8. ELECTRICAL TECHNICIAN ASSISTANT
Job location – QATAR
EXPERIENCE – Experience in Refineries, Petrochemical is must.
Interview Mode – CV selection cum online interview.
Features and benefits –
Should be physically and mentally sound to perform the duty.
Know language – Hindi and English both. (OPTIONAL)
Should be read/understand/speak basic English
ECR /ECNR both passport are acccepted.
Extra benefits – FREE FOOD + ACCOMODATION + FREE TRANSPORTATION + 3HRS OVERTIME + FREE MEDICAL INSURANCE
Salary – NEGOTIABLE.
Consultancy name – ROLEX TRAVELS SERVICE
Contact us for recruitment process or send CV to given email id – Please send your CV with original passport in one PDF file immediately to given email id.
Address – Road No. 2 Old Purulia Road Zakirnagar (West) Near Abu Bakar Masjid P.O – Azadnagar Mango Jamshedpur, (832110) Jharkhand
Call : 7209927139 / 7209944551
Email : Send CV for shortlisting on hr8qatar@gmail.com
MORE RELATED GULF JOBS :-
For more interesting careers related gulf jobs you must join our TELEGRAM CHANNEL