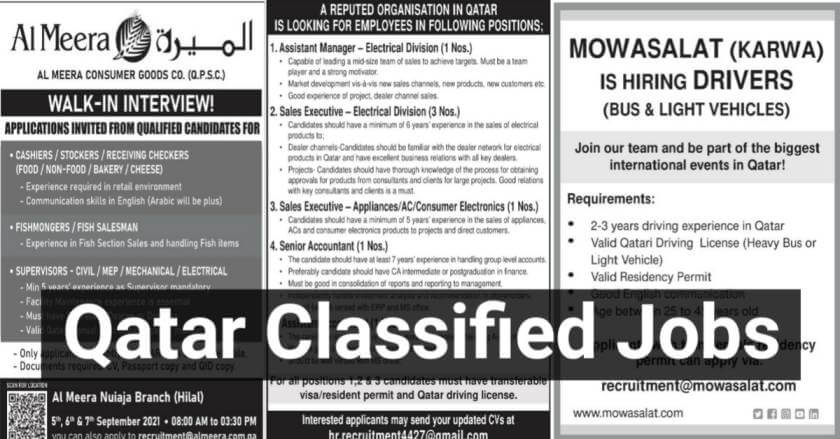 Qatar Classified Jobs – Requirements for AL Meera consumer goods company, ENSSER energy sector supporting services company, Mowasalat, QD-SBG Construction company and a reputed organisation in Qatar.
Note – All the jobs are only for candidates who living or are available in Qatar. Kindly check all the details and apply for the jobs by sending all the relevant documents to the given email id.
1. AL MEERA CONSUMER GOODS COMPANY
Job Role:
Cashiers / Stockers / Receiving Checkers (Food / Non-food / Bakery / Cheese) HECKERS (FOOD / NON-FOOD / BAKERY / CHEESE) – Experience required in retail environment and Communication skills in English (Arabic will be plus)
Fishmongers / Fish Salesman – Experience in Fish Section Sales and handling Fish items.
Supervisors – Civil / Mep / Mechanical / Electrical – Min 5 years' experience as Supervisor mandatory. Facility Maintenance experience is essential. Must have Bachelor's Degree or Diploma. Valid Qatar manual light driving license mandatory.
Company Name: AL MEERA NUIAJA
Interview Mode: Walki-in Interview at 5th, 6th & 7th September 2021 ·on 08:00 AM to 03:30 PM
Interview Address: AL MEERA NUIAJA BRANCH (Hilal)
Email: Send your CV, Passport copy and QID copy to recruitment@almeera.com.qa
2. ENSSER ENERGY SECTOR SUPPORTING SERVICES
Job Role:
Operation Manager
Business Development Manager
Marketing Executives
Sales Engineers
Junior Engineers (Civil, Mechanical, E&I)
QA/QC Inspectors
Safety Officer
HDPE Engineer
HDPE Supervisor
Draughtsman
Administration Executives
Accountant
Email: ensserhr@gmail.com
3. MOWASALAT (KARWA) HIRING FOR DRIVERS
Job Role:
BUS & LIGHT VEHICLES DRIVERS
Job Descriptions:
2-3 years driving experience in Qatar.
Valid Qatari Driving License. (Heavy Bus Light Vehicle)
Valid Residency Permit.
Good English communication.
Age between 25 to 45 years old.
Company Name: MOWASALAT
Email: Applicants with transferable residency permits can apply via: recruitment@mowasalat.com
4. A REPUTED ORGANISATION REQUIREMENTS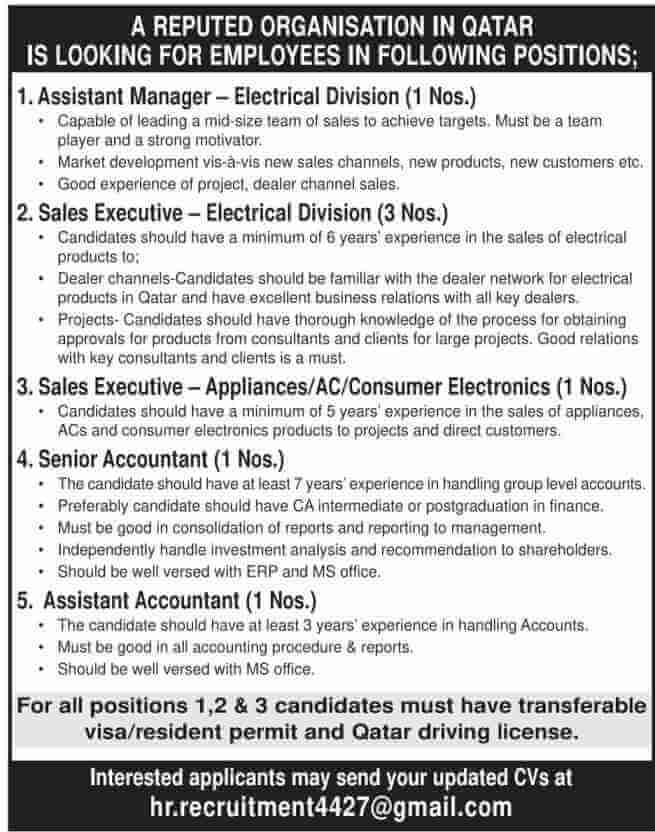 Job Role:
Assistant Manager Electrical Division (1 Nos.) – Capable of leading a mid-size team of sales to achieve targets. Must be a team player and a strong motivator. Market development vis-a-vis new sales channels, new products, new customers etc. Good experience of project, dealer channel sales.
Sales Executive Electrical Division (3 Nos.) – Candidates should have a minimum of 6 years experience in the sales of electrical products to. Dealer channels-Candidates should be familiar with the dealer network for electrical products in Qatar and have excellent business relations with all key dealers. Projects- Candidates should have thorough knowledge of the process for obtaining approvals for products from consultants and clients for large projects. Good relations with key consultants and clients is a must.
Sales Executive Appliances/AC/Consumer Electronics (1 Nos.) – Candidates should have a minimum of 5 years experience in the sales of appliances. ACs and consumer electronics products to projects and direct customers.
Senior Accountant (1 Nos.) – The candidate should have at least 7 years experience in handling group level accounts. Preferably candidate should have CA intermediate or postgraduation in finance. Must be good in consolidation of reports and reporting to management. Independently handle investment analysis and recommendation to shareholders. Should be well versed with ERP and MS office.
Assistant Accountant (1 Nos.) – The candidate should have at least 3 years experience in handling Accounts. Must be good in all accounting procedure & reports. Should be well versed with MS office.
Requirements: For all positions, 1,2 & 3 candidates must have transferable visa/resident permit and Qatar driving license.
Email: Interested applicants may send their updated CVs at hr.recruitment4427@gmail.com
5. QD-SBG CONSTRUCTION REQUIRES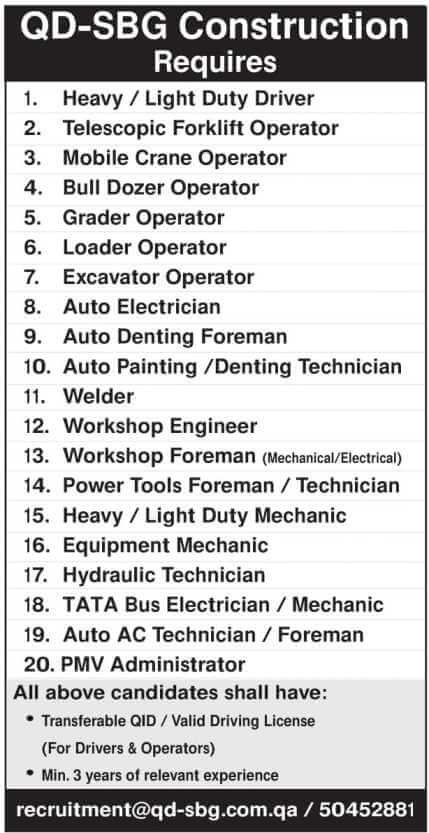 Job Role:
Heavy / Light Duty Driver
Telescopic Forklift Operator
Mobile Crane Operator
Bull Dozer Operator
Grader Operator
Loader Operator
Excavator Operator
Auto Electrician
Auto Denting Foreman
Auto Painting /Denting Technician
Welder
Workshop Engineer
Workshop Foreman (Mechanical/Electrical)
Power Tools Foreman / Technician
Heavy / Light Duty Mechanic
Equipment Mechanic
Hydraulic Technician
TATA Bus Electrician / Mechanic
Auto AC Technician / Foreman
PMV Administrator
Experience: All above candidates shall have Transferable QID / Valid Driving License (For Drivers & Operators) and a minimum of 3 years of relevant experience.
Email: recruitment@qd-sbg.com.qa
MORE RELATED GULF JOBS:-
For more interesting careers related gulf jobs you must join our TELEGRAM CHANNEL