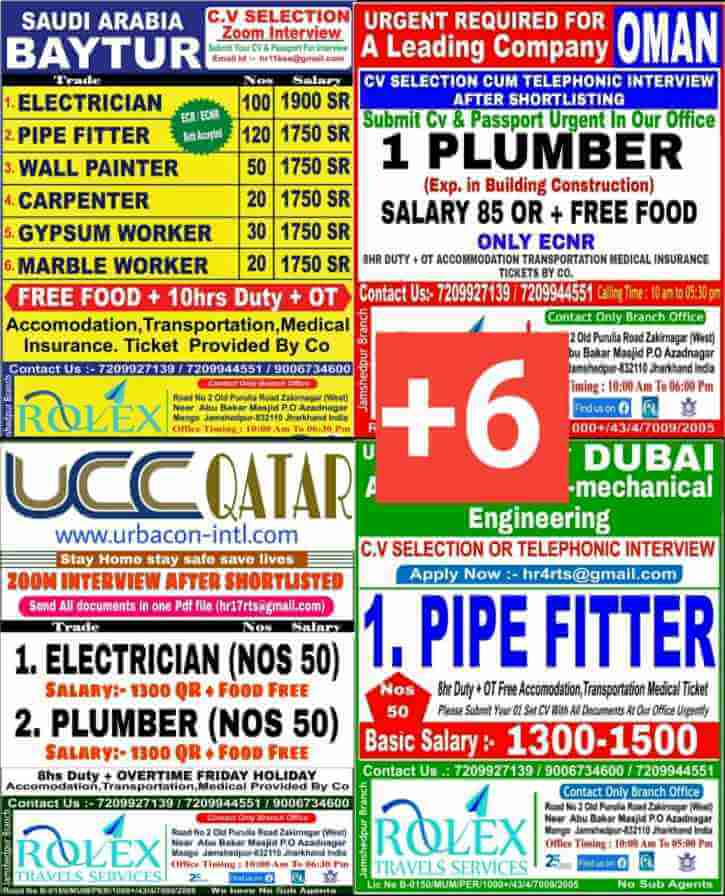 Rolex Travels – Gulf job requirement for UCC QATAR, AL Shafar Electro-machanical Engineering, Baytur and general contracting company. jobseekers who want to apply for this job kindly request to you read all the recruitment process carefully and apply for this job after all the requirement is meet with your job profile.
Rolex Travels Jobs in Saudi Arabia, Qatar, Oman and Dubai Interview Details And Job Descriptions
1. UCC QATAR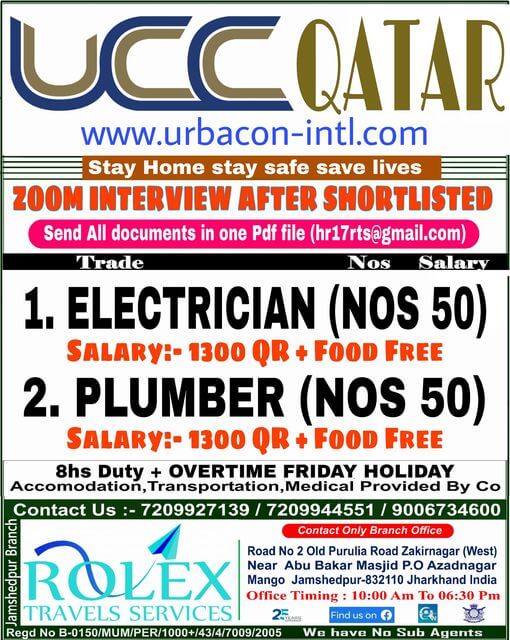 2. AL Shafar Electro-machanical Engineering requirement in DUBAI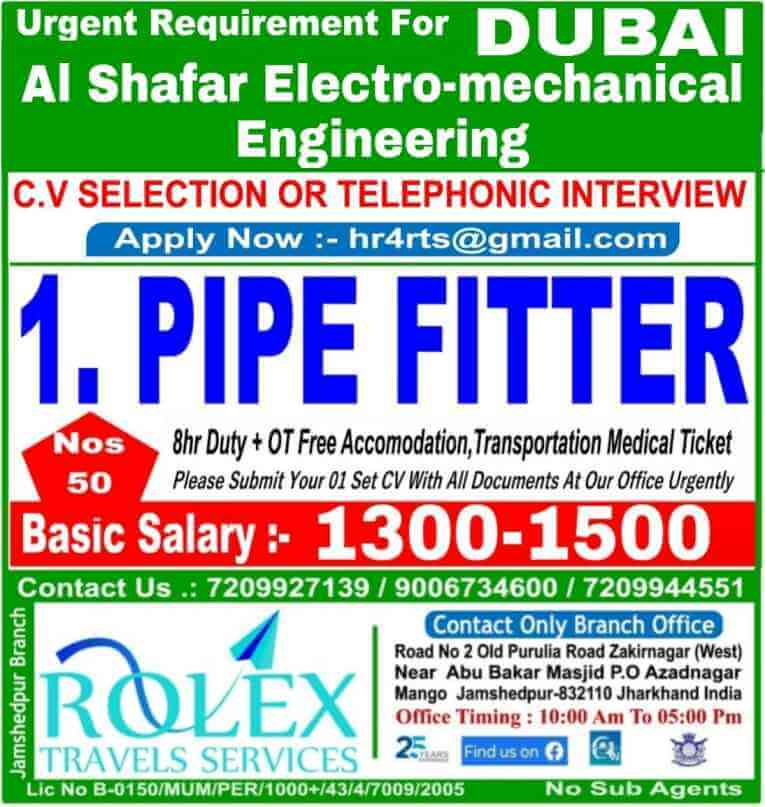 3. A leading company requirement in OMAN
4. SAUDI ARABIA BAYTUR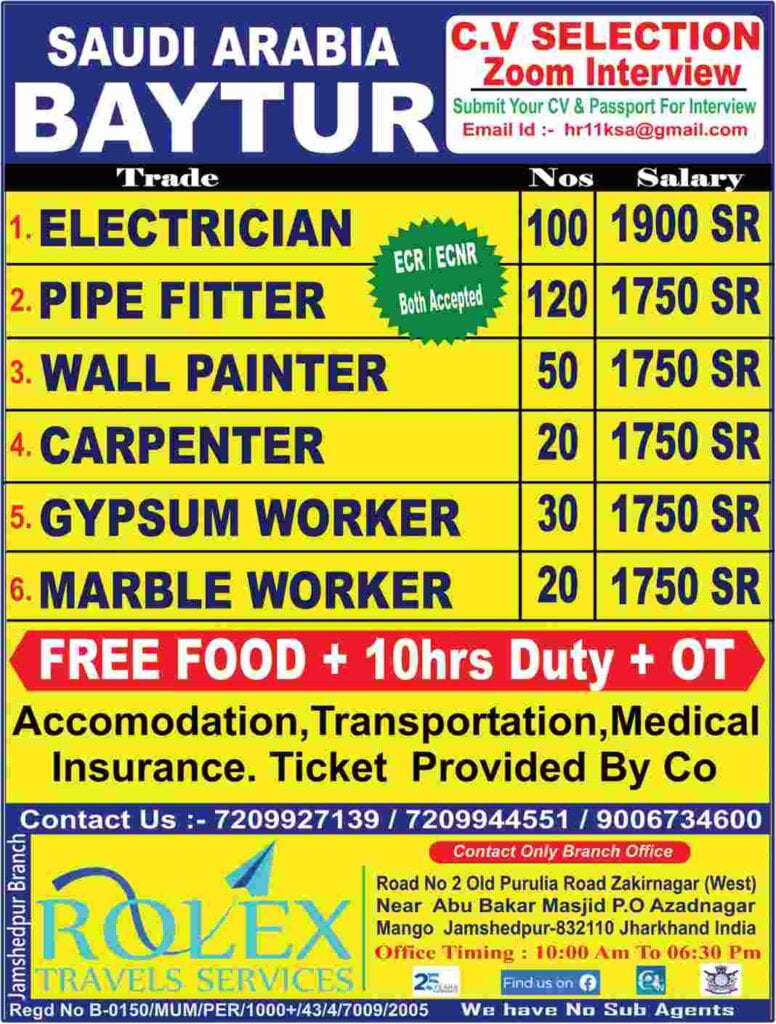 5. AL Shafar general contracting company DUBAI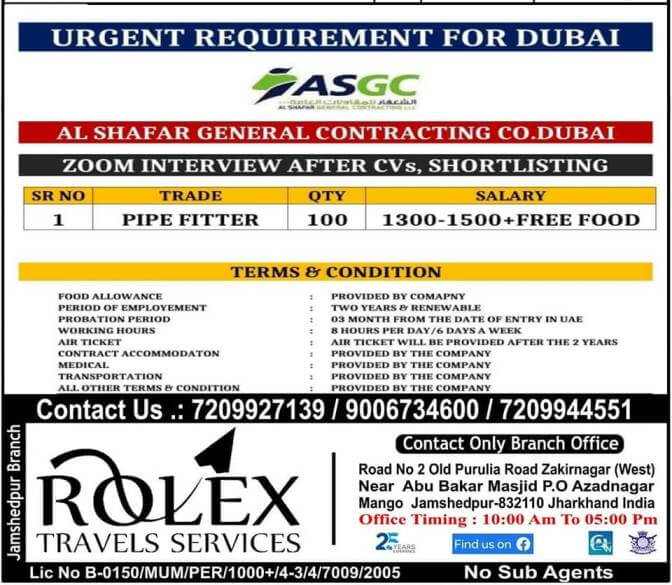 Job location – SAUDI ARABIA, QATAR, OMAN, DUBAI
Experience – Candidates should have related experience in related filed. gulf job preferred.
Interview Mode – CV SELECTION cum Telephonic / Zoom Interview.
Features and benefits –
Should be physically and mentally sound to perform the duty.
Know language – Hindi and English both. (OPTIONAL)
Should be read/understand/speak basic English.
Extra benefits – FREE FOOD + ACCOMODATION + FREE TRANSPORTATION + 3HRS OVERTIME + FREE MEDICAL INSURANCE
Salary – NEGOTIABLE.
Consultancy name – ROLEX TRAVELS SERVICE
Contact us for recruitment process or send CV to given email id – send your Complete cv with all attachments only in 1 PDF FILE BY EMAIL or contact branch office by given Address.
Address – Road No. 2 Old Purulia Road Zakirnagar (West) Near Abu Bakar Masjid P.O – Azadnagar Mango Jamshedpur, (832110) Jharkhand
Call : 7209927139 / 7209944551 / 9006734600 Call time 10:00AM – 06:30 PM
Email – Send your complete CV with all the document to given email id which is mention on the above images.
MORE RELATED GULF JOBS :-
For more interesting careers related gulf jobs you must join our TELEGRAM CHANNEL

to clipboard.Copied 35 blocks