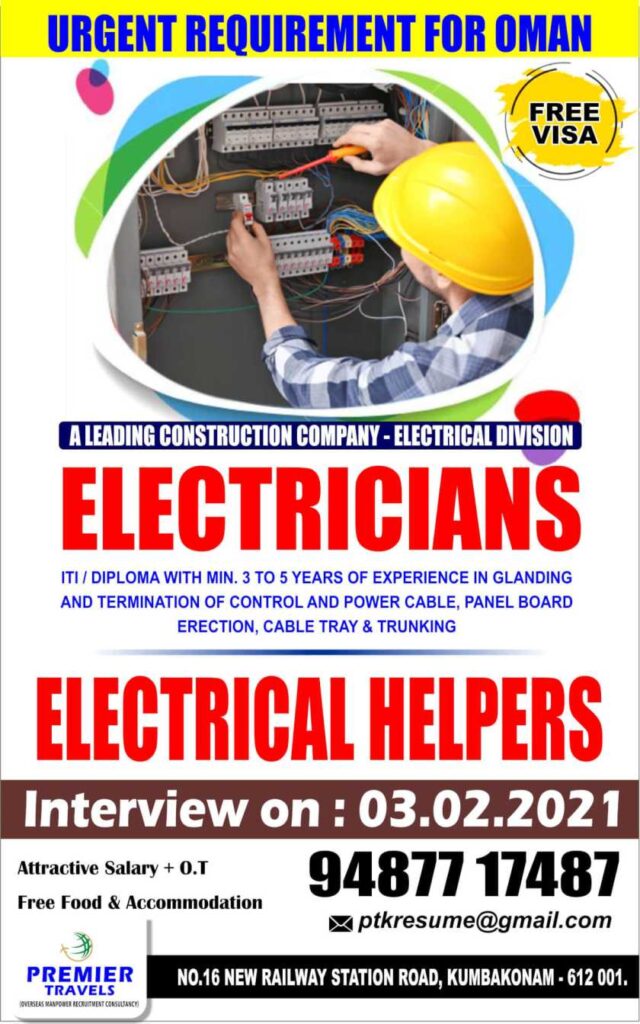 Job description –
Urgent requirement in Oman – For a leading construction comapny. job seekers who want to apply for this job. kindly request you to read all the information carefully. and apply for this job after all the requirement is meet with your job profile.
JOB ROLE –
ELECTRICIAN
ELECTRICAL HELPERS
Experience – ITI / DIPLOMA WITH MIN. 3 TO 5 YEARS OF EXPERIENCE IN GLANDING AND TERMINATION OF CONTROL AND POWER CABLE, PANEL BOARD ERECTION, CABLE TRAY & TRUNKING
Qualification – ITI / DIPLOMA
Job location – OMAN
Interview venue – KUMBAKONAM (03-02-2021)
Features and benefits –
Should be physically and mentally sound to perform the duty.
Know language – hindi and english both.
Should be read/understand/speak basic english.
Extra benifits – FREE FOOD + ACCOMODATION + FREE TRANSPORTATION + 3HRS OVERTIME + FREE MEDICAL INSURANCE
Salary – Not mention
Consultancy name – PREMIER TRAVELS
Consultancy official E-mail id – ptkresume@gmail.com
Contact us for recruitment process or send CV to given email id – NO.16 NEW RAILWAY STATION ROAD, KUMBAKONAM – 612 001
Call : 9487717487
E-mail : Send CV's immediately for shortlisting on ptkresume@gmail.com
Similar jobs –
Jobs in Dubai – Required for a leading company Onshore / Offshore
Urgent requirement in Qatar – For a reputed carpet trading company
Overseas jobs – Gulf job vacancy for indians 29 january 2021 600+
Urgent requirement in dubai – for a leading facility management company
Share this jobs with your family and friends.