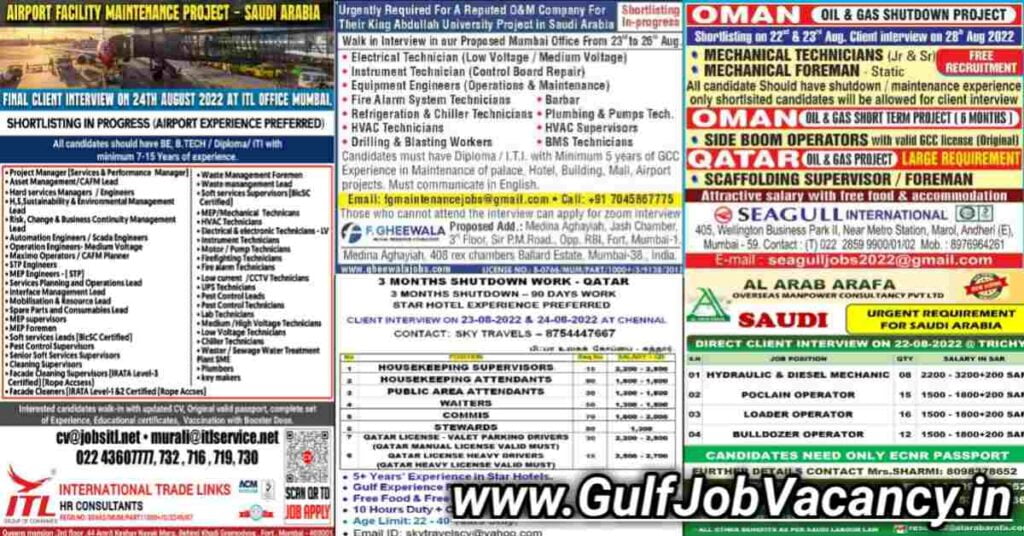 Gulf Vacancies – Urgently required for Saudi Arabia, Oman, Kuwait and Qatar. Interested job seekers can apply for their jobs in O&M Companies, Oil & gas companies, Airport Facility maintenance projects and Shutdown projects. Kindly check below all the job positions and apply for the interviews.

Abdullah University Project Required For Saudi Arabia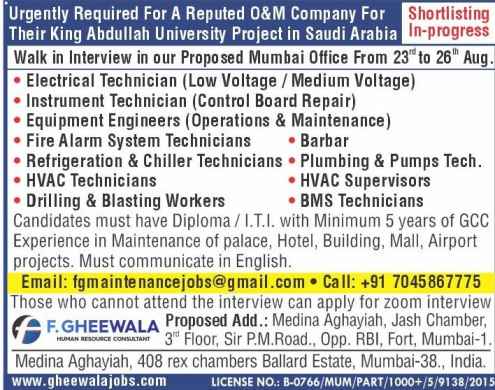 Job Role:
Electrical Technician (Low Voltage / Medium Voltage)
Instrument Technician (Control Board Repair)
Equipment Engineers (Operations & Maintenance)
Fire Alarm System Technicians
Barbar
Refrigeration & Chiller Technicians
Plumbing & Pumps Tech.
HVAC Technicians
HVAC Supervisors
Drilling & Blasting Workers
BMS Technicians
Job Location: Saudi Arabia
Experience: Minimum 5 years of GCC Experience in Maintenance of palace, Hotel, Building, Mall, and Airport projects. Must communicate in English.
Interview Date & Venue: Walk in Interview in our Proposed Mumbai Office From 23rd to 26th August 2022.
Qualifications: Candidates must have a Diploma / I.T.I.
Consultancy Name: F Gheewala
Office Address: Medina Aghayiah, 408 rex chambers Ballard Estate, Mumbai-38., India.
Contact: +91 7045867775
Email: fgmaintenancejobs@gmail.com
Free Recruitment For Short Term/Shutdown Project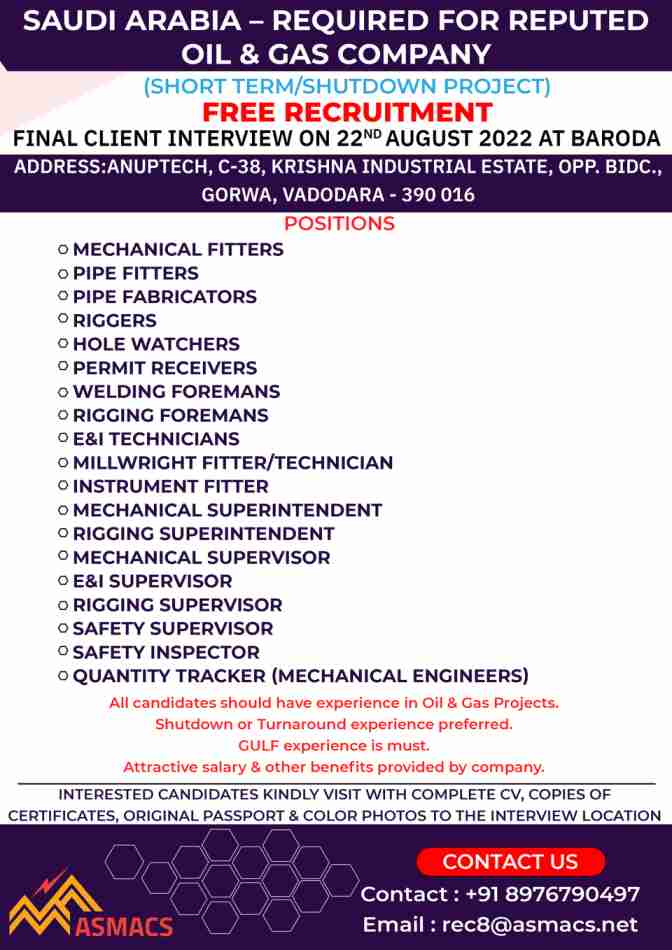 Job Role:
Mechanical Fitters
Pipe Fitters
Pipe Fabricators
Riggers
Hole Watchers
Permit Receivers
Welding Foremans
Rigging Foremans
E&i Technicians
Millwright Fitter/technician
Instrument Fitter
Mechanical Superintendent
Rigging Superintendent
Mechanical Supervisor
E&i Supervisor
Rigging Supervisor
Safety Supervisor
Safety Inspector
Quantity Tracker (Mechanical Engineers)
Job Location: Saudi Arabia
Experience: All candidates should have experience in Oil & Gas Projects. Shutdown or Turnaround experience preferred. GULF experience is a must.
Interview Date & Venue: Final Client Interview On 22nd August 2022 At Baroda, Address: Anuptech, C-38, Krishna Industrial Estate, Opp. Bidc., Gorwa, Vadodara – 390 016
Benefits: Attractive salary & other benefits provided by the company.
Consultancy Name: ASMACS
Contact: +91 8976790497
Email: rec8@asmacs.net
Airport Facility Maintenance Project For Saudi Arabia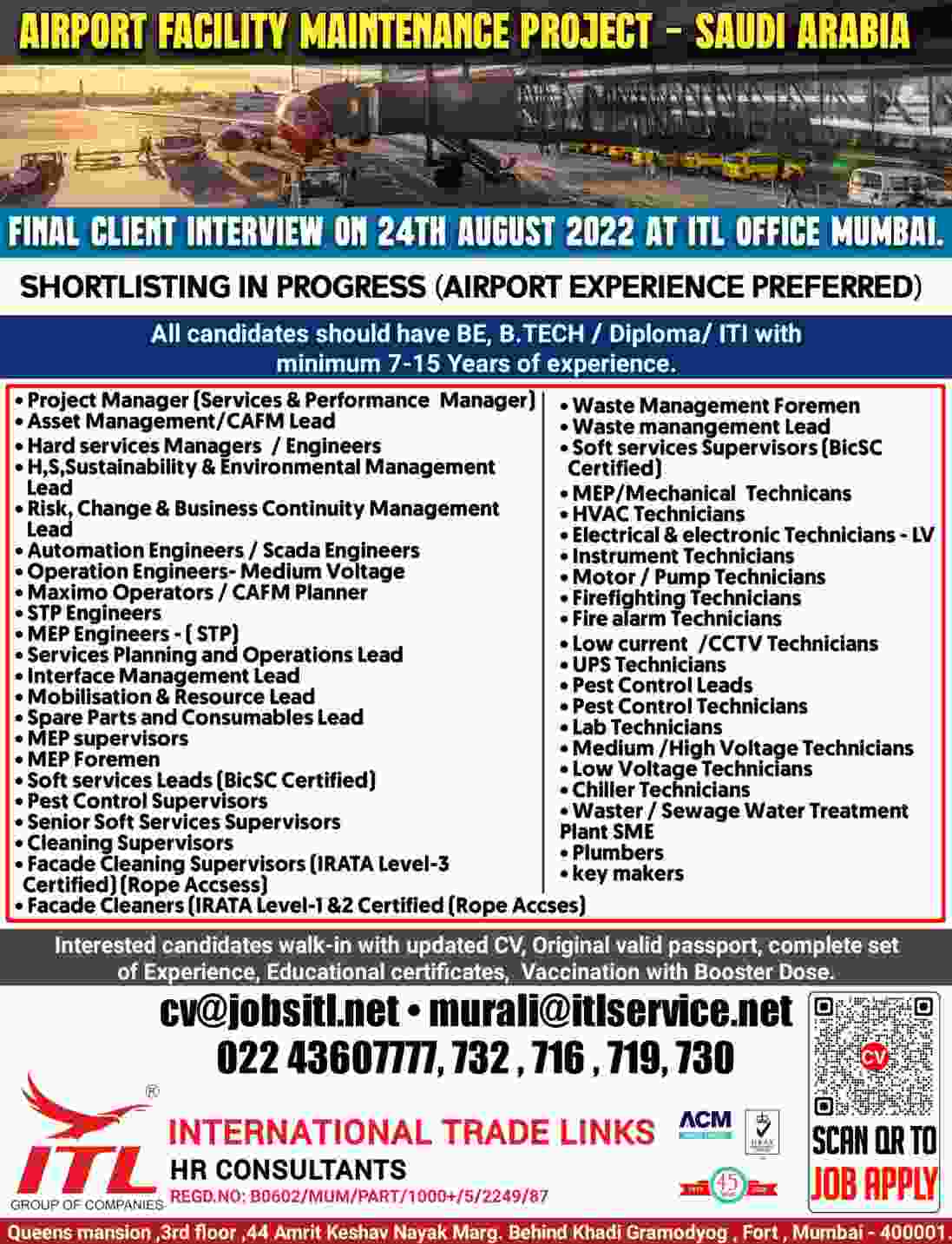 Job Role:
Project Manager (Services & Performance Manager)
Asset Management/CAFM Lead
Hard services Managers / Engineers
H,S,Sustainability & Environmental Management Lead
Risk, Change & Business Continuity Management Lead
Automation Engineers / Scada Engineers
Operation Engineers- Medium Voltage
Maximo Operators / CAFM Planner
STP Engineers
MEP Engineers – ( STP)
Services Planning and Operations Lead
Interface Management Lead
Mobilisation & Resource Lead
Spare Parts and Consumables Lead
MEP supervisors
MEP Foremen
Soft services Leads (BicSC Certified)
Pest Control Supervisors
Senior Soft Services Supervisors
Cleaning Supervisors
Facade Cleaning Supervisors (IRATA Level-3 Certified) (Rope Accsess)
Facade Cleaners (IRATA Level-1 &2 Certified (Rope Accses)
• Waste Management Foremen
Waste manangement Lead
Soft services Supervisors (BicSC Certified)
MEP/Mechanical Technicans
HVAC Technicians
Electrical & electronic Technicians – LV
Instrument Technicians
Motor / Pump Technicians
Firefighting Technicians
Fire alarm Technicians
Low current /CCTV Technicians
UPS Technicians
Pest Control Leads
Pest Control Technicians
Lab Technicians
Medium /High Voltage Technicians
Low Voltage Technicians
Chiller Technicians
Waster / Sewage Water Treatment Plant SME
Plumbers
Key makers
Job Location: Saudi Arabia
Experience: minimum of 7-15 Years of experience.
Interview Date & Venue: Final client interview on 24th august 2022 at ITL office in mumbai.
Qualifications: All Candidates Should Have Be, B.tech / Diploma/ ITI
Consultancy Name: International Trde Links HR Consultants
Office Address: Queen Mansions, 03rd Floor, 44 Amrit Keshav Nayak Marg, Behind Khadi Gramdyog, Fort, Mumbai – 400001.
Contact: 02243601717,732,716,719,730
Email: cv@jobsitl.net / murali@illservice.net
Urgent Requirement For Saudi Arabia Leading Company
Job Role:
Hydraulic & Diesel Mechanic
Poclain Operator
Loader Operator
Bulldozer Operator
Job Location: Saudi Arabia
Interview Date & Venue: Direct client interview on 22-08-2022 at Trichy.
Age Limit: 25 – 45 Years
Benefits: Food Allowance + Free Accommodation + Transportation Provided By The Company. All Other Benefits As Per Saudi Labour Law
Consultancy Name: Al Arab Arafa Overseas Manpower Consultancy Pvt Ltd.
Contact: +91 8098378652 +91 7530058036 0431 2963555
Email: resume2@alarabarafa.com
Oil And Gas Project Required For Oman And Qatar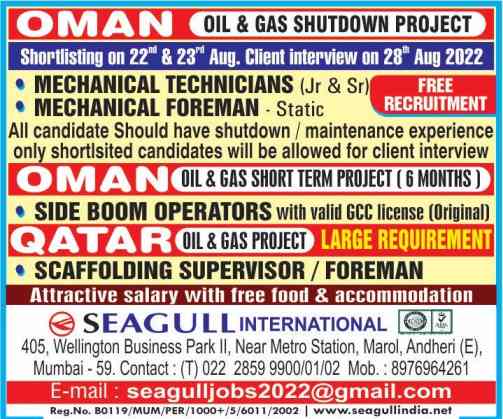 Job Role:
Mechnical Technicians
Mechanical Foreman
Side Boom Operators
Scaffolding Supervisor /Foreman
Job Location: Oman /Qatar
Interview Date & Venue: Shortlisting on 22nd & 23rd August 2022. Client interview on 28th August 2022.
Consultancy Name: Seagull International
Office Address: 04th Floor, Wellington Business Park II, Ruby Coach Lane, Off – Andheri Kurla Road, Marol, Andheri (E) Mumbai.
Contact: 022 28599900/01/02, 8976964261
Email: seagulljobs2022@gmail.com
Free Recruitment For Kuwait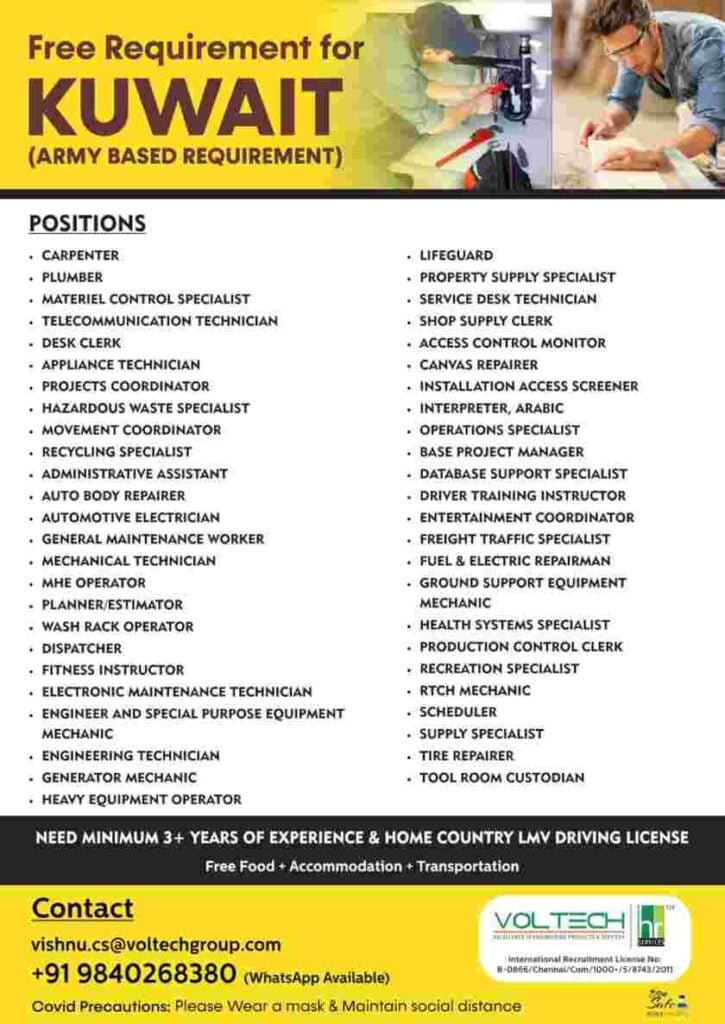 Job Role:
Carpenter
Plumber
Materiel Control Specialist
Telecommunication Technician
Desk Clerk
Appliance Technician
Projects Coordinator
Hazardous Waste Specialist
Movement Coordinator
Recycling Specialist
Administrative Assistant
Auto Body Repairer
Automotive Electrician
General Maintenance Worker.
Mechanical Technician
Mhe Operator
Planner/estimator
Wash Rack Operator
Dispatcher
Fitness Instructor
Electronic Maintenance Technicia
Engineer And Special Purpose Equipment Mechanic
Engineering Technician
Generator Mechanic
Heavy Equipment Operator
Lifeguard
Property Supply Specialist
Service Desk Technician
Shop Supply Clerk
Access Control Monitor
Canvas Repairer
Installation Access Screener
Interpreter, Arabic
Operations Specialist
Base Project Manager
Database Support Specialist
Driver Training Instructor
Entertainment Coordinator
Freight Traffic Specialist
Fuel & Electric Repairman
Ground Support Equipment Mechanic
Health Systems Specialist
Production Control Clerk
Recreation Specialist
Rtch Mechanic
Scheduler
Supply Specialist
Tire Repairer
Tool Room Custodian
Job Location: Kuwait
Experience: Need minimum 3+ years of experience & home country LMV driving license.
Benefits: Free Food + Accommodation + Transportation
Consultancy Name: Voltech HR Consultants
Contact: +919840268380 (WhatsApp Available)
Email: Vishnu.cs@voltechgroup.com
Shutdown Work Required For Qatar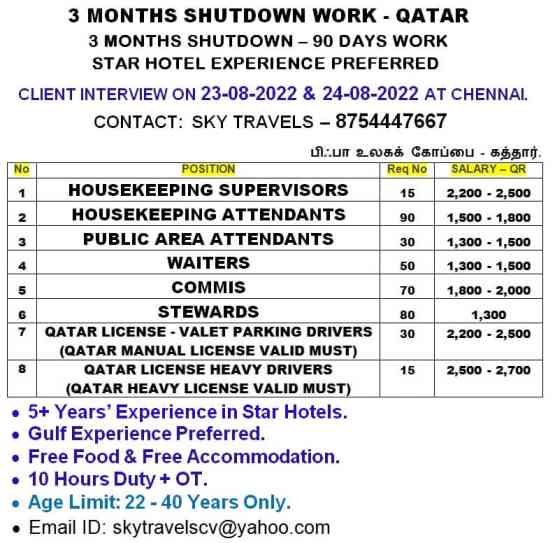 Job Role:
Housekeeping Supervisors
Housekeeping Attendants
Public Area Attendants
Waiters
Commis
Stewards
Qatar License – Valet Parking Drivers (Qatar Manual License Valid Must)
Qatar License Heavy Drivers (Qatar Heavy License Valid Must)
Job Location: Qatar
Experience: 5+ Years' Experience in Star Hotels. Gulf Experience Preferred.
Interview Date & Venue: Client interview on 23-08-2022 & 24-08-2022 at Chennai.
Age Limit: 22 – 40 Years Only.
Benefits: Free Food & Free Accommodation,10 Hours Duty + OT.
Consultancy Name: Sky Travels
Contact: 8754447667
Email: skytravelscv@yahoo.com
How To Apply?
Candidates With Related Experience Contact Branch Office Or Send Email CV With Valid Contact Number, Experience Certificates, And Passport Copy & Photo. Also, Do Not Forget To Mention The Job Subject Line And Your Skype, or Zoom Id In Your Cv For An Easy Online Interview.
संबंधित अनुभव वाले उम्मीदवार शाखा कार्यालय से संपर्क करें या वैध संपर्क नंबर, अनुभव प्रमाण पत्र, और पासपोर्ट कॉपी और फोटो के साथ ईमेल सीवी भेजें। साथ ही, एक आसान ऑनलाइन साक्षात्कार के लिए अपने सीवी में जॉब सब्जेक्ट लाइन और अपने स्काइप, ज़ूम आईडी का उल्लेख करना न भूलें।
Gulf Vacancies 2022
For more interesting careers related to gulf jobs, you must join our TELEGRAM CHANNEL