Jerry Varghese – Gulf jobs requirements for Airconditioning company in UAE and Business group, Government military hospital, Long-term projects in Saudi Arabia. Candidates with related experience apply online or by sending their documents to the given Email id.

AIRCONDITIONING JOB OPPORTUNITIES FOR UAE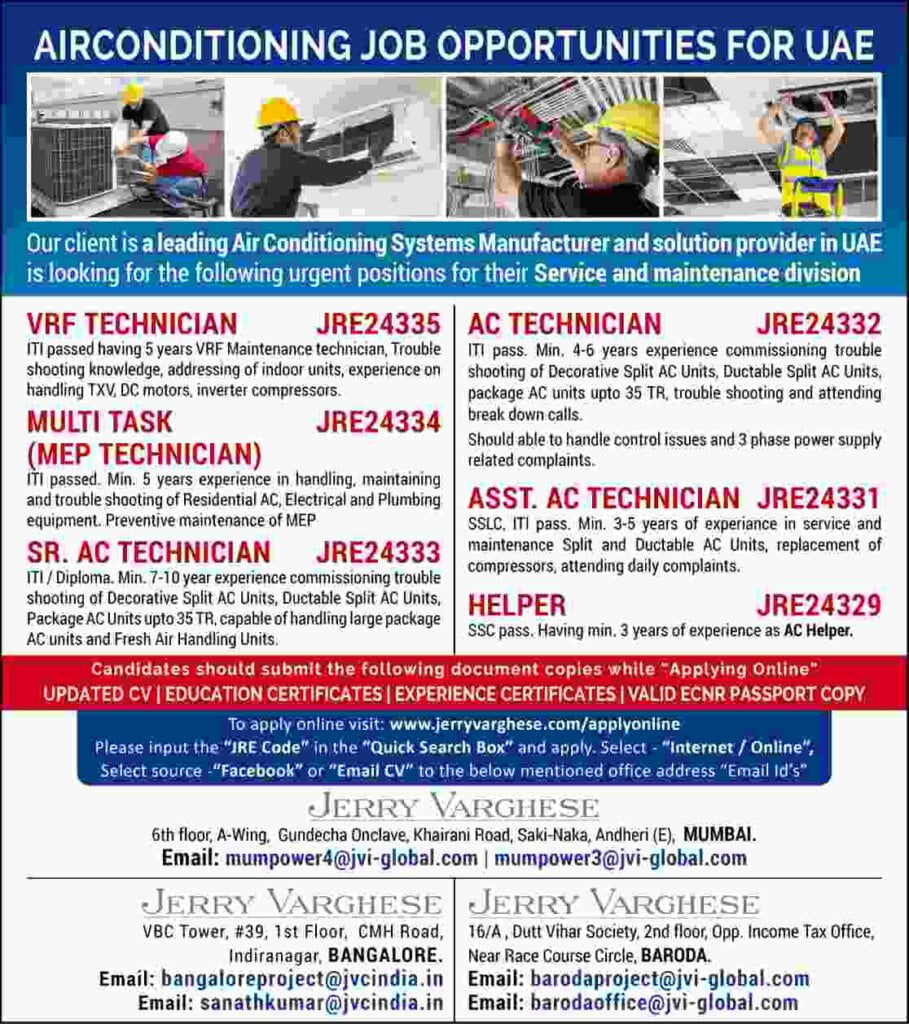 1. VRF TECHNICIAN – JRE24335
ITI passed having 5 years VRF Maintenance technician, Troubleshooting knowledge, addressing of indoor units, experience in handling TXV, DC motors, inverter compressors.
2. MULTI-TASK (MEP TECHNICIAN) – JRE24334
ITI passed. Min. 5 years experience in handling, maintaining and troubleshooting Residential AC, Electrical and Plumbing equipment. Preventive maintenance of MEP.
3. SR. AC TECHNICIAN – JRE24333
ITI / Diploma. Min. 7-10 year experience commissioning troubleshooting of Decorative Split AC Units, Ductable Split AC Units, Package AC Units up to 35 TR, capable of handling large package AC units and Fresh Air Handling Units.
4. AC TECHNICIAN – JRE24332
ITI pass. Min. 4-6 years experience commissioning troubleshooting of Decorative Split AC Units, Ductable Split AC Units, package AC units up to 35 TR, troubleshooting and attending break down calls. Should be able to handle control issues and 3 phase power supply related complaints.
5. ASST. AC TECHNICIAN – JRE24331
SSLC, ITI pass. Min. 3-5 years of experience in service and maintenance Split and Ductable AC Units, replacement of compressors, attending daily complaints.
6.HELPER – JRE24329
SSC pass. Having min. 3 years of experience as an AC Helper.
JOB OPPORTUNITIES FOR SAUDI ARABIA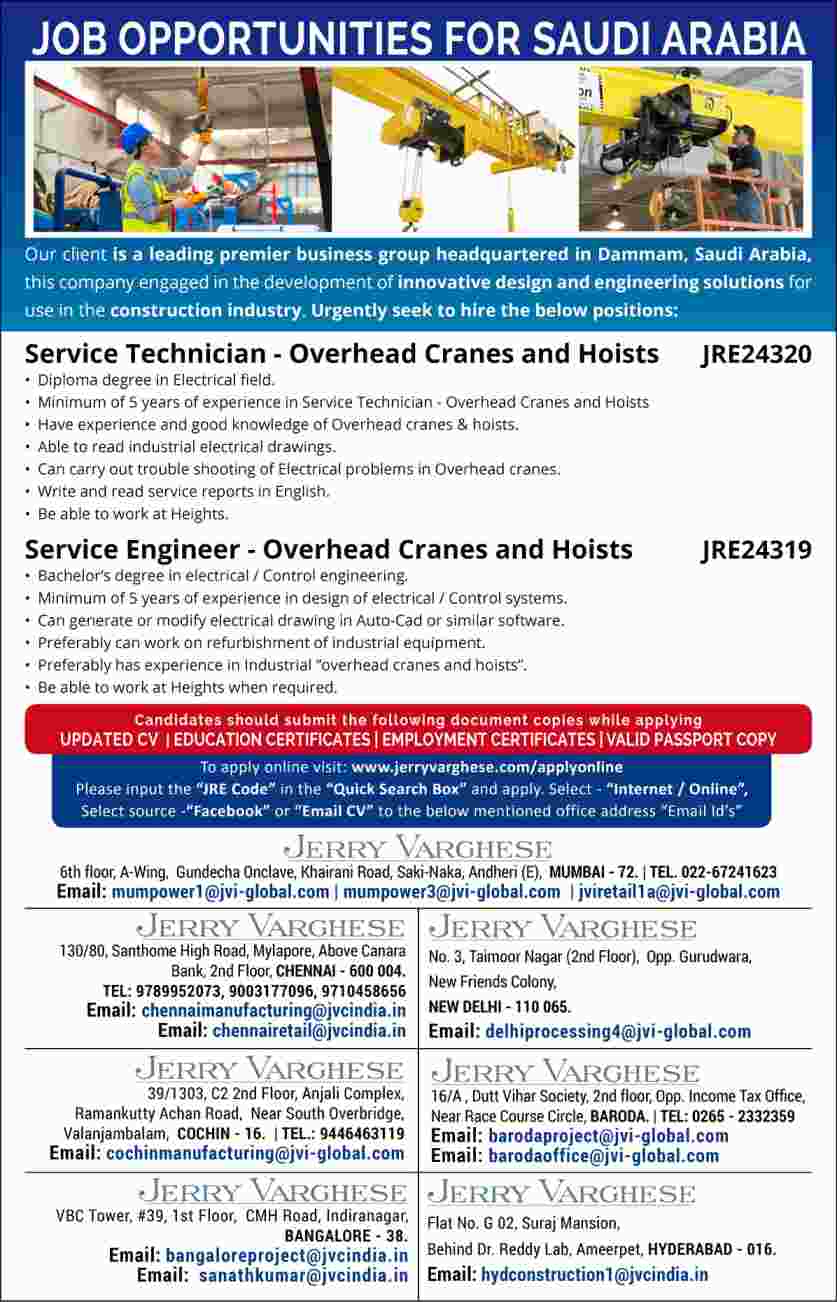 1. Service Technician – Overhead Cranes and Hoists (JRE24320)
Diploma degree in Electrical field.
Minimum of 5 years of experience in Service Technician – Overhead Cranes and Hoists.
Have experience and good knowledge of Overhead cranes & hoists.
Able to read industrial electrical drawings.
Can carry out troubleshooting of Electrical problems in Overhead cranes.
Write and read service reports in English.
Be able to work at Heights.
2. Service Engineer – Overhead Cranes and Hoists (JRE24319)
Bachelor's degree in electrical / Control engineering.
Minimum of 5 years of experience in the design of electrical / Control systems.
Can generate or modify the electrical drawings in Auto-Cad or similar software.
Preferably can work on the refurbishment of industrial equipment.
Preferably has experience in Industrial "overhead cranes and hoists.
Be able to work at Heights when required.
CONSULTANT OPPORTUNITIES FOR GOVERNMENT HOSPITAL IN SAUDI ARABIA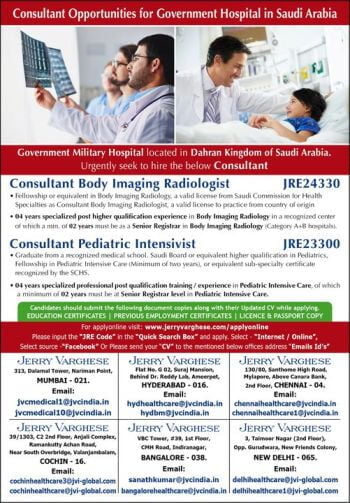 1. CONSULTANT BODY IMAGING RADIOLOGIST – JRE24330
Fellowship or equivalent in Body Imaging Radiology, a valid license from Saudi Commission for Health Specialties as Consultant Body Imaging Radiologist, a valid license to practice from the country of origin.
04 years specialized post higher qualification experience in Body Imaging Radiology in a recognized centre of which a min. of 02 years must be as a Senior Registrar in Body Imaging Radiology (Category A+13 hospitals).
2. Consultant Pediatric Intensivist – JRE23300
Graduate from a recognized medical school. Saudi Board or equivalent higher qualification in Pediatrics, Fellowship in Pediatric Intensive Care (Minimum of two years), or equivalent sub-speciality certificate recognized by the SCHS.
04 years specialized professional post qualification training/experience in Pediatric Intensive Care, of which a minimum of 02 years must be at Senior Registrar level in Pediatric Intensive Care.
URGENT VACNCY FOR SAUDI ARABIA LONGTERM PROJECT
Job Role:
Wheel Loader
Crane Operator
Compactor
Grader
Excavator
Bulldozer
Forklift
Job Descriptions:
Candidates must have Saudi Arabia Valid / Expired Driving License.
Candidate must have 5+ years of experience with min. straight 3 years Saudi Arabia experience and has hands on experience in Operating any one of the Machined as listed above.
Must be able to speak and write English langugae. Knowing Arabic language will be added advantage.
Email: projectsl@jvcindia.in
Consultancy Details
Consultancy Name: Jerry Varghese
Office Address: 6th floor, A-Wing, Gundecha Enclave, Khairani Road, Saki-Naka, Andheri (E), Mumbai -72
Call: 02267241623
Email: mumpower4@jvi-global.com / mumpower3@jvi-global.com
Jerry Varghese Branch Office
New Delhi
3, Taimoor Nagar (2nd Floor), Opp Gurudwara, New Friends Colony, New Delhi 110065
Cochin
No. 39/1303, C2 2nd Floor Anjali Complex, Ramankutty Achan Road, Near South Overbridge, Valanjambalam, Cochin 16
Banglore
16/A, Dutt Vihar Society, 2nd floor, Opp. Income Tax Office, Near Race Course Circle, Baroda – 390007
Hyderabad
MCH No.7-1-27/2, Flat No G 02, 1st Floor, Suraj Mansion, Behind Dr Reddy Lab, Ameerpet, Hyderabad – 500 016
Chennai
130/80, Santhome High Road, Mylapore, Above Canara Bank, 2nd Flor. Chennai.
Important Requirements
Candidates Should Submit The Following Document Copies Along With Their Updated CV While Applying. Education Certificates / Previous Employment Certificates / Licence & Passport Copy.
How To Apply?
To apply visit: www.jerryvarghese.com/applyonline – Please input the "JRE Code"(mention with every job role above) in the "Quick Search Box" and apply. Select – "Internet / Online", Select source -"Facebook" or "Email CV" to the below mentioned office address "Email addresses".
MORE RELATED GULF JOBS
For more interesting careers related gulf jobs you must join our TELEGRAM CHANNEL
Share this jobs with your family and friends.