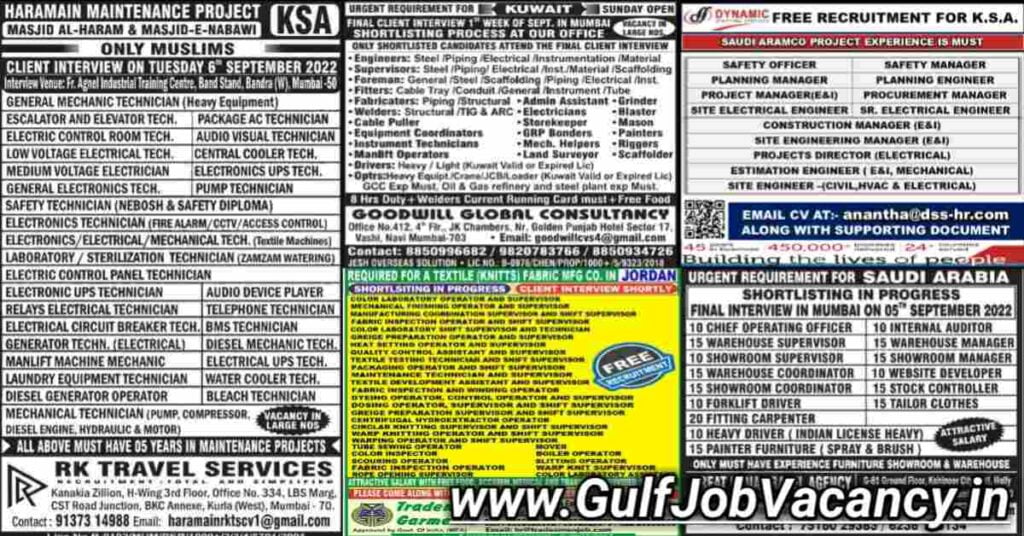 Mumbai Paper Jobs – Gulf interview requirements for Saudi Arabia, Kuwait, Qatar and UAE. Interested candidates can apply for their jobs in Fabric manufacturing companies, Aramco projects, Haramain maintenance projects, Metro construction projects, Fifa short-term projects and Doosan company.

Free Recruitment For Textile Fabric MFG Company In Jordan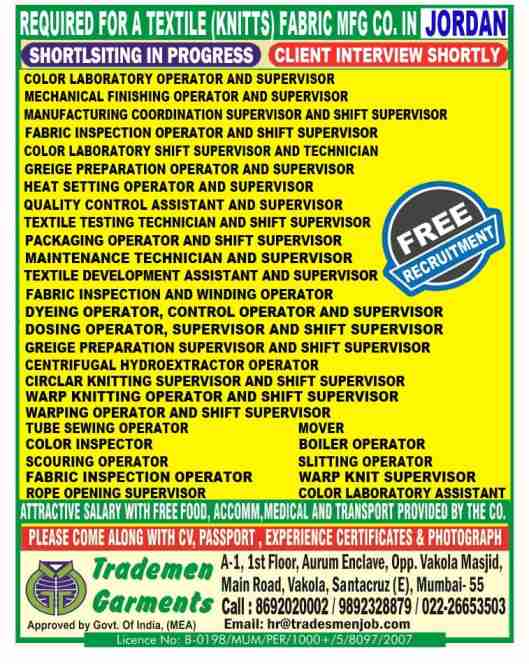 Job Role:
Color Laboratory Operator And Supervisor
Mechanical Finishing Operator And Supervisor
Manufacturing Coordination Supervisor And Shift Supervisor
Fabric Inspection Operator And Shift Supervisor
Color Laboratory Shift Supervisor And Technician
Greige Preparation Operator And Supervisor
Heat Setting Operator And Supervisor
Quality Control Assistant And Supervisor
Textile Testing Technician And Shift Supervisor
Packaging Operator And Shift Supervisor
Maintenance Technician And Supervisor
Textile Development Assistant And Supervisor
Fabric Inspection And Winding Operator
Dyeing Operator, Control Operator And Supervisor
Dosing Operator, Supervisor And Shift Supervisor
Greige Preparation Supervisor And Shift Supervisor
Centrifugal Hydroextractor Operator
Circular Knitting Supervisor And Shift Supervisor
Warp Knitting Operator And Shift Supervisor
Warping Operator And Shift Supervisor
Tube Sewing Operator
Mover
Color Inspector
Boiler Operator
Scouring Operator
Slitting Operator
Fabric Inspection Operator
Warp Knit Supervisor
Rope Opening Supervisor
Color Laboratory Assistant
Job Location: Jordan
Interview Date & Venue: Client interview shortly at the Mumbai office.
Benefits: Attractive Salary, Free Food, Accommmedical And Transport Provided By The Company.
Consultancy Name: Tradesmen Garments
Email: hr@tradesmenjob.com
Free Recruitment For KSA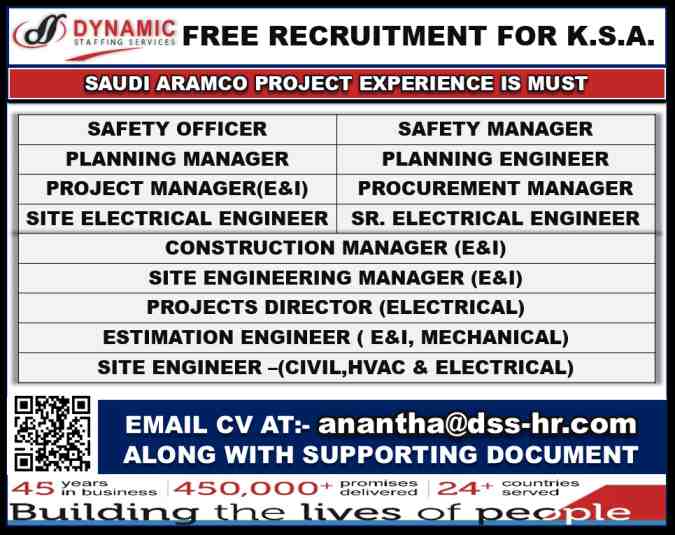 Job Role:
Safety Officer
Safety Manager
Planning Manager
Planning Engineer
Project Manager(E&i)
Procurement Manager
Site Electrical Engineer
Sr. Electrical Engineer
Construction Manager (E&i)
Site Engineering Manager (E&i)
Projects Director (Electrical)
Estimation Engineer ( E&i, Mechanical)
Site Engineer – (Civil,HVAC & Electrical)
Job Location: KSA
Experience: Saudi Aramco project experience is a must.
Consultancy Name: Dynamic Staffing Services
Email: anantha@dss-hr.com
Masjid-Al-Haram & Masjid-E-Nabawi Required For KSA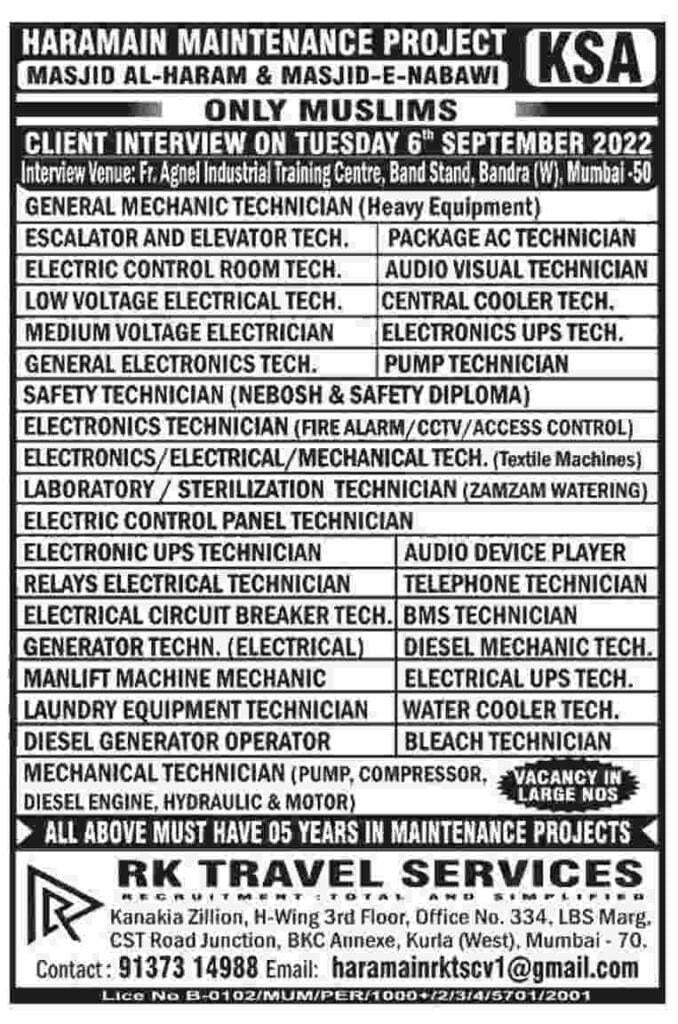 Job Role:
General Mechanic Technician (Heavy Equipment)
Escalator And Elevator Tech.
Package Ac Technician
Electric Control Room Tech.
Low Voltage Electrical Tech.
Audio Visual Technician
Central Cooler Tech.
Medium Voltage Electrician
Electronics Ups Tech.
General Electronics Tech.
Safety Technician (Nebosh & Safety Pump Technician Diploma)
Electronics Technician (Fire Alarm/CCTV/Access Control)
Electronics/electrical/mechanical Tech. (Textile Machines)
Laboratory/ Sterilization Technician (Zamzam Watering)
Electric Control Panel Technician
Electronic Ups Technician
Audio Device Player
Relays Electrical Technician
Electrical Circuit Breaker Tech.
Telephone Technician
Bms Technician
Generator Techn. (Electrical)
Manlift Machine Mechanic
Diesel Mechanic Tech.
Electrical Ups Tech.
Laundry Equipment Technician
Water Cooler Tech.
Diesel Generator Operator
Bleach Technician
Mechanical Technician (Pump, Compressor, Diesel Engine, Hydraulic & Motor)
Job Location: KSA
Experience: All above must have 05 years in maintenance projects.
Interview Date & Venue: Client Interview On Tuesday 6th September 2022.
Consultancy Name: RK Travel Services
Email: haramainrktscv1@gmail.com
Urgent Requirement For Saudi Arabia Leading Company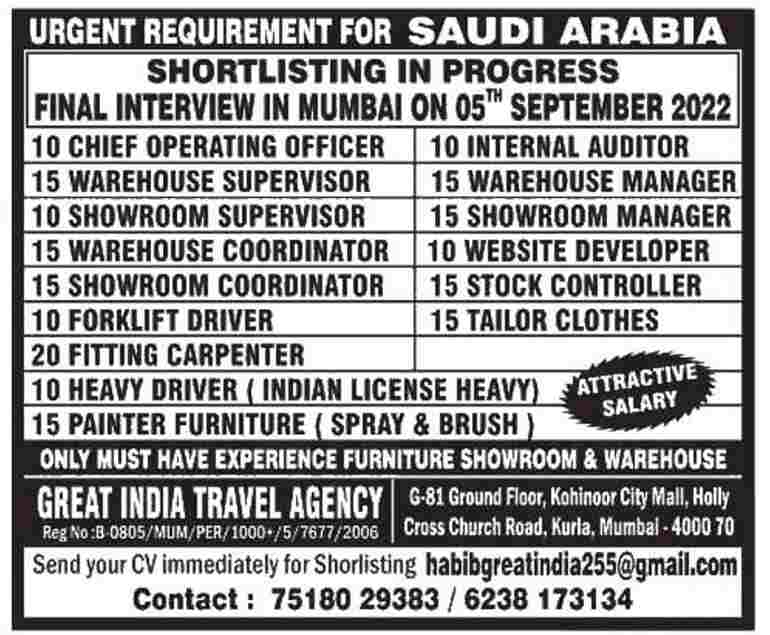 Job Role:
Chief Operating Officer
Warehouse Supervisor
Showroom Supervisor
Warehouse Coordinator
Showroom Coordinator
Forklift Driver
Fitting Carpenter
Internal Auditor
Warehouse Manager
Showroom Manager
Website Developer
Stock Controller
Tailor Clothes
Heavy Driver Indian License Heavy
Painter Furniture Spray & Brush
Job Location: Saudi Arabia
Experience: Only must have experience in furniture showroom & warehouse.
Interview Date & Venue: Shortlisting in progress final interview in Mumbai in September 2022.
Consultancy Name: Great India Travel Agency
Email: habibpatindia255@gmail.com
Metro Construction Project For Saudi Arabia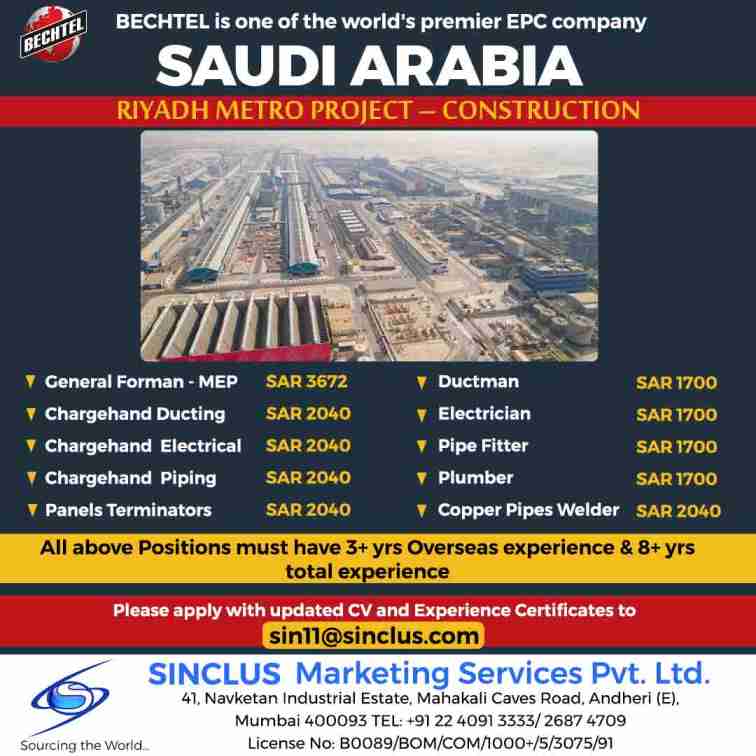 Job Role:
General Forman – MEP
Chargehand Ducting
Chargehand Electrical
Chargehand Piping
Panels Terminators
Ductman
Electrician
Pipe Fitter
Plumber
Copper Pipes Welder
Job Location: Saudi Arabia
Experience: All above Positions must have 3+ yrs Overseas experience & 8+ yrs total experience.
Salary: SAR 1700-3672/-
Consultancy Name: Sinclus Marketing Services Pvt. Ltd.
Email: sin11@sinclus.com
Free Recruitment For Large Vacancies In Saudi Arabia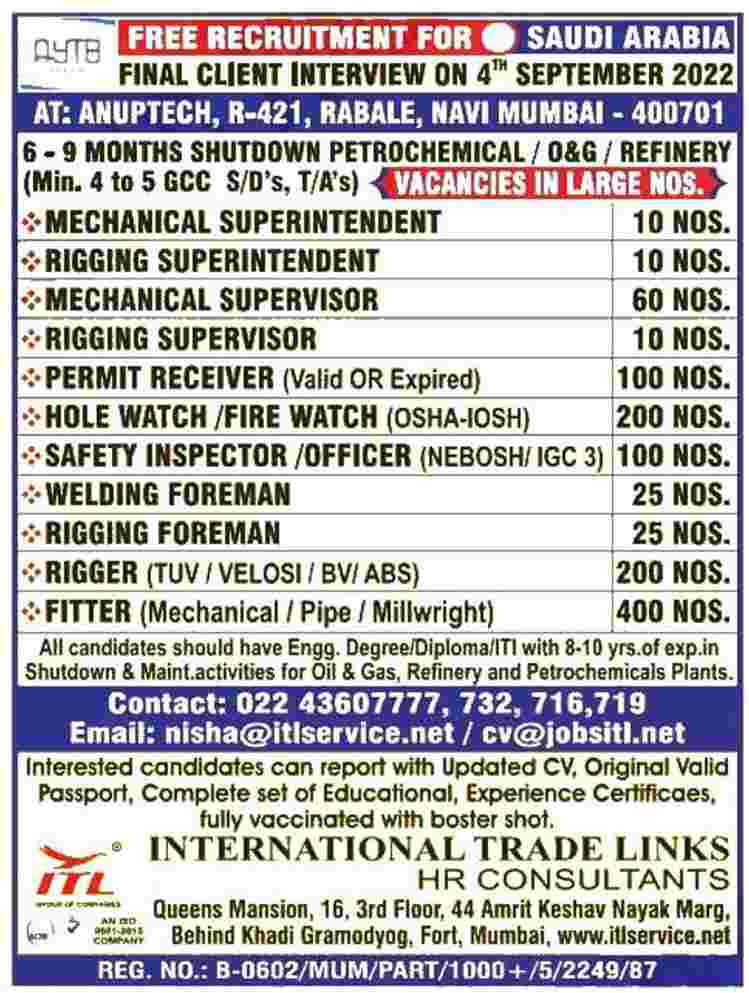 Job Role:
Mechanical Superintendent
Rigging Superintendent
Mechanical Supervisor
Supervisor
Permit Receiver (Valid Or Expired)
Hole Watch /Fire Watch
Safety Inspector /Officer (Nebosh/IGC3)
Welding Foreman
Rigging Foreman
Rigger (Tuv / Velosi /Bv/ Abs)
Fitter (Mechanical / Pipe / Millwright)
Job Location: Saudi Arabia
Experience: All candidates should have 08-10 years of experience in shutdown & maintenance activities for Oil & gas, Refinery & petrochemical plants.
Qualifications: Degree/Diploma/ITI
Interview Date & Venue: Final client interview on 04th September 2022.
Consultancy Name: International Trade Links HR Consultants
Email: nisha@itiservice.net / cv@jobsitl.net
Urgent Requirement For Kuwait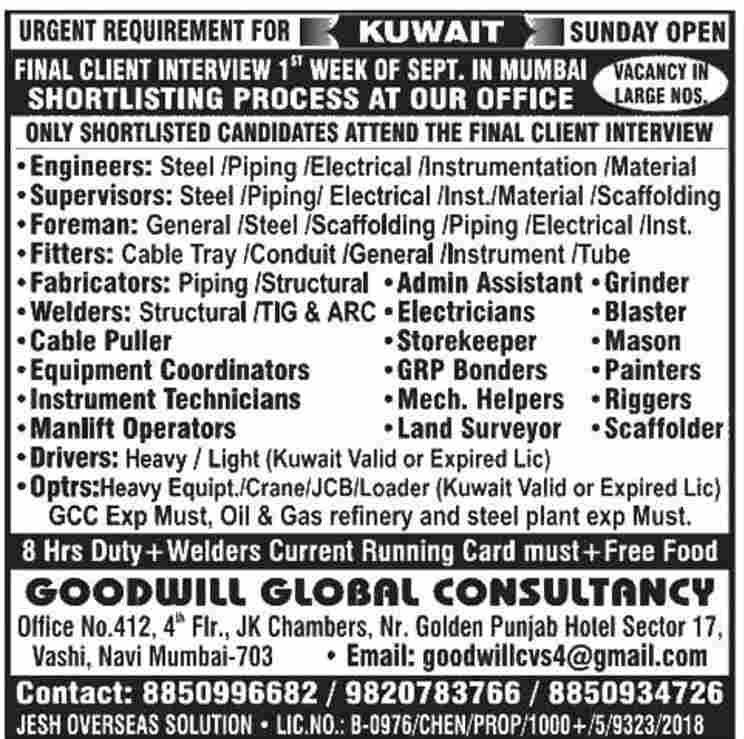 Job Role:
Engineers: Steel /Piping /Electrical /Instrumentation /Material
Supervisors: Steel /Piping/ Electrical /Inst./Material /Scaffolding
Foreman: General /Steel /Scaffolding /Piping /Electrical /Inst.
Fitters: Cable Tray /Conduit /General /Instrument /Tube
Fabricators: Piping /Structural
Admin Assistant
Grinder
Welders: Structural RIG & ARC
Electricians
Blaster
Cable Puller
Storekeeper
Mason
Equipment Coordinators
GRP Bonders
Painters
Instrument Technicians
Mech. Helpers
Riggers
Manlift Operators
Land Surveyor
Scaffolder
Drivers: Heavy / Light (Kuwait Valid or Expired Lic)
Job Location: Kuwait
Experience: GCC Exp Must, Oil & Gas refinery and steel plant exp Must.
Interview Date & Venue: Final client interview 1st Week of September 2022 In Mumbai.
Benefits: 8 Hrs Duty +Welders Current Running Card must + Free Food
Consultancy Name: Goodwill Global Consultancy
Email: goodwillcvs4@gmail.com
Fifa Short-Term Project For Qatar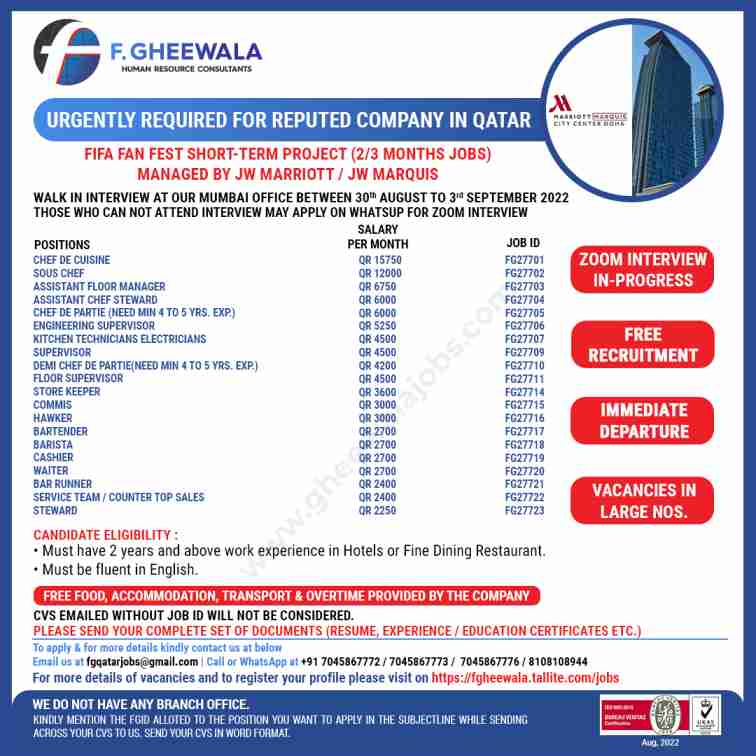 Job Role:
Chef De Cuisine
Sous Chef
Assistant Floor Manager
Assistant Chef Steward
Chef De Partie (Need Min 4 To 5 Yrs. Exp.)
Engineering Supervisor
Kitchen Technicians Electricians
Supervisor Demi Chef De Partie(Need Min 4 To 5 Yrs. Exp.)
Floor Supervisor
Store Keeper
Commis
Hawker
Bartender
Barista
Cashier
Waiter
Bar Runner
Service Team / Counter Top Sales
Steward
Job Location: Qatar
Experience: Must have 2 years and above work experience in Hotels or Fine Dining restaurants. Must be fluent in English.
Interview Date & Venue: Walk-in-interview at the Mumbai office between 30th August to 3rd September 2022. those who can not attend the interview may apply on WhatsApp for a zoom interview.
Benefits: Free Food, Accommodation, Transport & Overtime Provided By The Company.
Consultancy Name: F Gheewala HR Consultants
Email: fgqatarjobs@gmail.com
Urgently Hiring For Doosan Company In UAE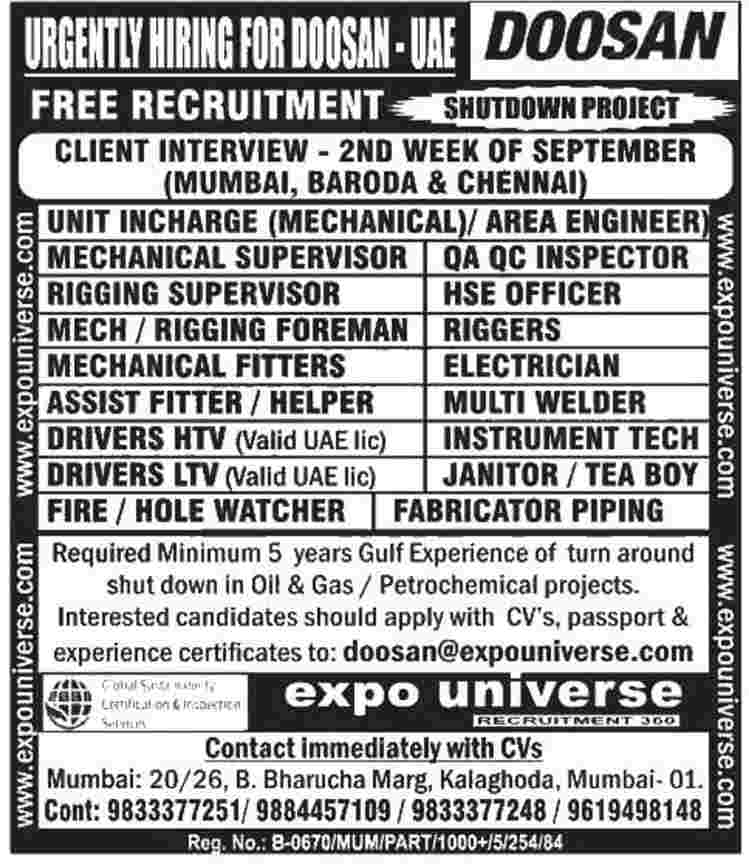 Job Role:
Unit Incharge (Mechanical)/(Area Engineer)
Mechanical Supervisor
QA/QC Inspector
Rigging Supervisor
HSE Officer
Mech/Rigging Foreman
Riggers
Mechanical Fitters
Electrician
Assist Fitter / Helper
Multi Welder
Drivers HTV
Instrument Tech.
Drivers LTV
Janitor / Tea Boy
Fire / Hole Watcher
Fabricator Piping
Job Location: UAE
Experience: Minimum 05 years Gulf experience of turnaround shut down in oil & gas /Petrochemical projects.
Interview Date & Venue: Client interview 2nd week of September 2022 (Mumbai, Baroda & Chennai)
Consultancy Name: Expo Universe Recruitment
Email: doosan@expouniverse.com
How To Apply?
Candidates with related experience contact the branch office or send an emailed CV with a valid contact number, experience certificates, and passport copy & photo. Also, do not forget to mention the job subject line and your skype, zoom id in your cv for an easy online interview.
संबंधित अनुभव वाले उम्मीदवार शाखा कार्यालय से संपर्क करें या वैध संपर्क नंबर, अनुभव प्रमाण पत्र, और पासपोर्ट कॉपी और फोटो के साथ ईमेल सीवी भेजें। साथ ही, एक आसान ऑनला-इन साक्षात्कार के लिए अपने सीवी में जॉब सब्जेक्ट लाइन और अपने स्काइप, ज़ूम आईडी का उल्लेख करना न भूलें।
Mumbai Paper Jobs Interview
For more interesting careers related to Gulf jobs, you must join our TELEGRAM CHANNEL