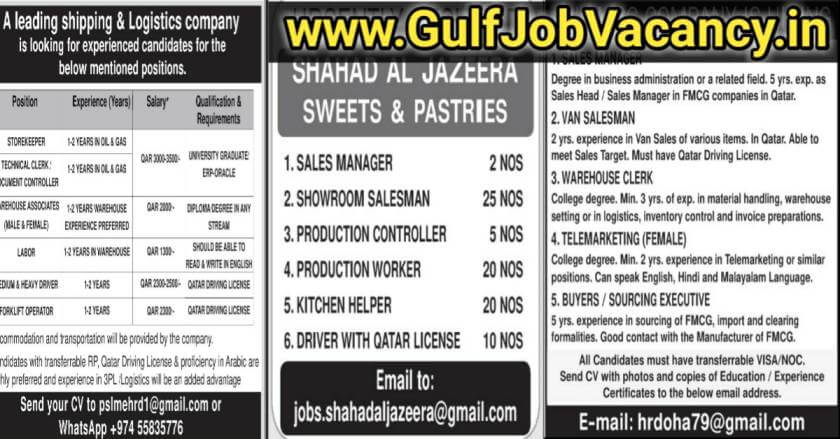 Qatar Classified Jobs – Requirements for a leading shipping and logistics company, qualified camp nurse for an industrial company, Shahad AL Jazeera Sweets and Pastries company, Holding company and FMCG company.
Note – All the jobs are only for candidates who living or are available in Qatar. Kindly check all the details and apply for the jobs by sending all the relevant documents to the given email id.
1. A LEADDING SHIPPING & LOGISTICS COMPANY
Job Role:
STOREKEEPER
WAREHOUSE ASSOCIATES (MALE & FEMALE)
LABOR
MEDIUM & HEAVY DRIVERS
FORKLIFT OPERATOR
Email: pslmehrd1@gmail.com
2. MALE CAMP NURSE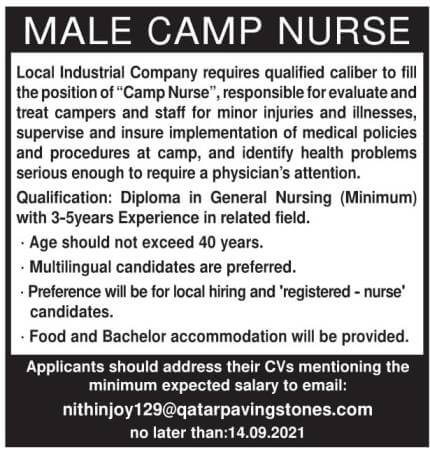 Job Role:
MALE CAMP NURSE
Email: nithinjoy129@qatarpavingstones.com
3. URGENTLY REQUIRED FOR VARIOUS JOBS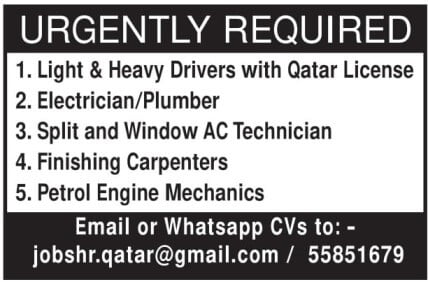 Job Role:
Light & Heavy Drivers with Qatar License
Electrician/Plumber
Split and Window AC Technician
Finishing Carpenters
Petrol Engine Mechanics
Email: jobshr.qatar@gmail.com
4. SHAHAD AL JAZEERA SWEETS & PASTRIES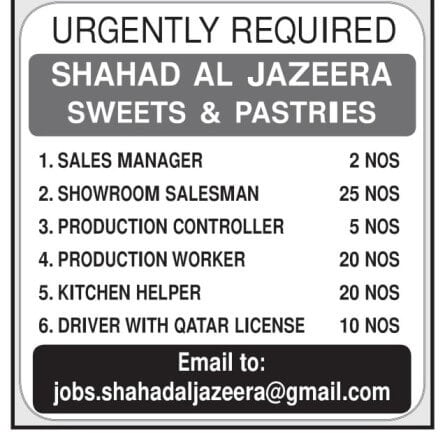 Job Role:
SALES MANAGER
SHOWROOM SALESMAN
PRODUCTION CONTROLLER
PRODUCTION WORKER
KITCHEN HELPER
DRIVER WITH QATAR LICENSE
Company Name: Shahad AL Zazeera
Email: jobs.shahadaljazeera@gmail.com
5. A LISTED COMPANY FOR BILINGUAL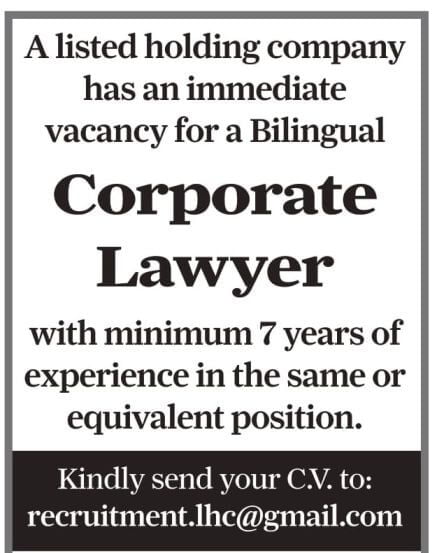 Job Role:
CORPORATE LAWYER
Email: recruitment.lhc@gmail.com
6. A FMCG COMPANY IS HIRING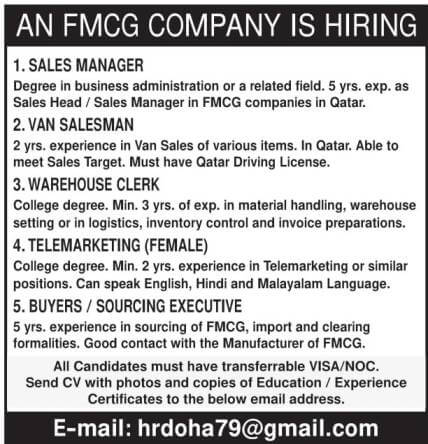 Job Role:
SALES MANAGER
VAN SALESMAN
WAREHOUSE CLERK
TELEMARKETING (FEMALE)
BUYERS / SOURCING EXECUTIVE
Email: hrdoha79@gmail.com
Also, Apply For – Qatar Classified Jobs – 06th September 2021
Share this jobs with your family and friends.